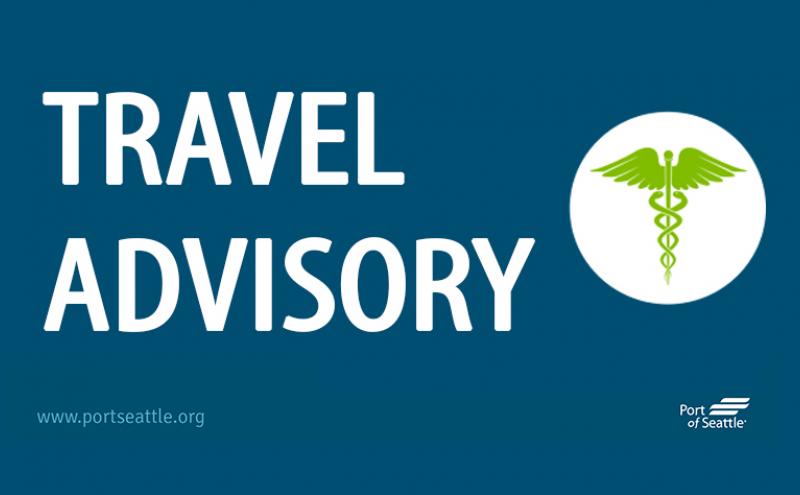 February 4, 2020
On January 21, 2020, the Centers for Disease Control and Prevention (CDC) and Washington State Department of Health announced the first case of 2019 Novel Coronavirus in the United States in Washington State. The patient had recently returned from Wuhan City, Hubei Province, China, where an outbreak of 2019 novel coronavirus has been ongoing since December. On February 21, local public health officials announced that the patient had fully recovered.
While U.S. public health officials currently believe risk is low for U.S. citizens, the Port of Seattle and our airline tenants are monitoring the situation daily. The Port will update this page regularly with new information related to the coronavirus and guidance for travelers.
Update as of February 25, 2020
The Department of Homeland Security (DHS) announced that passengers who have traveled to China within the last 14 days will be routed through one of eight U.S. airports, effective Sunday, February 2nd, 2020, for flights departing after 5:00 PM Eastern. Three additional airports will be added to the list of airports authorized to receive such flights beginning at various times on Monday, February 3, 2020. At these 11 airports, the United States Government has established enhanced screening procedures and the capacity to quarantine passengers, if needed.
Federal officials have determined that any U.S. citizen returning to the United States who has been in Hubei Province, China, in the previous 14 days will be subject to health screening and mandatory quarantine to ensure they are provided proper medical care. Travelers who visited China, but not the Hubei province, will be screened by federal officials and asked to self-isolate for 14 days.  All passengers who have been to China in the last 14 days will be rerouted through one of 11 U.S. airports, including Seattle-Tacoma International Airport (SEA).  
No foreign nationals who visited China in the last 14 days will be allowed into the United States.

We are working with federal partners and airlines who will implement these new policies to ensure the well-being of the traveling public, employees, and all of our partners.
Port of Seattle actions
The Port follows the guidance provided by public health experts at the federal Center for Disease Control and Prevention (CDC), Customs and Border Protection (CBP), United States Coast Guard, Washington State Department of Health, and Public Health-Seattle & King County during any public health incident. In addition to supporting federal agencies that operate at the airport we are:
Increasing our use of disinfectant and cleaning in what we call "high touch" areas at the airport, like handrails, escalators, elevator buttons, restroom doors, etc with an emphasis where international travelers arrive.
Making hand sanitizer available to passengers throughout the airport.
Coordinating with our airline and tenant partners, passengers, and employees to closely monitor any change in the status of our region's health.
Federal official actions
The CDC has begun enhanced screening at 20 airports with quarantine stations, including Seattle-Tacoma International Airport (SEA).
Screening at Seattle-Tacoma International Airport began on January 30.
CDC employees will proactively contact all passengers arriving from China with health and travel questionnaires for self-identification. 
Public health staff will also proactively monitor for signs of ill passengers who present signs and symptoms of disease at SEA. This screening builds on established infections disease protocols, which includes reviewing information received from pilots, flight attendants, or crew who are trained to spot and report symptoms. This also provides an opportunity to educate passengers on steps they should take if they do develop symptoms.
The CDC, Customs and Border Protection Agency, the Port fire department, and other airport partners have infectious disease response plans in place that are reviewed, practiced, and updated throughout the year.
How you can stay healthy
Public health officials recommend personal hygiene and frequent hand washing as the best way to prevent illness.   
Wash your hands frequently, cover your mouth and nose with a tissue when you cough or sneeze, then throw the tissue in the trash and wash your hands.
Avoid contact with people who are sick and stay home when sick.
Avoid touching your eyes, nose or mouth with unwashed hands.
Avoid non-essential travel to China.
Check-in with your airline if you have questions about your travel itinerary.
While not protective against novel coronavirus, public health officials also recommend the influenza vaccine. It's not too late to get an influenza vaccine, since flu season can last into spring.
Resources
Information about the novel coronavirus is updated frequently; check the following resources for the most up-to-date information:
Additional resources