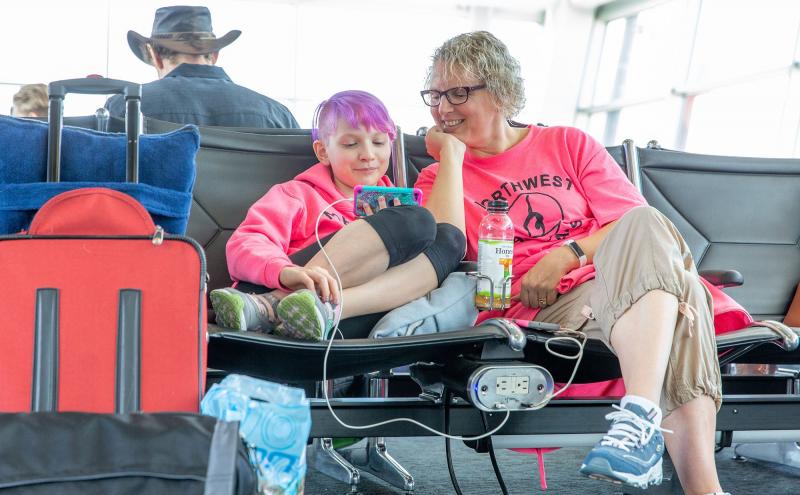 Traveler Tips: What's New?
These tips will help you get through Sea-Tac efficiently during the summer travel season. Great ideas on how to get to the airport, get through security checkpoints, and find what you need in the terminal quickly.
Getting to the Airport
Check for Roadway Construction Updates 

—

WSDOT is currently in the process of its Revive I-5 Project and there could be possible traffic impacts.

Plan Ahead

  —  not only getting to the airport but also picking up, dropping off, and getting through checkpoints. The busiest travel days will be Thursdays and Fridays with 150 -155,000 passengers going through the airport each day.

Peak traffic congestion

 occurs on the Departure level from approximately 4:30 a.m. to 7:30 a.m.  During the middle of the day, from 11:00 a.m. to 2:00 p.m., both Arrival and Departure drives experience backups. In the evenings, the Arrivals drive experiences heavy traffic from about 8:30 p.m. to 12:30 a.m. 

Take Link Light Rail, a bus or shuttle to the airport

— Public transportation is by far the best option if you want to stay out of a traffic jam.  Use Link Light Rail to travel all the way to the airport or meet your party at one of the nearby stations. Tukwila and Angle Lake stations offer free parking one stop away to avoid airport traffic headaches. 

Go Opposite

 

—  In the morning, drop off passengers on the Arrivals level.  In the evenings, arrange to meet your passengers on the Departures level. Going opposite gets you out of the traffic crunch. Another example — many arriving passengers do not check bags so they are already on the Departures level when they exit, and easy to pick up.

Come from the south end

 

—  Motorists coming from north of the airport can avoid the heaviest traffic by accessing the airport from 

alternate routes

.

Park and walk

 

—  Park at the 

Sea-Tac Airport garage

 and walk into the terminal. For travelers, receive discounted parking rates by 

signing up

 for our parking coupons.

Arrive Early 

—

Travelers are encouraged to leave plenty of time to get to the airport, check in for their flight, and clear security.  Plan on arriving at the airport at least two hours in advance for a domestic flight, and three hours for international travel.  To save time, it's suggested that travelers check in for their flights and print boarding passes prior to arriving at the airport.  Some airlines allow passengers to print luggage tags in advance.  This saves time at the ticket counter.

Blind and low vision travelers

 can try 

new assistive technology with Aira

, with the Port providing free connection service while at the airport.

Port of Seattle Police officers patrol

 the Airport Expressway to prevent motorists from parking on the shoulder, and additional Traffic Support Specialists will be deployed on the Arrivals and Departure drives to assist with traffic flow.

Are you there yet?

 If you're picking up passengers, make sure they are there before going to the drive. It will take some time for them to walk from the plane or pickup bags.
Ready for Security Checkpoint
Be ready for security checkpoint

s

 — Once travelers get to the airport, Sea-Tac and its partners in the Transportation Security Administration want to help you move through 

security checkpoints

 as quickly as possible. Enhanced security measures now in effect at Sea-Tac and airports nationwide require travelers to remove electronics larger than a cell phone from their carryon luggage. 

Be thoughtful with food 

—

While it's okay to bring food with you, sometimes food items can slow down the screening process. Sea-Tac recommends that unless you plan on eating it in the airport or on your flight, consider packing food in your checked luggage.

Sign up for Trusted Traveler Programs

 such as TSA

TSA

 Pre

✓

, Global Entry, and CLEAR to get you through the lines faster. These 

expedited security programs

 help for both domestic and international travel, including a faster way through customs with 

Automated Passport Control and Mobile Passport Control

.
What's New in the Terminal