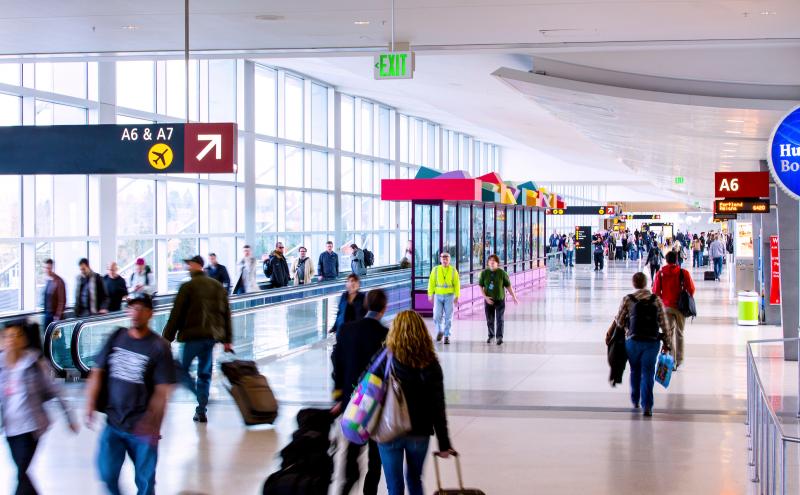 As the fastest-growing airport in North America and eighth most-traveled in the country, there is a lot of exciting evolution happening at the airport all designed to enhance your experience. Here's a regularly updated look at what's new around the airport and how to navigate like a pro.    
HELPFUL TOOLS
 SAVE TIME AT SEA
GETTING TO AND FROM THE AIRPORT
Use alternate forms of transportation such as Link Light Rail and King County Metro or Sound Transit buses to avoid traffic. Find possible roadway construction and traffic impacts around SEA.
Passengers on their way to SEA can experience rush hour congestion on the terminal drives during mornings from 6 a.m. to 10 a.m. and evenings from 8 p.m. to midnight. We encourage drivers to think opposite at peak times for passenger pick up, especially on Thursday and Sunday nights, to use the departures drives in the evenings and arrivals drive in the mornings when possible.
The Cell Phone Lot may be congested at night, and as a result may have a traffic re-route to improve traffic flow. Police officers will issue a $50 ticket to those illegally parked on the shoulder of the drives for safety of the driver and those around.
App-based Rideshare (including Uber and Lyft) are rapidly growing in popularity. The pick-up area on the 3rd floor of the parking garage and can experience congestion with late night arrivals. SEA implemented a new pull through layout for our drivers and passengers to help the pick-up process be more efficient.
Link Light Rail  is great alternative to avoid traffic and congestion, see Sound Transit's Service Alerts for any possible schedule impacts. For passengers needing additional assistance there is a free Train to Plane shuttle from the station to the terminal. Find other information to help you get to and from the airport faster and easier.
All rental car companies are in a single off-site facility located only a few minutes away and available by a free shuttle 24/7 on the north and south end of the arrivals drive at baggage claim level.
IN THE TERMINAL
WHAT'S THE HOLD UP?
AIRPORT ACCESSIBILITY