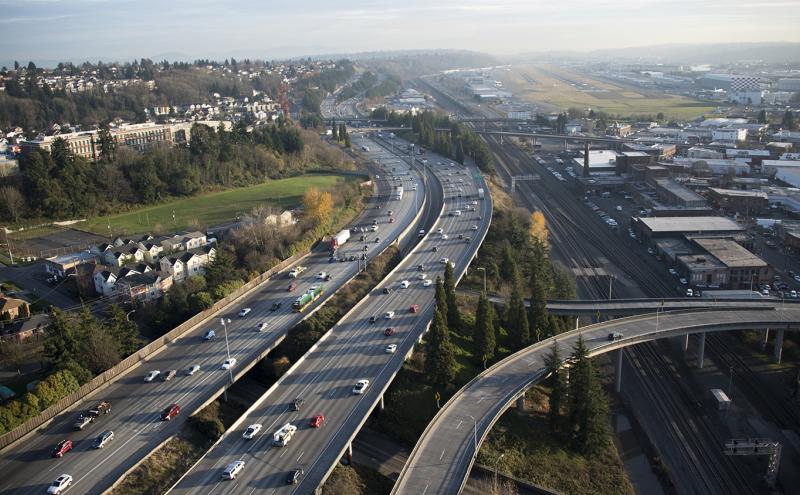 Port of Seattle Economic Impact
In 2017 and 2018 the Port of Seattle commissioned reports on the economic impact of all of its maritime and aviation business.
Seattle-Tacoma International Airport
Seattle-Tacoma International Airport (SEA) is one of the Pacific Northwest's leading economic engines. From airport workers who live in neighboring communities to cherry farmers in Central Washington, and from shops in tourist destinations like Pike Place Market to corporate giants like Microsoft and Boeing, SEA touches nearly every aspect of the economy.
The Port of Seattle, operator of SEA, retained Community Attributes to measure the airport's economic contribution based on business activity data collected in 2017. Results demonstrate SEA is a strong driving force for sustainable regional prosperity. Activity on-site at the airport and throughout Washington state resulting from purchases by visitors arriving at SEA generates the following:
151,400 jobs, including 87,300 direct jobs
$7.1 billion in total personal income
$22.5 billion in total business revenue
$415 million in state taxes reflecting direct and secondary activities
Maritime Cargo Economic Impact
The combined total impact of maritime industries was found to include 83,600 jobs and $16.3 billion in total business revenue (1). These figures reflect activity at both the Seattle and Tacoma cargo terminals that are managed by The Northwest Seaport Alliance.
In 2015 the ports of Seattle and Tacoma joined forces to unify management of our marine cargo facilities and business to strengthen the Puget Sound gateway and attract more marine cargo and jobs for the region. The Northwest Seaport Alliance was the first of its kind in North America.
In 2018 the Northwest Seaport Alliance commissioned a report on the economic impact of marine cargo. The Northwest Seaport Alliance represents one of the largest cargo loading centers in the U.S. In 2017, more than 3.7 million twenty-foot equivalents (TEU) carrying 26.1 million metric tons of containerized cargo were handled at the Northwest Seaport Alliance across facilities at the Ports of Seattle and Tacoma. The majority of this cargo was international, though 700,000 TEUs were shipped to and from Alaska, Hawaii, and other domestic locations.
The report found that, combined across all marine
cargo activities, the NWSA directly supported 20,100 jobs and $1.9 billion in labor income in 2017. The average annual wage among direct jobs supported by marine cargo through the NWSA, including benefits, was nearly $95,000. In total, NWSA marine cargo directly supported $5.9 billion in business output in 2017. The direct and secondary economic activities related to marine cargo at the NWSA generate nearly $136 million in Washington state sales and use taxes, Washington state business, and occupation taxes and other statewide taxes.
Commercial Fishing and Recreational Boating Industries Economic Impact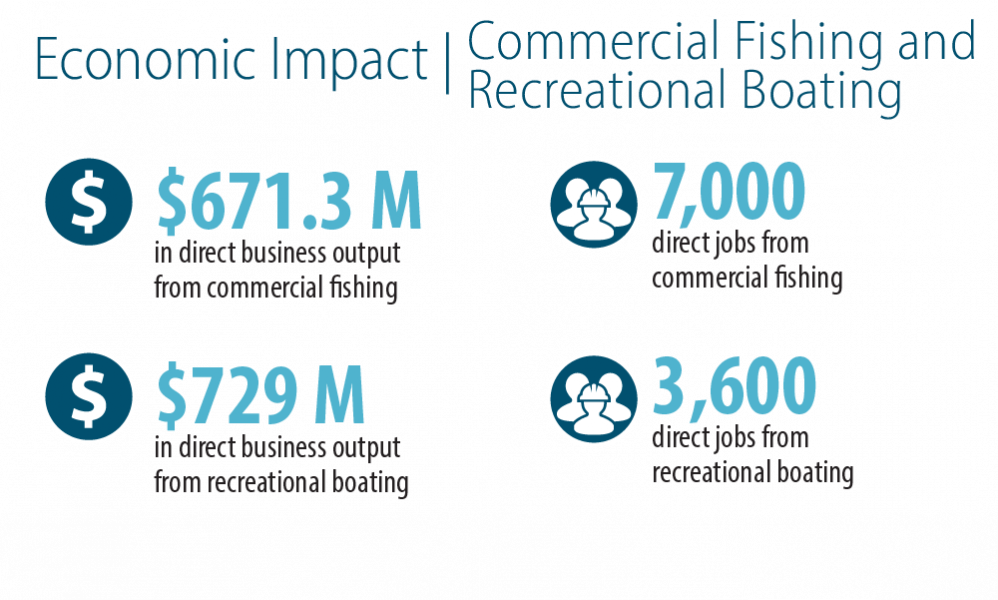 The Port of Seattle announced new economic impact report figures on the local fishing and recreational boating industries, highlighting the importance of maritime industrial properties in the region. Commercial fishing facilities on Port property hauled in over $671.3 million, supporting over 7,000 direct jobs, with recreational boating related facilities floating nearly $729 million, and more than 3,600 jobs.
Cruise Industry Economic Impact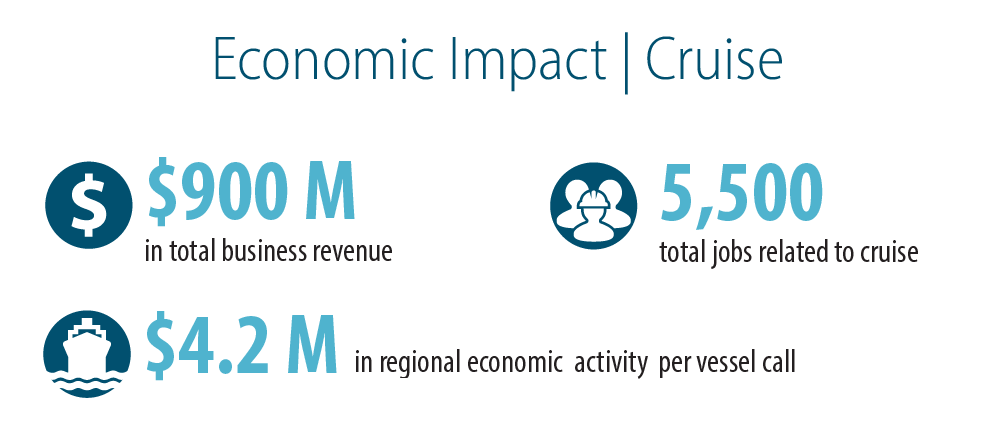 The results of a new economic impact report show that the Port's cruise business creates nearly $900 million a year in total local business revenue, with each homeport ship call contributing an average $4.2 million to the state's economy, and supporting over 5,500 jobs.
Other highlights from the report, prepared by local firm Community Attributes, include the following:
The total economic impact of cruise ships to the state economy in 2019, including direct, indirect, and induced impacts is estimated at 5,500 jobs, $260.1 million in labor income, and $893.6 million in business output.
Based on these estimates, in 2019 each home port vessel call on average will support a total of $4.2 million in economic activity to the region. This represents an increase over previous Port of Seattle studies due to: 1) a revised and more thorough 2017 study of passenger spending locally; and 2) an increase in cruise operation expenditures in the region.
Note: 1. The combined figures of 121,200 jobs and $19.2 billion business revenue reflect analyses conducted for different years.  The cruise activity component is reported for 2019 whereas the cargo, fishing, and other maritime activities are reported for 2017.
---

2023 Tax Levy
The Port of Seattle Commission approved the 2023 budget in November 2022.  The budget includes an annual tax levy of $82.7 million for 2023, a two percent increase over the 2022 levy of $81.0 million.  For additional information on the tax levy, including the planned uses of tax levy funds, please visit our 2023 Final Budget in Brief and 2023 Final Budget.