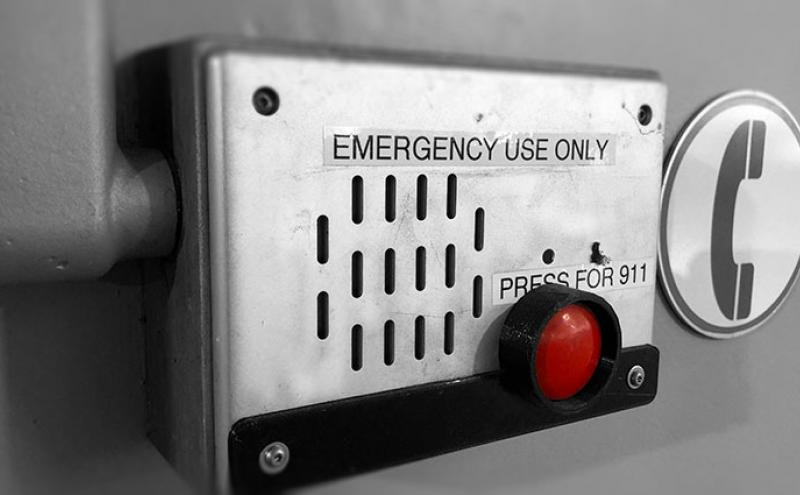 How a 5-cent part reduced false alarms to Sea-Tac Airport's 911 Center by 90%
The 911 intercoms in the airport garage are an integral part of maintaining a safe and secure environment for travelers at Sea-Tac. A health emergency, vehicle prowl, or other disturbance is the last thing a passenger wants to encounter, but it's reassuring to know that help is just a button push away.
After many years of service, the old intercoms had grown obsolete and it was time for an upgrade. In May 2017, Aviation Maintenance replaced the outdated technology with the new standard intercoms used throughout the rest of the airport. The complete interface included flashing blue lights, 911 emergency signage, and a larger, easy-to-use red panic button to instantly request assistance from the Port of Seattle Police or Fire Departments.
The new improvements were perhaps a little too easy to use. In the first two months of operation, the Port's 911 center was receiving an unusually high uptick in false alarms. Passengers, often loaded with luggage, in a hurry, or trying to corral large groups, were bumping into the large, raised buttons inadvertently. The problem reached a peak when more than 46 false alarms were generated in a 30-day period from the 4th floor of the garage alone. Because Port of Seattle Police were required to respond to each alarm, the problem was stealing valuable time away from our officers and 911 dispatchers.
The conventional solution would unfortunately have been to replace all of the recently-installed interfaces with new ones protected by plastic covers (buying a separate add-on cover was not an available option). Buying new intercoms would cost at least $21,500—not including the cost of pulling new wire or installation—and take hours essentially redoing work the Aviation Electrical Technicians thought they had just finished.
More importantly, having to figure out how to open the cover seemed like an unnecessary step to impose on travelers under duress in an emergency. "I kept putting myself in that position," said Aviation Maintenance Manager Teri Grosvenor, "I'm having a heart attack, and they're making me lift a cover before  I can ask for help."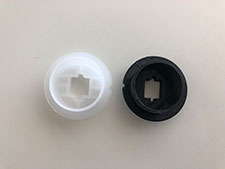 Fortunately, the Electrical Systems team had an ace up their sleeve—a 3D printer. They bought the printer precisely for situations like this one: replacing parts that aren't normally available for purchase. For example, the card and fingerprint readers employees use to pass through secure doors comes with a plastic part that breaks easily. Replacing the entire reader costs a minimum of $2,500 each. With their own 3D printer, the Electrical Techs can replace the part for just 5 cents.
Other creative projects include paper towel roll holders in the airport bathrooms, spools for printers at the ticketing counters, and specialized paper feeds for the cashiers at the toll plaza. Each part can be designed once and reprinted as needed, resulting in tremendous time and cost savings versus replacing entire units.
This time, the Electrical Techs designed a plastic shield that wrapped around the button so it wouldn't be so easy to bump into, but was still easy to press. Each 5-cent piece could be installed in a quick 5 minutes. Retrofitting every intercom in the garage took about 3 hours at a total material cost of $2.15.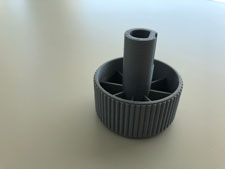 It worked. The month following pilot project installation on the fourth floor alone, false alarms fell from 15 to 20 per month to 6.  Since shields have been installed throughout the garage, false alarms have further fallen to just 1 to 2 per month and remained steadily low ever since, keeping our 911 dispatchers and police officers free to focus on real emergencies.
"The Electrical Techs are an amazing group of people," Teri said of her team's creativity. "We have some folks who are just incredible. They see a need and they do this all the time."
At the first annual Port of Seattle Innovative Idea Awards in April 2018, this resourceful team of creative thinkers was recognized by their peers with the People's Choice Award. Congratulations!