2022 was an exceptional year at the Port. We managed ongoing effects from the pandemic while achieving major goals to improve our service, sustainability, and positive impact on economic equity.
Just a few of the highlights from 2022:
Opening three marquee projects: the airport's new International Arrivals Facility, the new Duwamish River People's Park and shoreline habitat, and – with the Northwest Seaport Alliance – the first phase of the modernized Terminal 5.
Welcoming four new international services to SEA Airport: FinnAir to Helsinki, Finland; Air Tahiti Nui to Papeete, Tahiti; Air Canada to Montreal, Canada; Turkish Air to Istanbul, Turkey.
Setting a cruise passenger volume record while simultaneously working toward world-leading sustainability standards with a new First Mover Commitment for exploring the feasibility of a cruise-led Green Corridor to Alaska.
The Northwest Seaport Alliance also announced a new feasibility study of a Green Shipping Corridor to Busan, South Korea.
Expanding our investments to support small business, workforce development, responsible tourism, and community-led economic and environmental initiatives.
One theme stood out consistently this year. Whether working with our neighbors or restoring in-person ties with valued international partners, we were reminded how the power of connection makes our work rewarding and inspiring.
As we tackle the biggest challenges in our economy and environment, here's how you can participate.
1. Watch the State of the Port broadcast
Event is finished. Recording coming soon 
2. Watch the highlights of 2022 
Keytech Labs and Shark Garden
Africa's Best and Glass Eye Studios
Ocean Health and Maritime Futures
3. Download the State of the Port 2022 Annual Report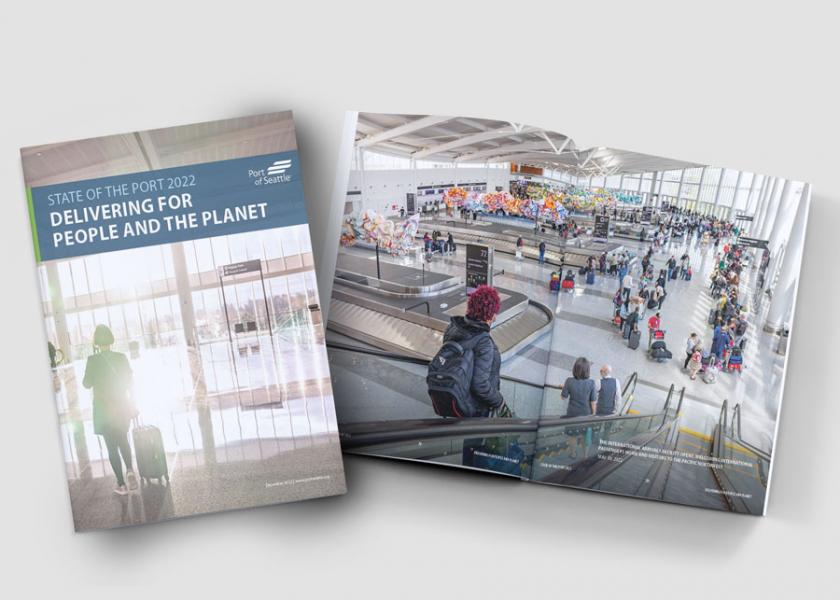 4. Review Environmental Accomplishments in 2022 
5. Subscribe to email newsletters
Stay up to date on Port and SEA initiatives throughout the year by subscribing to our email newsletters. 
If you have not received email from the Port recently, please subscribe now
If you already receive emails from the Port and want to change your subscriptions:  
Click the "Manage Subscriptions" link at the bottom of the email. This link is personal to you, so don't share with others. This link will appear on every email you receive and is the way to update your subscriptions after initial signup.
Select the subscriptions you want to receive. You will not receive a confirmation email but should get a confirmation screen. 
To remove yourself from a list, click the "unsubscribe link" at the bottom of the email.