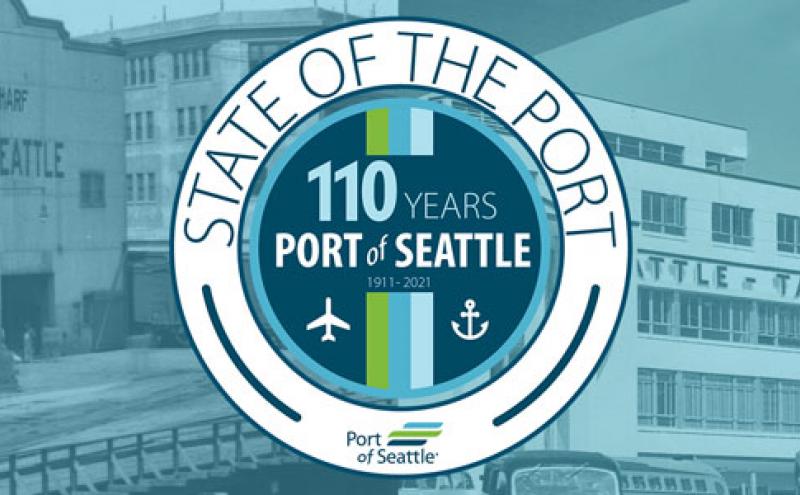 The State of the Port is strong and on solid footing. Looking back, we can confidently say that this year we made progress in restoring our operations and leading the region to recovery. Throughout the year we continued to face challenges related to the pandemic, but we were resilient. We adjusted, adapted, innovated, and moved forward.  
Last year we shared the principles to help lead an equitable and sustainable recovery and these same principles have served us well throughout 2021:
Putting health and safety first
Maintaining the operation of our aviation and maritime gateways 
Continuing our vital investments in capital programs
Keeping the community and sustainability interwoven in all our work and programs
The State of the Port meeting took place on December 9 but the work continues — here are a few ways you can stay up to date on Port and SEA initiatives until next year.
1. Watch the recording of the State of the Port meeting on December 9, 2021
2. View the end of the year video 
This video is a look back and a celebration of the many accomplishments of the Port of Seattle in 2021, despite many obstacles.
3. View the tribute to Port employees video
The Port of Seattle can't achieve our goals without the engagement, support, service, and dedication of our hard-working employees. This video tribute is a thank you to all you who have made this year's success possible, and gives us optimism that we can continue to achieve great things together in 2022.
3. Read the State of the Port Annual Report
The annual report provides a look back at 2021 accomplishments and what's next for the 2022 budget. 
4. Subscribe to email newsletters
Stay up to date on Port and SEA initiatives throughout the year by subscribing to our email newsletters. 
If you have not received email from the Port recently, please subscribe now
If you received email invitations to State of the Port and want to sign up for other newsletters:  
Click the "Manage Subscriptions" link at the bottom of the email. This link is personal to you, so don't share with others. This link will appear on every email you receive and is the way to update your subscriptions after initial signup.
Select the subscriptions you want to receive. You will not receive a confirmation email but should get a confirmation screen. 
To remove yourself from a list, click the "unsubscribe link" at the bottom of the email.