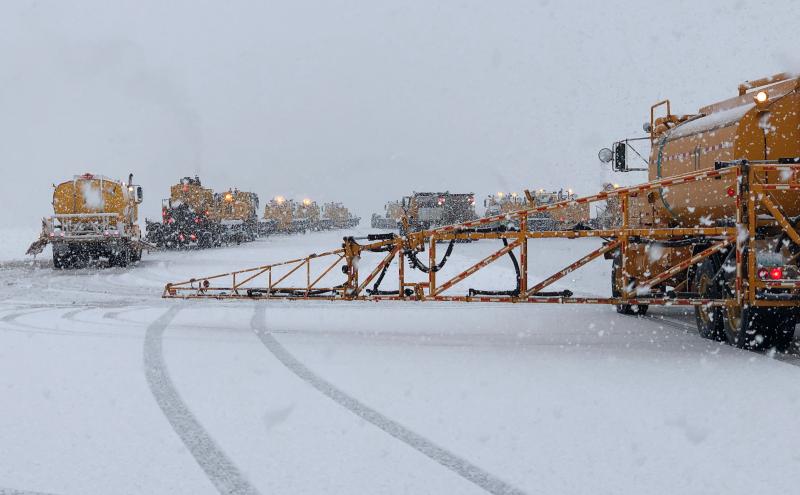 When the weather outside is frightful and you're worried that your trip to SEA Airport won't be delightful, rest assured that SEA Airport is working hard to keep the runways clear and planes moving safely for you.
Bookmark this page for time-sensitive updates 
Last update: November 28, 2023
Current weather alerts
No current alerts; future alerts will be linked from this page
---
Who's in charge?
Here's the breakdown of responsibilities in a weather event.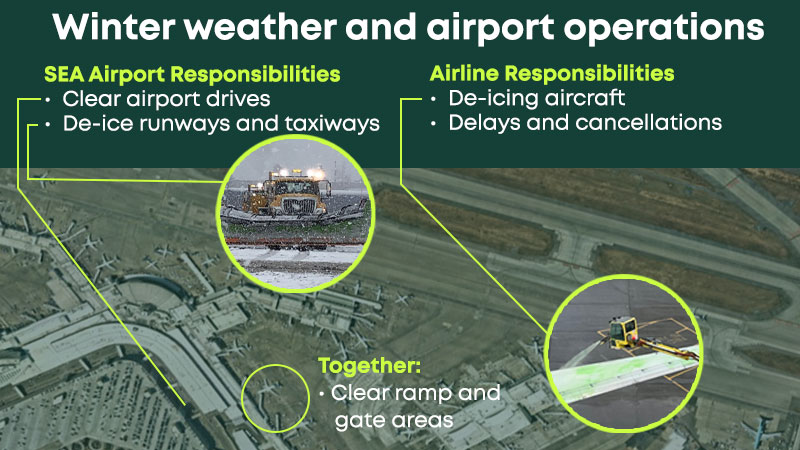 ---
Winter weather operations
Here's a little background on how the airport team gets ready for winter weather starting in the summer. 
Airport winter weather 101
How does SEA Airport prepare, respond, and communicate about winter weather? Here's the scoop
Winter weather FAQs 
Answers to your questions about winter weather operations. Get answers.
All You Never Wanted to Know about Airplane De-Icing
When the icy crud is falling from the sky, de-icing becomes an important part of your trip. Here's the real deal on what it is and why it's worth the wait. Learn about de-icing.
Winter operations and snow removal at SEA Airport
Just want the basics about winter weather operations and equipment?  Learn more
Five freezing facts about winter weather at SEA
When was the biggest snow month? How does the airport operate in low visibility conditions? Get the facts
---
Resources
When the flakes start to fall, checking these resources could make a difference in your trip. 
SEA Airport Home Page 
If there is a weather event or other incident, check the SEA Airport home page for a colored alert bar or an Incident Advisory graphic. Link
Flight Aware's Flight Cancellations Page 
This site tracks daily by airport delays and cancellations. To track SEA Airport flight status, input KSEA into the Filter all Stats by airport box.  Check cancellations
SEA Flight Information Online
This information comes from the airlines and is displayed on the screens in the terminals. 
Weather Conditions at SEA Airport
Get the latest conditions and forecast from NOAA/The National Weather Service station at the airport. Check weather conditions at SEA
FlySEA App
Download the app for your iOS and Android platforms to get updates on your flight and Checkpoint Wait Times. Get the app 
SEA Airport Social Media
Real-time updates are posted to the SEA Airport Facebook page and Twitter feed. 
 
SEA Airport Text Alerts
Sign up to be notified of a weather incident or receive alerts during peak travel periods. Join the text list
Sound Transit Alerts
View service alerts or sign up for email and text alerts. View alerts