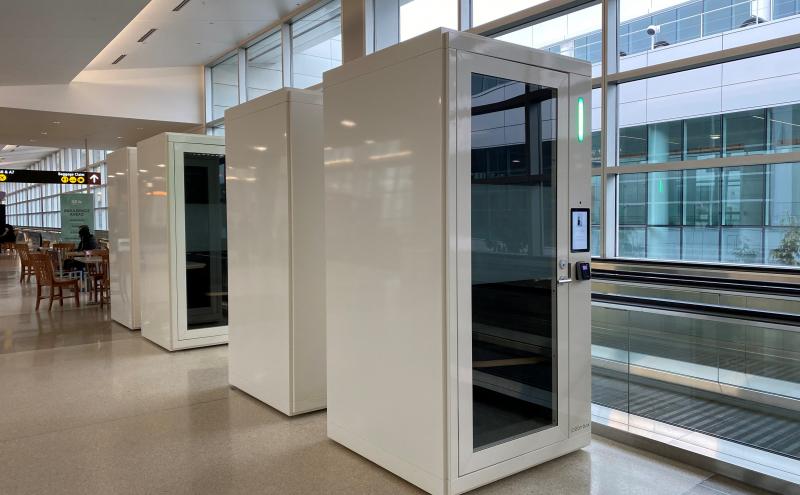 Business in the front, productivity in the back.
Workspaces are now in the terminal! You're on the go and so is your work. If you're traveling and need a place to take a call, run a meeting, and get things crossed off your to-do list while at the airport we've got some spots for you with Jabbrrbox. 
So, what is a Jabbrrbox Escape Pod? Jabbrrbox is a technology-equipped workspace that is plush and quiet, and thoughtfully designed for the mobile workers of the world who need a better place to work while on the go 
We have 11 workspace locations available throughout the terminal: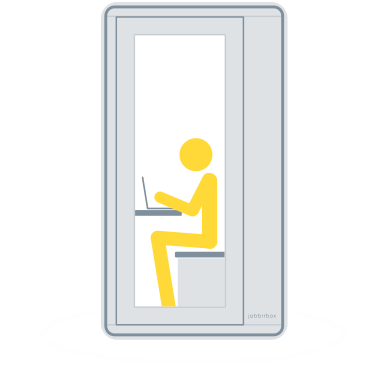 4 units across from Gate A9 near the moving walkway
3 Units across from Gate D10 near the restrooms 
2 Units across from Gate S1 near Hudson 
2 Units across from Gate A5 near Africa Lounge
Use our interactive map to find the closest Jabbrrbox to you! 
 
Find and Book an Escape Pod by Jabbrrbox 
Don't stress or waste time looking for a quiet place, simply find the Escape Pod by Jabbrrbox nearest to your location and reserve it. Head over and unlock the door to your own personal on-demand workspace to think, create, connect, and recharge. Units are booked on-demand on the outside of each unit in 15-minute increments for up to two hours.  
Download the Jabbrrbox App and become a member: 
Accessibility: 
Escape Pods by Jabbrrbox currently available at SEA are not wheelchair accessible.  We plan to add accessible units in the near future.  In the meantime, guests requiring an accessible space may purchase a day pass for "The Club at SEA" located at the A and S Concourses. 
Health, Safety, and Cleaning Protocols 
180 cfm continuous airflow for complete air changeover every 60 seconds 
Antimicrobial surfaces which suppress the growth of microorganisms and limit the transmission of harmful microbes 
Air filtration to reduce airborne contaminants, including particles containing viruses. 
Multiple daily disinfectant cleanings to kill 99.9% of all viruses and bacteria on all surfaces 
Features: 
A feature-rich IoT (Internet of Things) device which is remotely maintained and managed in partnership with a local team for daily cleaning and light maintenance. Each Jabbrrbox includes a 24" touchscreen with a camera, speaker & microphone that allows for future experiential partner integrations.  
Core Product Specifications
24" Touchscreen 
Support 
Bluetooth 
Access Control 
Microphone 
Antimicrobial 
Sensors 
Speaker 
Camera 
Power 
Comfort 
Wi-Fi 
Lighting 
USB 
Payments 
On-Demand Bookings 
Advanced Reservations 
 API Backend 
System Diagnostics 
Advanced Reporting 
Partner APIs 
Customer Service and Support 
Location and User Management 
Need Help?