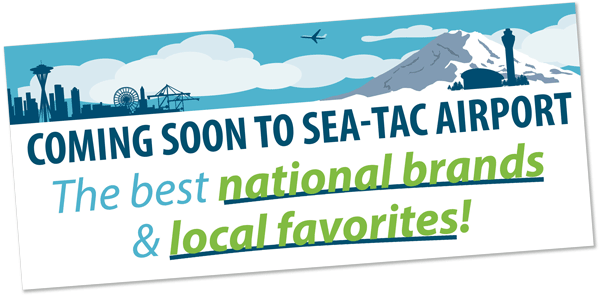 The Port of Seattle is nearing the end a long-term dining and retail redevelopment program to increase options for travelers and expand access for small and local businesses. 90 percent of the units were expiring over several years, and some have already been re-leased.
Sea-Tac Airport is an economic driver for the Pacific Northwest and a gateway to the globe. We aim to deliver a Northwest sense of place to travelers by promoting job growth and creating new opportunities for small and minority-owned businesses. If you're a business owner looking to do business at Sea-Tac, click here for more information.
As we add new and different names inside the airport with a mix of national and local brands for our travelers while also balancing community and Port priorities, the Port is significantly increasing customer choices, business opportunities, and local jobs by expanding from 85 to 135 airport dining and retail establishments.
Check back here for news and announcements to be the first to know about what's coming soon!
Recently opened
Just this year, Sea-Tac Airport opened 16 new dining and retail options. Lucky Louie Fish Shack™, Evergreens Salad, Pallino Pastaria, Pei Wei Asian Kitchen, and Koi Shi Sushi Bento are new quick service eateries in the Central Terminal. Other fresh additions include Caffe D'arte, Bambuza Vietnam Kitchen and Skillet that are serving up espresso, Vietnamese cuisine and gourmet comfort foods in the N Gates. Le Grand Comptior on Concourse C, offers hand-picked Pacific Northwest wines as well as sit down bistro-inspired foods in a sophisticated wine bar atmosphere.
Other recent openings encompass: 
Ballard Brew Hall: Designed to reflect Seattle's beer scene, Ballard Brew Hall is ideal for artisanal-minded travelers looking for local craft beer, Washington state wines, handcrafted cocktails, and a full dining menu. Now open on Concourse D. 
Starbucks Urban Market: With two locations at Baggage Claim and on Concourse D, Starbucks Urban Market offers all of the stable menu items from Starbucks along with a variety of grab-and-go food choices, news, sundries, travel necessities and more.
Swarovski: A world-leading producer of fashion jewelry, the sparkling world of Swarovski is open on Concourse A. 
Camden food co.: A healthful bistro dedicated to sandwiches and salads, Camden food co. opened on Concourse D in April 2019.
Seattle Made: Featuring high-quality products designed and manufactured in Seattle by more than 350 member makers, Seattle Made opened on Concourse C in April 2019.
The New Stand: A modern era travel retailer and newsstand concept for the reading and gift needs of passengers, The New Stand opened in North Satellite in spring 2019. 
Elliot Bay Book Company: An adored Seattle bookstore, Elliot Bay Book Company opened in Concourse C in October. Stop by for excellent staff picks on what to read on your trip. 
Neighborhood: A much anticipated bar and small bites experience in Central Terminal, Neighborhood opened in October serving hand crafted sandwiches, fresh salads and antipasta platters along with beers and wines.
Coming soon
There are still more shops and restaurants coming soon to Sea-Tac Airport, including:
Poke to the Max, Concourse D: Late 2019
Trailhead BBQ, Central Terminal: Late 2019
Mi Casa, Concourse B: Early 2020
Sunset Fried Chicken, Concourse D: Early 2020
Capitol Hill Food Hall, Concourse A: Early 2020
ExOfficio, Concourse A: Early 2020
Seattle Beer Union, Concourse A: Early 2020 
Lady Yum, Concourse A, Early 2020
Vyne Wine Bar, Central Terminal: Early 2020
Subway, Concourse C:  Early 2020

Beecher's Annex, Concourse C: Early 2020

Salty's at SEA and BrewTop Social, Central Terminal: Mid-2020
9th & Pike Artisanal Sandwiches & Salads, Concourse C: 2020 
Skillet, Concourse C: 2020 
Lou Lou Market & Bar, Concourse B: 2020
Li'l Woody's, North Satellite: Mid-2021