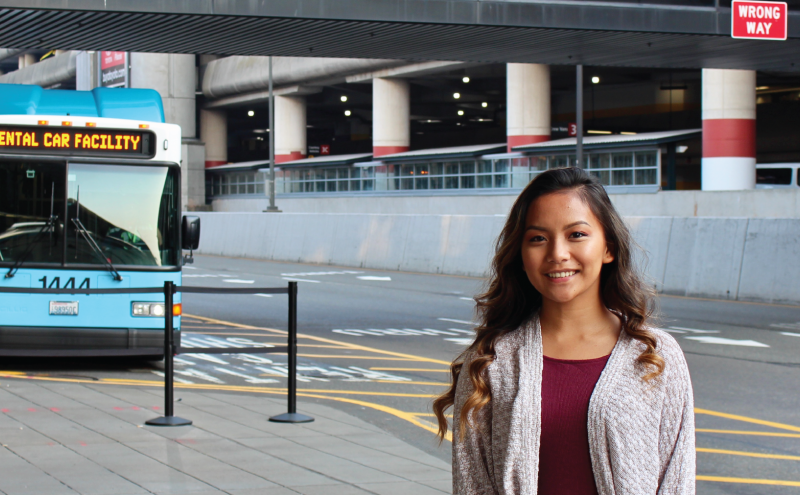 Meet Cherry Rose Arcilla, high school intern for Airport Transit Operations. She discovered all the small things that keep a big airport operating for passengers.
Cherry Rose Arcilla first heard about the summer internship program through the Young Executives of Color (YEOC) program, a nine-month college preparation program hosted by the University of Washington. At a career fair hosted by YEOC, a Port of Seattle representative guided students on applying for the summer internship.
"To be honest, I didn't know much about the Port of Seattle. It was unfamiliar territory, but the idea of working somewhere unfamiliar was new and exciting," Cherry said. "I wanted to do something with customer service, but also network for a career in business."
And so, after a competitive but successful application process, Cherry was pleased to hear that she had received a position with the Airport Transit Operations (ATO) Office at Seattle-Tacoma International Airport.
"I was amazed to discover all the small things that go around in a big airport. To keep the airport operating and customers happy, there is so much going on in the background. Communication across teams is critical."
As a low-income youth and immigrant from La Union, the Philippines, Cherry wanted to share her perspective on accessibility and equality to the entire Port. "It is an important topic that often gets overlooked. Preparing an event open to all employees was intimidating, challenging, and exciting. With the help of others, it turned out to be a great success".
At Cleveland High School, Cherry excelled inside and outside the classroom. She was part of the National Honors Society, All Girl Everything Program, and the Upper Bound program for first-generation low-income students. In 2016, she led one of Seattle's select frisbee team to the national stage where they placed third in the country.
After her internship, Cherry will visit London for the first time before starting her freshman year at the University of Washington in Seattle.
Published Date
Dec 12, 2017