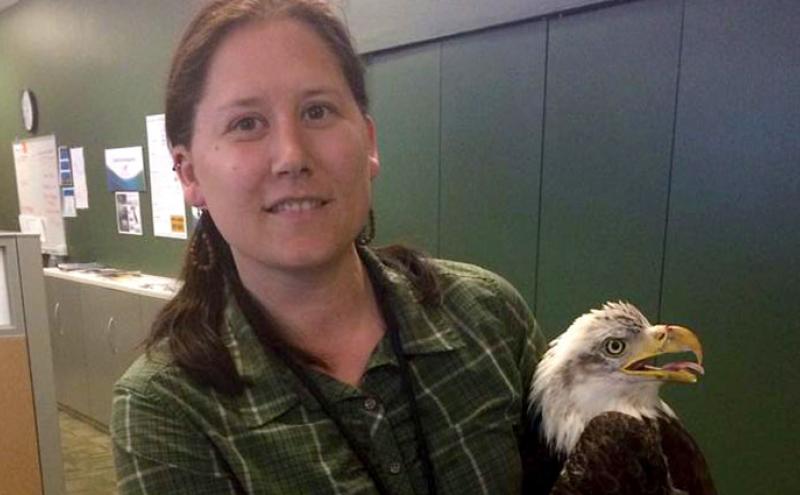 By Omie Drawhorn
Wildlife Biologist Mikki Viehoever works hard to keep animals and passengers safe. In addition to running the Unified Pest Management Program and the Raptor Strike Avoidance Program, she takes care of animals on her hobby homestead and plans vacations around viewing and learning about animals.
What is your current role at the Port and what is your background?
I am a wildlife biologist at the Port and I've been here for five and a half years. Before this, I worked for Biota Pacific Environmental Services doing surveys for Northern Spotted Owls and Marbled Murrelets. Before then, I was a Wildlife Specialist and Research Biologist for the Arizona Game and Fish Department.
As a wildlife biologist, I work in both the terminal and the airfield with a lot of different animals. Specifically I manage different tenants and contracts under the Unified Pest Management Program, which provides pest control services for all airport tenants, and oversee the Raptor Strike Avoidance Program, a program that traps birds of prey on the Sea-Tac airfield and safely relocates them to Skagit County. The program moves 100 birds a year and helps avoid bird strikes, which can be dangerous for aircraft, passengers and birds.
What do you like about your job and working at the Port?
I've always loved animals and have wanted to work with them since I was four years old. I particularly love working with the red-tail hawks; I worked with raptors in college and it's neat to be able to work with them in my job today. Red-tailed hawks happen to be one of our larger, more hazardous species trapped here and we spend more time monitoring their hunting and breeding behavior than any other species at Sea-Tac. 
I love working at the Port because it's amazing to work with animals every day and in a job that supports conservation of the environment. I also love meeting so many different people at the airport — it's an interesting mix of people and everyone is very supportive and positive. I really appreciate being able to develop the Raptor and UPM programs and the fact that this program is a high priority for the Port.
What is the most surprising thing about your job?
When I started, I didn't know that working with wildlife would also include dogs and cats! I carry a snare pole in the back of my truck to help capture escaped pets and return them to their owners or to safety. Dogs can escape from faulty kennels or nearby Air Cargo Road and we've had to retrieve cats from the terminal ceiling! The airfield is surrounded by a coyote deterrent fence, but dogs sometimes manage to get in and we need to keep them safe. One of my strangest animal stories was life imitating art. Right after the release of the movie "Snakes on a Plane," we found a small snake in the seat back pocket of an airplane arriving from Texas, perhaps placed there by a child? It was a small snake native to the Southwest, and it was adopted by a member of the Pacific Northwest Herpetological Society.  It had a happy ending, but it was funny because it happened shortly after "Snakes on A Plane" came out.
Why does the Port have a wildlife program?
Most people are surprised that airports employ wildlife biologists, but in fact, many larger airports have biologists on staff. Sea-Tac has the oldest wildlife program in the country — we just celebrated our 40-year anniversary in 2016. The program keeps both animals and people safe by reducing the chance that the two never meet on the runway or in the air.
What do you do when you're not at work?  
As I said, I love animals and everything in my life, even outside of work, revolves around them. At home, I raise an interesting menagerie on my hobby homestead. My animal family includes:  six dairy goats, two rabbits,  43  birds ( including 30 chickens, one turkey, four Guinea fowl and, eight ducks) and two  honey bee hives. And that's just outside! My indoor pets include a corgi, a cat, two small parrots, a ball python, a scorpion, three tarantulas, and a whole freshwater aquarium of fish. Thankfully, my husband is on board with this plan and loves animals as much as I do! My 8-year-old son loves animals too and we have fun looking for reptiles, snakes, lizards and frogs.  I also travel to see cool and exotic animals, neat birds and reptiles. On our last big trip in 2014, we did our own safari in Namibia, Botswana, Zimbabwe and South Africa.              
A big thanks to Mikki for sharing her great story!
(Photo above, right: Mikki Viehoever and her husband on safari at the Cheetah Conservation Fund in Namibia.)
Published Date
Jun 15, 2018