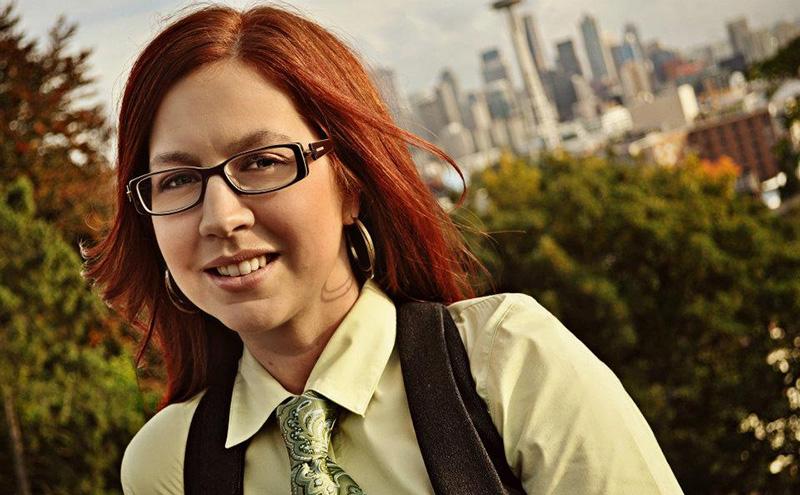 Each summer, the Port welcomes a host of high school and college interns to our organization. In 2016, the Port of Seattle Commission committed to tripling the number of internships available to youth through the Port and our partners. Internships offer young people a chance to explore new career opportunities and to jump start their professional development, especially as more of the boomer generation transitions into retirement.
While many of our interns are only with us for a few weeks before returning to school, the process of organizing, promoting, and recruiting for our intern program is a year-round, full-time effort, led by our intrepid HR Outreach Program Manager , Amberine Wilson.
Our profile this month comes as Amberine passes her 10 year service anniversary with the Port. Her current role is her fourth within the organization, and her story is a great example of the long-term career success that can come from hard work, being proactive about achieving your aspirations, and preparation meeting opportunity.
By Hewan Mengistu
How did you hear about the Port of Seattle?
About 11 years ago, I was working as a tutor and also as a server at the Waterfront Seafood Grill. I realized that was not what I wanted to do because I was getting burnt out and I wanted to focus my career on public service. I decided to go back to school to get my master's in Public Administration, and I was accepted to Seattle University.
I had night classes, which meant that I could not be a server anymore.  I started letting all my regulars at the restaurant know that I was saying goodbye and looking for a day job. It turns out some of my regulars were the entire ICT senior management team at the Port of Seattle! They told me they had an opening for a Process Documentation Specialist and they encouraged me to apply. I competed for the position and got the job. This just goes to show that networking works!
What would you consider some of your career milestones?
Getting the job at the Port of Seattle was a milestone because it was my first professional job. I had spent my entire career before in the hospitality industry: serving, bartending, and catering. Being the Content Services Manager in ICT (Information and Communications Technology) was also a milestone because it was the first time I was managing someone and managing a work queue of projects. Finally, my current position in HR was a major career milestone for me because I finally feel like I am doing what my degree was focused on and what I am most passionate about. This job fuels my personal mission to help my community and the Port's mission to help the region at the same time. It feels great when your values and passion align with your work.
What are some of the things that you do?
I run the high school internship program, college internship program and the veteran fellowship program. It means developing and communicating program strategies, doing outreach with multiple external partners as well as internal stakeholders, managing the budgets, coordinating the selection and onboarding processes, designing and conducting trainings, and of course coordinating events and activities for each of the programs.
What is your favorite part of your job?
I have a passion to give back to the community and to work directly with youth. When I was in ICT, the Port Commissioners wanted to triple the number of interns at the Port. My supervisor asked if any of her direct reports could take an intern or two for that summer—and I said I would take 12.
I grouped my 12 interns into project teams and I designed a project-based learning curriculum.  I taught them the solution design process and SharePoint skills, then they picked which business problems they wanted to tackle. I had so much fun working with my interns that year, and two of their SharePoint solutions are still being used by several Port departments today. I have to admit, I was also thinking, if HR is going to maintain the high number of interns each year, they are going to need someone to run the program and I wanted to prove that I could do that. I wanted to demonstrate what project-based learning could do and leverage my experience to apply for the new opportunity. When I applied for the HR Outreach Program Manager position, I was so excited that I submitted my strategic plan for the Youth Internship Program and the Veteran Fellowship Program in my application packet.
My favorite part of my job is absolutely spending time with all the interns. I enjoy all the activities when we are training and learning together. Some people ask how I survive spending three days of orientation with 80 teenagers, but it's honestly my favorite part.  Teenagers are fun and hilarious, and I learn a lot from them!
I am also very excited to be part of the Port's Veterans Fellowship program. I am really proud of the Port's work helping transitioning veterans find meaningful careers. It is such a good fit, I think, for veterans to work in a public agency and they add a lot of value to our organization. It's really rewarding to get to know them while they are here and help them find permanent employment.
Are you a member of any Port Employee Resource Groups?
I served on the Development & Diversity Council for two years, which was a lot of fun. Currently, I am a member of the Port of Seattle Chapter of BIacks in Government. Some co-workers and I also started PAVE (Port Association of Volunteer Employees); the idea behind PAVE is to get Port employees together who enjoy doing public service and to find opportunities to volunteer together. I think volunteering is a great way to develop relationships, build skills, and improve your health all while giving back. My new role keeps me so busy that I do not have enough time to dedicate to PAVE, so I am looking for somebody that has that passion to take it over and run with it.
Do you have any Future Career Goals?
First and foremost, I have a lot of work to do here at the Port. There are both process and program improvements I would like to make to all the HR Outreach programs. In particular, I really want to find better ways to support the Port employees who supervise interns; it is such an important and demanding role. Eventually, I would like to be an executive director of a nonprofit focused on youth development and empowerment. 
Looking back, do you have any career advice for someone who is just starting out?
Get really comfortable with networking. Build positive professional relationships.
Become a subject matter expert on something your department or company needs.  Learn a system or process that your company uses and learn it better than anybody else. Be the person that people will look to for information about that system or process.
Also develop your business skills like solution design or project management or process improvement or communications. Then keep your eyes out for opportunities and stretch assignments, anything that will allow you to demonstrate your passion and skills.  
Also, if you are feeling stuck, find something that you can learn in your current role that will help you achieve your future goals,  because that can really create extra job satisfaction at the moment.
Tell us more about you, have you lived your whole life in Seattle?
I grew up on the peninsula in Bremerton and then lived in Bellingham for a while before returning to Bremerton to get my associates degree at Olympic College. I eventually moved here to Seattle 20 years ago to go to the University of Washington. I really love Seattle and now live in Shoreline with my husband and son.
When you're not here at the port, what do you like to do in your free time?
I spend most of my free time with my husband DeAndre and my son Kaemon. My son is going to be six in October and he is absolutely adorable and sweet and funny and very energetic. He's a great kid! My favorite thing to do is to snuggle up and watch a movie. I also love to garden. There is something about digging in the dirt that is meditative for me; it helps me stay present. My backyard is actually a certified wildlife habitat because I provide water, food, and shelter for wildlife, specifically birds, bees, butterflies, and hummingbirds. I also enjoy listening to and playing music.
Published Date
Aug 27, 2018