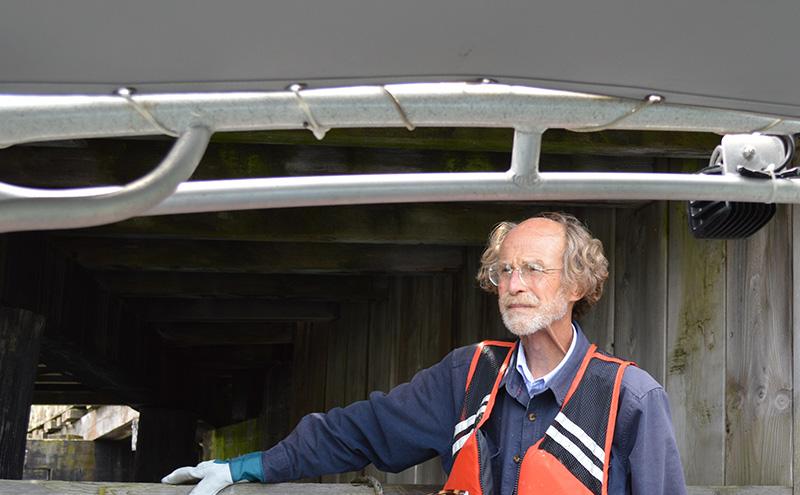 As a Sr. Environmental Program Manager, George Blomberg is out everyday helping to keep Seattle blue and green.
Interview by Hewan Mengistu
Tell us more about your role here?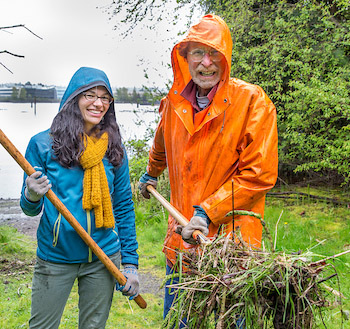 I work as a Sr. Environmental Program Manager in the Maritime Environment and Sustainability department. I get to work on large-scale marine industrial redevelopment, cargo facilities operations, and the fun thing about it is, occasionally, those large-scale Port capital projects involve public shoreline access, and fish and wildlife habitat improvements, which is my favorite part of my job.
How long have you worked here at the Port?
I started working for the Port in 1985. It's an exciting place to work. Where else on a daily basis can you see such a variety of work? Every day is different. The Maritime Environment and Sustainability section serves other departments in the Port. Within the organization, other Port departments are our clients; we receive tasks and assist with projects, with a great deal of variety, making things fun.
How has your work or the nature of your work changed over the years?
The biggest thing that has changed is the Port's evolving mission. When I first started, it was not commonly accepted that the Port emphasized economic development and jobs equally with the community and environmental assets. In [more recent] years, I think the Port of Seattle has been able to balance jobs, community, and environment in a healthy way.
Any events or fun activities over the years that have been particularly memorable?
One of the most recent comes to mind, Fishermen's Fall Festival—which is a community event at a large Port facility. Essentially the Port holds an open house, and at that open house, they make available free tours of the ship canal, so I have the opportunity to help by narrating tours for about 350 people. It's my opportunity to speak with citizens, describe what Fishermen's Terminal does, and describe other Port facilities and the port's mission.
What are some of your favorite things you have gotten to do in your role?
My favorite aspect of this job is ensuring that our capital development projects and operations meet and exceed environmental requirements. It is fun to work on a project where you have the ability to help shape a project with your co-workers to avoid and minimize potential negative environmental effects. It has a great creative aspect.
The first ever Blomberg Cargill Award was granted to you and Dan Cargill for excellence in advocating for a thorough cleanup. Can you explain a little more what the award was?
The Port and Dan Cargill, representing the WA State Department of Ecology, were recognized for working together with citizen groups.
What is rewarding about this job is that you get to work with citizens—citizens who are concerned with environmental restoration, access to the shoreline, and community equity. I am grateful for this award, but if anyone should be recognized, I think it should be the citizens who volunteer their time.
What did receiving that award mean to you?
Receiving this award is humbling. I think it indicates that citizens and non-government organizations trust the Port and have confidence in the Port. If the Port is recognized in this way, it perhaps in some cases means the Port is doing good work. It is meaningful to me because it acknowledges the Port's work.
Tell us more about you—have you lived your whole life in Seattle?
I was born and raised in Oakland, California. I came to Seattle in 1977 for graduate school. I then left for environmental work elsewhere and returned in 1985 when I took this job.
When you're not here at the port, what do you like to do in your free time?
I like to work at environmental restoration and work with other citizens who are interested in improving urban shoreline environments. It's easier now because my children are grown, and I now have the time.  What I do now when I am with my children is help with grandchildren.
Published Date
Dec 17, 2018