By Jennifer Em
Networking Helps Sheryl Find Her Path as a Pathfinder
Prior to joining the Port of Seattle, Sheryl worked at the Rental Car Facility north of Seattle-Tacoma International Airport (SEA). As a curbside assistant, Sheryl would occasionally interact with Port employees, including Douglas Flotlin, a long-time SEA Airport Pathfinder who had just completed an internal internship cross-training as an Airport Transit Operations Supervisor. Recognizing Sheryl's work ethic and outstanding customer service, he encouraged Sheryl to apply for a temporary Pathfinder position that opened in 2015. This was expected to last three months, but Sheryl was ecstatic to be extended another month.
A few months later, in 2016, a full time Pathfinder opportunity opened up. Sheryl eagerly applied and after a competitive hiring process, she was selected for the position and has been a Pathfinder at SEA International Airport since.
Customer Service Superhero
Working at as dynamic a place as SEA brings new experiences and challenges daily. Thousands of passengers travel through SEA Airport daily, and while far fewer passengers have been traveling in 2020 due to COVID-19, flying in the midst of a pandemic can feel extra stressful for those who do travel. Pathfinders serve travelers and customers throughout the terminals—managing crowds, providing information and clear directions to airport customers, and reporting safety and security issues in collaboration with various airport teams, including Port Police, TSA, and airlines. The job requires a lot of multitasking.
Four years into her Port career, Sheryl has gained new skills that help her provide the best possible service to customers. One example is finding ways to continue to providing personal assistance to elderly travelers who are more vulnerable to COVID-19 while upholding mask and physical distancing requirements. These same measures also add a layer of complexity to effective communications with customers, especially those who may speak a language different from what any of the Pathfinders currently on duty might speak. Still, equipped with a translation app and her approachable personality, Sheryl is able to confidently assist customers from all over the world.
Some days can be difficult, but having the opportunity to provide hands on service, make people smile, ease anxieties, and be a customer service superhero fills Sheryl with joy and purpose. Sheryl is always ready to elevate the customer experience at SEA!
Every day, Elevate
Outside of the Port, Sheryl enjoys spending time with her family, walking with her fiancé, cooking Filipino dishes, and organizing her home. Working at the Port has provided Sheryl with many opportunities to advance and grow as a professional in a diverse workforce. She also appreciates the work-life balance and great benefits that allow her to spend time with her loved ones and her hobbies.
Looking ahead, Sheryl hopes to continue making an impact at SEA and becoming an expert in the customer service field. By gaining experience with every interaction and attending trainings and development opportunities, Sheryl is working towards her goals every day.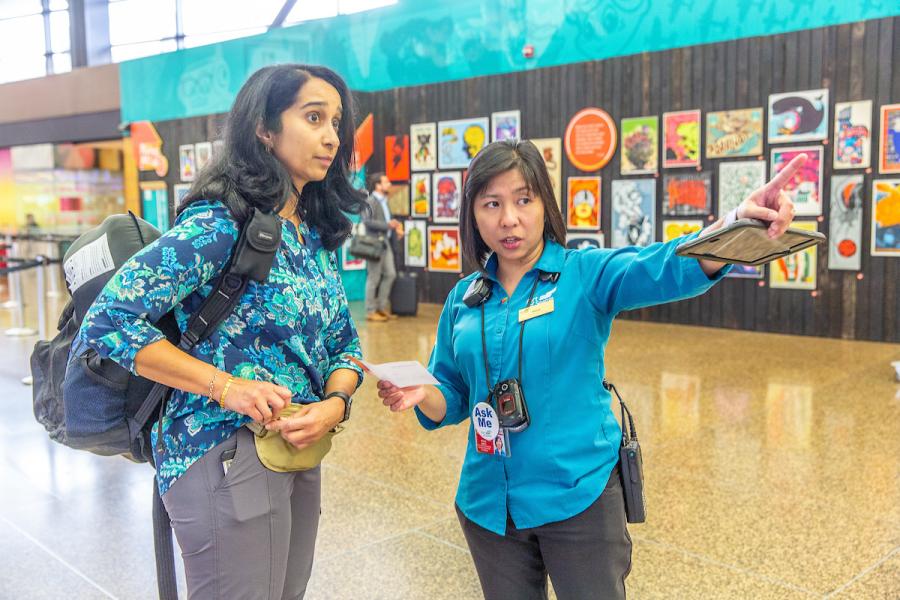 Airport Pathfinder, Sheryl Molina, helping a traveler at SEA (20 September 2018)
Published Date
Oct 16, 2020