The Quarterly Health and Safety Engagement Award recognizes employees' actions and behavior for their safety leadership.
The Port is committed to fostering a strong safety culture. Every day, employees act to mitigate hazards and improve safety around the workplace. Whether large or small, every action contributes to lasting operational improvements. The Port recognizes and celebrates the efforts of employees who ensure that employees and the surrounding community arrive and go home safely each day.
At the Port's 3rd Quarter Service Award Luncheon in October, three employees were recognized for their leadership, commitment and contribution to a safe environment for staff and the community. Each nominee is recognized with a certificate signed by Executive Director Steve Metruck and presented by their Director at a staff meeting. Nominations for the Quarter 4 Safety Engagement Awards are currently open and the deadline for employees to submit their recognition is Friday, Jan. 10, 2020. The finalists for the Q4 Safety Engagement Award will be announced at the Port's next quarterly Service Award Luncheon.
Darin Swift – Painter, Aviation Maintenance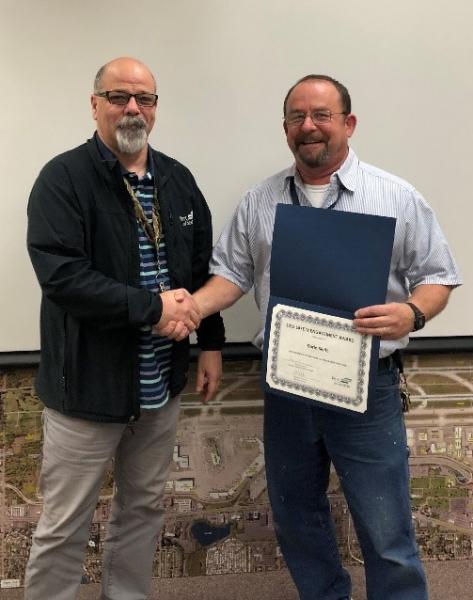 Darin was working in Concourse D at the Seattle-Tacoma International Airport when he noticed two passengers forcing a door open. The passengers went down the staircase and disappeared from video surveillance view. Having internalized the attitude that every employee is responsible for airport security, Darin quickly followed them down the ramp and brought them back to the terminal. He waited with the passengers until the Police Department arrived to clear and escort them off premises.
Brian Newman – Harbor Operations Specialist, Fishermen's Terminal, Maritime Operations and Security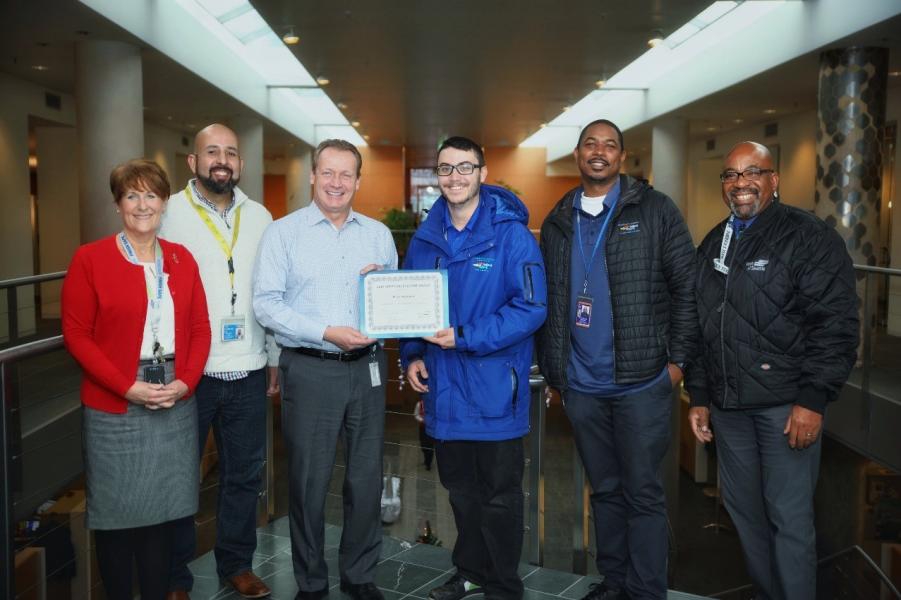 As a Harbor Operations Specialist and Safety Representative, Brian's responsibilities include identifying and reporting abnormal conditions along the docks and upland property at Fishermen's Terminal, Salmon Bay Marina, and Maritime Industrial Center (MIC). Brian noticed passengers and guests of a visiting recreational vessel at Fishermen's Terminal were jumping off the vessel and into the surrounding water. Swimming is prohibited at Fishermen's Terminal because the potential presence of stray electrical current in the water presents a deadly hazard to all swimmers and divers. Brian immediately addressed the issue with the owner of the vessel and his guest, who complied right away, avoiding possible injury. 
Angel Rodriguez – Mechanical Maintenance Engineer, Aviation Maintenance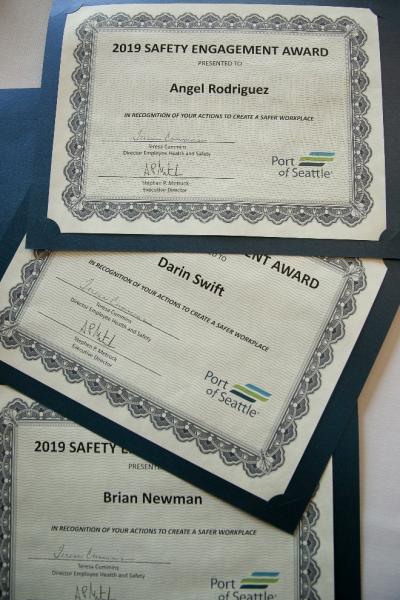 When the Passenger Loading Bridge (PLB) crew conducts maintenance on the jet bridges at night, tugs occasionally drive through their safety circle. They tried various means to keep rogue drivers out via cones and rope, but the night conditions made it difficult to see. The team came together and brainstormed ideas to make their work area better seen at night. Angel suggested they take a light string and hose reel to create a mobile lit safety delineator that could easily be transported and deployed. Since implementing Angel's idea, the crew has not had a single tug incident.
Published Date
Jan 06, 2020