The quarterly Safety Engagement Award went to those who displayed exceptional initiative, leadership, and commitment to safety
The Port commits to recognizing the numerous actions taken by employees to mitigate hazards and promote a culture of safety. Safety doesn't have to be a significant change, sometimes it's the small ones that make the biggest difference. This is why the Port designed a quarterly Safety Engagement Award to recognize and celebrate the everyday safety measures that ensure each employee, and the communities they impact, go home safely.
In July, the Port honored three individuals or groups for their exceptional commitment to safety and contribution to creating a secure environment for staff and the community. Of the nine nominations submitted in the second quarter, the top three were invited to a luncheon where Katie Gerard, Senior Director of Human Resources and Dan Thomas, Chief Financial Officer presented them with an award. The three nominees selected displayed exceptional initiative, leadership, and commitment to safety.
Steve Dumont, Joe Morton, Shawn Close – Engineering
During a Port inspection, Steve and Joe identified an energized panel that was open in Seattle-Tacoma International Airport. The condition of the panel meant that persons entering the room could be exposed to live electrical. They identified the potential source of electrical work and immediately notified Shawn Close, who was able to work with contractors and sub-contractors to get the exposure closed. All the while, Steve and Joe stood guard to ensure no one entered the space to protect others from the deadly exposure. Without their intervention, other workers and members of the public could have been severely injured and potentially killed. They also kept airport systems from being disrupted. This was an example of preventing incredibly tragic consequences at the Port.
Mark Jackson – Aviation Security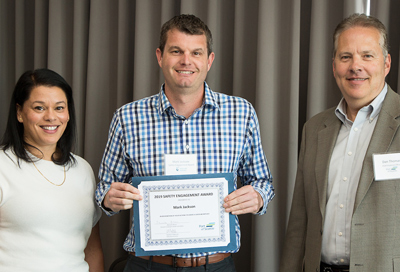 Mark Jackson took the lead to form a team to improve safety awareness and audits in his department when he saw that there was a need to improve compliance and safety. Any time someone wants "to lead the group to help improve the safety culture within the department" and then follows through in doing so, they should be held up as an example to the rest of the Port. Mark also took time to nominate other Port employees for their safety commitments, as well. His actions are the very meaning of safety leadership and engagement.
Mark Cann – Aviation Maintenance, Boiler Room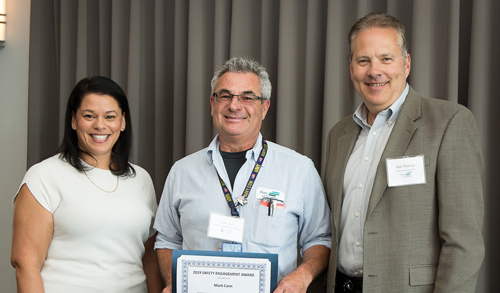 Mark's recognition is not for a single event, but instead for continuously and consistently looking out for safety concerns across Seattle-Tacoma International Airport. Mark has made numerous observations and taken initiative to prevent harm.  He is always alert for threats to Safety. This is an opportunity to recognize someone who has made safety an everyday part of their life.
Health and Safety at the Port would like to recognize all of the nominees for their contribution this quarter:
Lani Jellings, BJ Johnson, Todd Tyson, Senior Harbor Facilities Coordinators, Efrain Paligutan, Kyle Radabah, Nathan Taylor, Karen Walsh, Harbor Operations Specialists; Shilshole Bay Marina
Darrell Thomas, Carpenter Crew Chief, John Lyons, Tony Mell, Jereme Peterson, Carpenters; Aviation Maintenance
Anthony Wesley, Wireman Port Electrical Shop; Aviation Maintenance
Darrin Farmer, Lead Construction Support Specialist; Aviation Security
John Biddinger, Manager Signing and Graphics; Aviation Facilities and Infrastructure
Edward Weitz, Capital Project Manager V; Aviation Project Management Group
Mark Cann, Operating Maintenance Engineer; Aviation Maintenance
Mark Jackson, Aviation Security Operations Supervisor; Aviation Security
Shawn Close, Steve Dumont, Joe Morton, Construction Inspectors 2; Engineering
Each nominee is recognized with a certificate, given by Steve Metruck, Executive Director and presented by their director at a staff meeting. Nominations for the Quarter 3 Safety Engagement Awards are currently open and the deadline for employees to submit their recognition is September 19. The finalists for the Q3 Safety Engagement Award will be announced at the Port's next quarterly Service Award Luncheon in the autumn.
Published Date
Aug 05, 2019