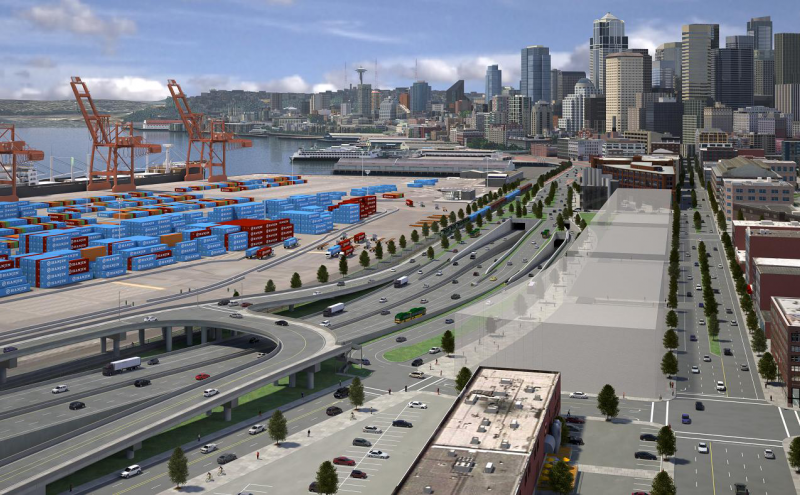 The Port of Seattle relies heavily on State Route 99 and the Alaskan Way Viaduct for freight mobility, Port facility access, and regional mobility. While our container trucks don't travel on the viaduct, it nonetheless carries more than 100,000 vehicles every day that otherwise would be on Duwamish area surface streets and conflicting with freight and rail lines.
In addition to freight mobility and terminal facility access, many people use the viaduct to access the Port's Pier 66 Central Waterfront complex, Cruise Terminal, Pier 69, Terminal 91, Port marinas, and Seattle-Tacoma International Airport. The viaduct also is key to the regional highway system, carrying 25 percent of the north-south traffic through the downtown Seattle area.
Following the Nisqually earthquake in February 2001, the State of Washington and the City of Seattle realized that the viaduct, built in 1953, suffered not only from decades of daily heavy use but was vulnerable to substantial damage in an earthquake. Replacing it became critical to public safety.
Project status
Work on the Viaduct Replacement Program began in 2007 when stabilization of four viaduct columns near Yesler Way started. 
In January 2009, Governor Christine Gregoire, Mayor Greg Nickels, and County Executive Ron Sims announced a bored tunnel hybrid as the preferred alternative to carry forward for further study. The two-mile bored tunnel option was selected, in part, because it was the only approach that would allow SR 99 to remain open for the majority of construction.
Dozens of other projects related to the reshaping of the SR 99 corridor were included in the program and funded by local, state, and federal jurisdictions. In August 2013, the Port and the Washington State Department of Transportation (WSDOT) entered into an agreement for a Port contribution of $281 million to the Viaduct Replacement Program so that it achieved the best balance among retaining and creating jobs, sustaining regional economic vitality, and benefiting the environment.
In 2019 the centerpiece of the program was completed when surface street connections were reconfigured to access the newly-completed tunnel and the SR 99 tunnel opened.
Learn more about the Viaduct Replacement Program:
Program Funding
The Port contributed $281 million to the Viaduct Replacement Program.