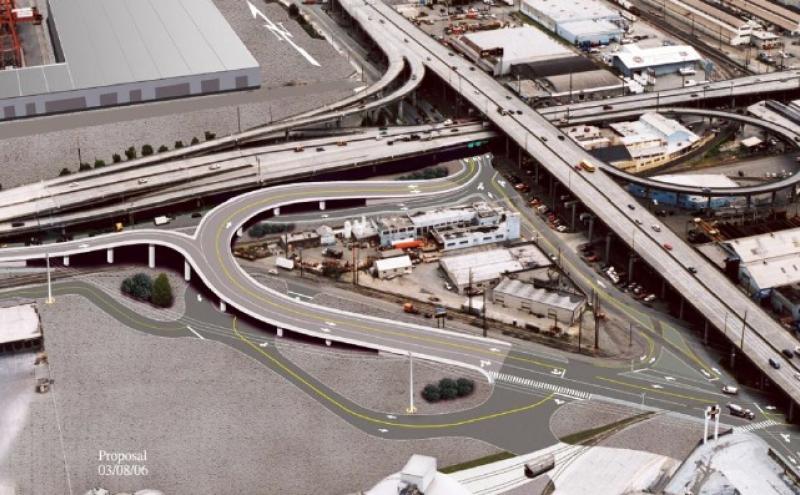 The Port of Seattle and its partners have completed the East Marginal Way Grade Separation project, on Duwamish Avenue South, with a ribbon-cutting in April 2012. One of the original FAST Corridor projects, the new overpass improves road and rail access to Port terminals, BNSF, and Union Pacific intermodal rail yards and regional manufacturing and distribution facilities. It also benefits motorists and industrial traffic moving to and from West Seattle. The road now rises over railroad tracks, which connect rail mainline with the on-dock rail at the Port's Terminals 5 and 18 (where containers are loaded directly onto trains rather than moved by truck to a rail yard).
Project Status
The project began construction in Fall 2009 and opened for traffic in Spring 2012.
Benefits
Improve safety by eliminating rail/highway conflicts at the crossing
Reduce vehicle delay at railroad tracks, estimated at more than 270 hours daily in 2010
Improve air quality by reducing delay-related idling of trucks and other vehicles
Facilitate greater efficiencies in an area of significant intermodal and multimodal activity
Complement implementation of ITS (Intelligent Transportation Systems) infrastructure, increasing system efficiencies on port and city facilities
Funding Status
The project received $2.875M from ARRA federal stimulus funds in May, 2009, and the Port increased its contribution to complete the funding package.