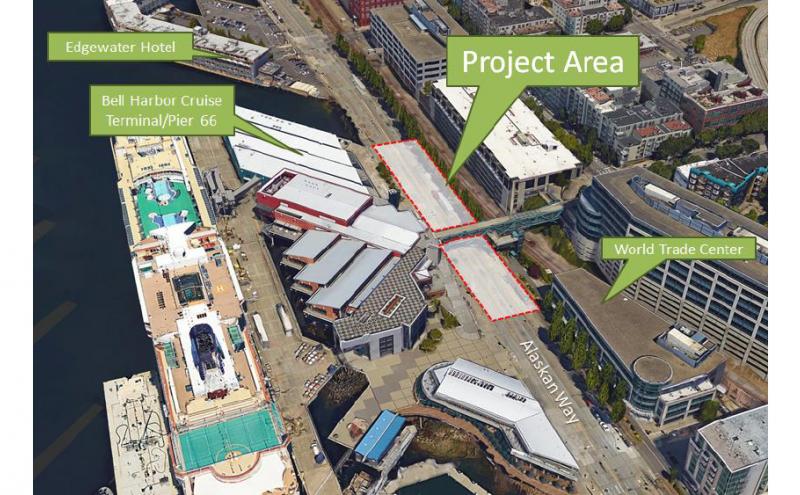 The Alaskan Way Improvements at Bell Harbor Cruise Terminal widened a segment of Alaskan Way, with the aim of increasing safety, reducing traffic congestion, and traffic-related delays because of cruise operations at Pier 66.
The Port's Alaskan Way Street improvements were successful in achieving these goals and have greatly improved vehicle capacity on Alaskan Way and enhanced cruise ship operations. The project also reduces additional congestion during the ongoing Alaskan Way Viaduct demolition. Just as importantly, the improvements have increased the safety of vehicular and pedestrian traffic in the terminal areas on busy cruise days.
Cruise operations in Seattle have a significant economic impact on the region. The industry supports the regional economy by:
Generating $893.6 million for the local economy each season
Providing more than 54,500 local jobs each season
Bringing $42.million per vessel call, with 216 vessel calls in 2018
Contributing $14.5 million in state and local tax revenues per year
Hosting 11 homeport vessels in 2018
The success of this thriving cruise business in Seattle has caused additional traffic and fairly significant congestion on days when cruise ships are at berth. That's because cruise operations at Bell Harbor Cruise Terminal rely on Alaskan Way for a significant portion of land-side access and loading.
The Bell Harbor Cruise Terminal area is further affected by the need to accommodate traffic detoured from the Alaskan Way Viaduct during its demolition and before the replacement connection, Elliott Way Connector, is constructed between the beautiful Seattle waterfront and Belltown.
Project Cost and Timeline
The project cost $1.6 million to complete. Work was completed in April 2018.