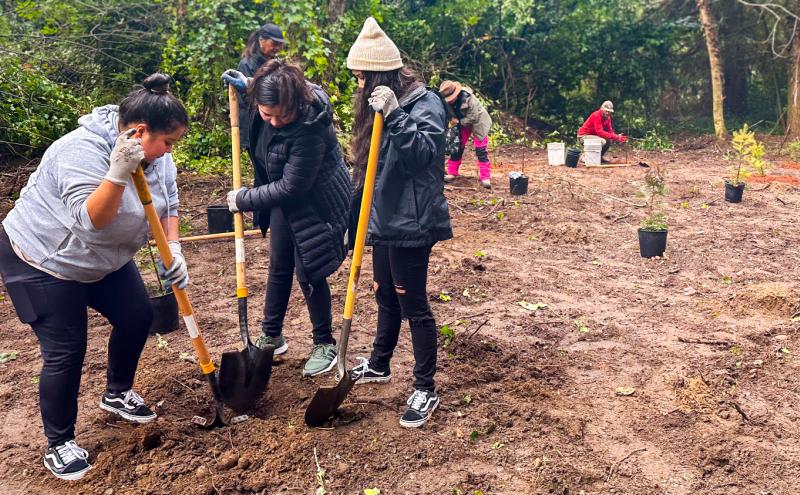 New 2:1 match requirement to reduce burden for grantees
September 18, 2023
This press release is available in eight languages: Amharic, Arabic, French, Korean, Russian, Somali, Spanish, and Vietnamese.
Community-led groups can now apply for Port of Seattle funding to improve the local environment in neighborhoods near Seattle-Tacoma International Airport (SEA). With the launch of the fourth cycle of the Environmental Grants Program, organizations serving the communities of Burien, Des Moines, Federal Way, Normandy Park, SeaTac, and Tukwila can apply for a single-year award of $20,000, or multi-year funding for up to $60,000. A total of $600,000 is available for this cycle. Potential projects include public space improvements, equipment or artwork installations, or neighborhood project or environmental stewardship projects in these South King County communities. Projects must take place on public property. Proposals must be submitted by Monday, October 30, 2023, at 1:00 p.m.
"The Port's Environmental Grants Program helps to meet our immigrant and youth community needs by funding outdoor activities in habitat restoration and planting, engaging in training programs, and helping to fund park language access and signage needs," said Armaye Eshete, Executive Director, Serve Ethiopians of Washington. "We have been fortunate to work closely with the Port and the City of SeaTac to make our parks are more accessible, safer, and healthier for all to enjoy."
"Equity-based partnerships ensure that the benefits of a public port go to the communities where investment is needed most," said Commission Vice President Toshiko Hasegawa. "These environmental grants go a level deeper on equity as well. They put community in the lead by supporting the projects local leaders want to prioritize."
The Environmental Grants Program is a component of the South King County Community Impact Fund (SKCCIF). Through funding and partnerships with community-based organizations, the Environmental Grants Program returns benefits from the Port to projects enhancing livability, improving green spaces, and restoring forests in cities near the airport.
Communities in South King County experience disproportionate environmental impacts due to multiple factors, including a long history of inequitable land use practices and economic displacement that pushed marginalized communities farther and farther south.
Advocacy wins a 2:1 match rule
Until 2023, state law required that projects meet a 3:1 match requirement to receive funds. For several years the Port made a legislative proposal to reduce the 3:1 match requirement a top legislative priority. During the 2023 Washington State legislative cycle, with sponsorship from Representative Clyde Shavers and Representative Tina Orwall, and advocacy from Port of Seattle Commissioner Hamdi Mohamed, the Port successfully advocated for reducing the local match that nonprofit applicants must provide through the SKCCIF to 2:1. This change reduces the burden for awarded partners and enhances the Port's ability to contract with community-based organizations, nonprofits, associations, and volunteer groups making public improvements in near-airport communities.
The Port offers several ways to meet this match, including volunteer time, contact hours with attendees of public events, educational hours, lifetime environmental value of trees planted, carbon emissions reduction, in-kind contributions, contributions of project partners, and cash donations.
Organizations may apply for both single- and multi-year funding options. No project is too small. Port staff recently hosted informational sessions and will provide technical assistance to support applicants throughout the open application process.
Visit the SKCCIF Environmental Grants Program page for more information on the application process, recordings of the informational sessions, proposal materials, and previously awarded projects.
South King County Community Impact Fund
The Port established the South King County Community Impact Fund (SKCCIF) in 2019 to increase opportunities in historically underserved, ethnically and culturally diverse communities. The SKCCIF is one way the Port works toward its vision of an equitable recovery, environmental sustainability, and a good quality of life. The fund will award $10 million between 2019 and 2024. Many of these projects increase job application assistance in underserved and non-English speaking communities, recruit for pre-apprenticeship programs and maritime careers, build gardens, clean public spaces, and expand environmental education.
Submit your Environmental Grants proposal by Monday, October 30, 2023, at 1:00 p.m.
Contact
Perry Cooper | Port of Seattle Senior Media Officer
(206) 787-4923 | cooper.p@portseattle.org