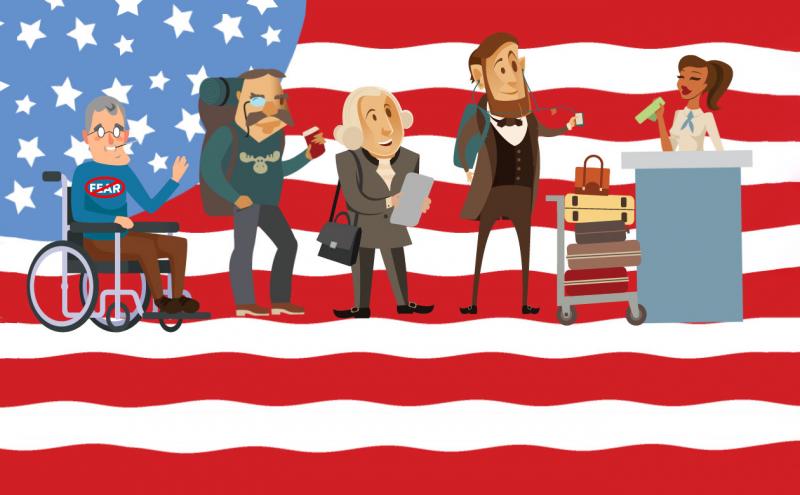 Start with the SEA Airport App to help before you go
February 12, 2020
With our region's recent record-breaking rain, many are planning to head out of town for the Presidents Day weekend through Seattle-Tacoma International Airport (SEA). This weekend is expected to see over half a million passengers. SEA is encouraging travelers to take charge, plan ahead, and bring patience for a busy weekend as you're not the only Vitamin D deficient local with the travel bug. Thursday and Friday will be the busiest days with nearly 280,000 passengers going through the airport.
A typical travel day during the slower winter season can see as few as 100,000 travelers per day. On Thursday, the numbers swell to 140,000 with Friday increasing to 146,000 passengers going through SEA.
To improve the travel experience for seasoned pros and newbies alike, SEA encourages fliers to take advantage of these tools:
Five tips to keep you in charge
For a more efficient experience, download (or update!) the SEA Airport App. See checkpoint waits in real time, locate restaurants and shops to explore, water bottle refill stations, and use the interactive map to navigate the airport. Now with accessible route directions!
Lead your way with extra time. Arrive two hours early for domestic flights and three hours for international travel.
Public transportation provides the most efficient option to stay out of a traffic jam. Use Sound Transit Link light rail to travel all the way to the airport and the free "Train to Plane" shuttle cart service will chauffeur you from the station to the airport terminal.

Parking in the airport garage will likely be limited.

If you do drive, plan on spending at least 15 - 20 minutes to find a stall. Head to the higher floors for best availability. Also check surrounding offsite lots for availability. Consider picking up and dropping off passengers in the airport garage to avoid congestion. Short term parking is only $5/hour.

Be ready for security checkpoints. SEA and TSA want to help you move through security checkpoints as quickly as possible. Travelers are required to remove electronics larger than a cell phone from carry-on luggage. Keeping food or liquids in your carry-on luggage might prompt additional screenings.
Need more travel hacks? Visit our recently relaunched Traveler Tips webpage for our best advice to navigate SEA like a frequent flier.
Passenger experience reminders
It can be tight in the terminal on holiday weekends. We hear you, and progress is made every day towards more elbow room, more outlets for charging and more dining and retails options. SEA Airport is adding 693,000 of new additional square feet by 2021. Hang in there through the squeeze – we really appreciate it.
It's important that passengers get their questions answered and find what they need. Look for the SEA Pathfinders and volunteers in bright green. Our customer experience team is happy to help!
SEA recently shared new services to make travel more accessible and less stressful for everyone. The expanded services, like a pilot program to meet the needs of guests with hidden disabilities, make the airport more accessible and help improve the travel experience beyond the Americans with Disabilities Act (ADA) requirements. Learn more about accessibility at SEA.
Choice, convenience and price point matter to our customers. Twenty new dining and retail options opened in 2019 with a dozen more coming in 2020! The most recent openings are Poke to the Max on Concourse D and Trail Head BBQ in Central Terminal. Find what you're craving on the SEA Airport App.
Think opposite. In the morning, drop off passengers on the Arrivals level. In the evenings, arrange to meet your passengers on the Departures level. Going opposite gets you out of the traffic crunch. Peak traffic congestion occurs on Departure from approximately 4:30 a.m. to 7:30 a.m. During the middle of the day, from 11:00 a.m. to 2:00 p.m., both Arrivals and Departure experience backups. In the evenings, the Arrivals drive experiences heavy traffic from about 8:30 p.m. to 12:30 a.m.
Are you there yet? If you're picking up passengers, make sure they are there before going to the drive. It will take some time for them to walk from the plane or pickup bags. This helps stay on the nice list of Port of Seattle Police who will be patrolling for drivers parking on the shoulder.
Check with the City of SeaTac to see if there are any road construction projects that might hinder your access to the airport.
TSA holiday weekend travel tips
Know what to expect. The busiest times at SEA's security checkpoints are 5 a.m. to 11 a.m., with the highest volume of travelers arriving from 5 a.m. to 7 a.m. and again 8 a.m. to 10 a.m. This is due to a concentrated number of flight departures during this period. Mid-afternoons and evenings will also be busy.
Any gate from any checkpoint. Travelers departing SEA can get to any gate from any security checkpoint. TSA operates two security checkpoints dedicated to TSA PreCheck screening. Travelers eligible for TSA PreCheck should go to checkpoint 1 or 4.
Sign up for Trusted Traveler programs such as TSA PreCheck, Global Entry, and CLEAR to get you through the lines faster. These expedited security programs help for both domestic and international travel, including a faster way through customs with Automated Passport Control and Mobile Passport Control.
Contact
Perry Cooper | SEA Airport Media Relations
(206) 787-4923 | cooper.p@portseattle.org