Directions to the Airport using link light Rail 
Tired of asking friends and relatives for rides to the airport? Why not fly over traffic and save money on parking by taking the Link light rail to the airport. It's just a 38-minute ride from downtown Seattle. Check to see which light rail station is closest to you with Sound Transit's trip planner, then purchase a ticket from the ticket machines, use an ORCA card or download the Transit GO Ticket app and off you go. Check out this video to see how easy it is to get to and from the airport.
Directions to the Link light rail station at the airport
To get to the SeaTac/Airport Link light rail station from baggage claim, just head up to the fourth floor and cross the skybridge to the parking garage level. From there, follow the signs. Don't feel like walking? No problem, just hop on the free, Train-to-Plane shuttle and let us do the driving. This video for directions shows how to get to the Link Light Rail station from within the terminal at Seattle-Tacoma International Airport (SEA). You can also use our interactive map for step-by-step directions!
Helpful Tips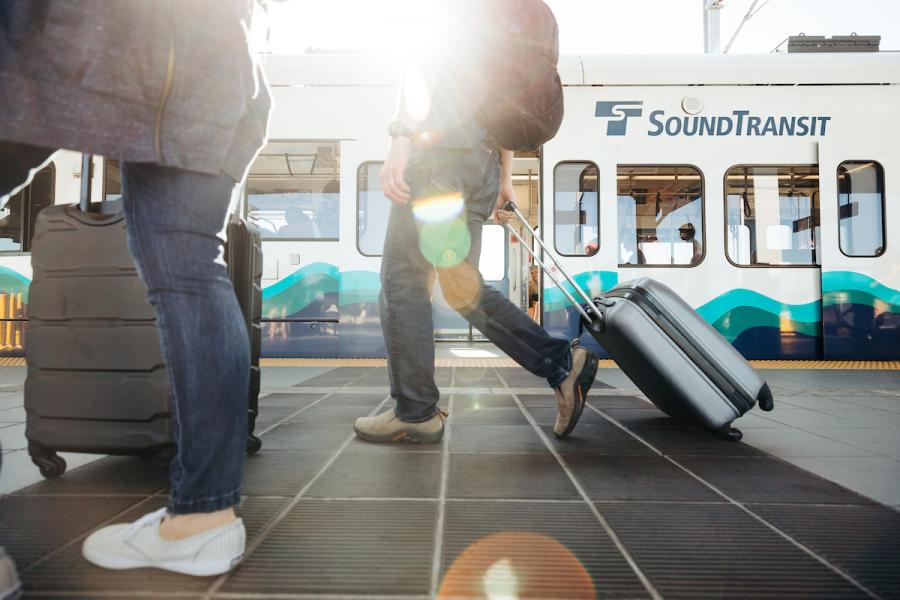 Link light rail - maps and schedule
Explore, more! Sound Transit's Link light rail extends from Angle Lake to Northgate and is continuing to expand to help passengers experience the Puget Sound region. With stops in South Seattle neighborhoods, the stadium district, the International District/Chinatown, University of Washington, downtown locations and Capitol Hill, it's a great option for travelers coming to or from the airport. Learn how to plan, pay and ride Sound Transit services on the Sound Transit website.
For General Rider Inquiries: main@soundtransit.org | 1-888-889-6368, TTY Relay 711, available Monday - Friday, 8 a.m. to 6 p.m. 
Call or text Security 24/7 at 206-398-5268, for emergencies please call 911
For Sound Transit accessibility inquiries please contact 1-800-201-4900, TTY Relay 711. They're available Monday - Friday, 8 a.m. to 6 p.m. 
Mobility Assistance
SEA Airport provides a complimentary Train-to-Plane shuttle between the terminal and the Link Light Rail station. It operates seven days a week from 5 a.m. to midnight from the Link light rail station to the center of the garage, for assistance please call (206) 787- 4069 or (206) 787- 5906. Link light rail trains arrive and depart on the platform level of the station.