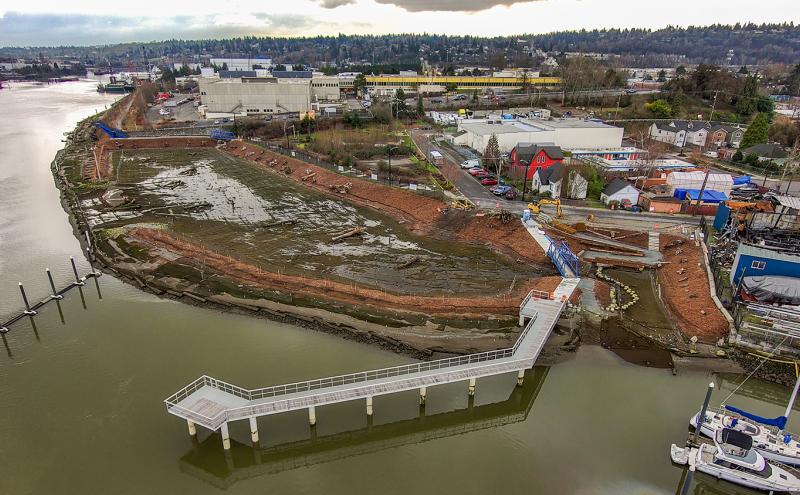 Port and Duwamish River Community Coalition announce grand opening of Duwamish River People's Park | Port recognizes outstanding environmental accomplishments with Sustainable Century Awards
April 22, 2022
On Earth Day 2022 the Port of Seattle celebrates the industry and community partners helping to lead change.
In partnership with the Duwamish River Community Coalition, the Port announced that the Duwamish River People's Park, one of the most significant habitat restoration projects on the Duwamish River in a generation, will open to the public on July 16.  
"More than just a park and habitat area, the Duwamish River People's Park is a living testament to the power of community leadership and the value of public partnership," said Commissioner Toshiko Hasegawa. "Starting this summer, the Duwamish River People's Park becomes a new learning lab, a critical piece of restored habitat, and much needed green space for the community."
"I can't tell you how full my heart is to see this park become a reality," said Paulina Lopez, Duwamish River Community Coalition Executive Director. "This is a big step in bringing health and equity to a community that experiences worse air quality, more freight, and less green space than so many neighborhoods in Seattle. People's Park gives the children of the Duwamish Valley a space to learn from, actively help protect, and engage and enjoy healthy habitat from our most precious natural element, our Duwamish River."
The Port also recognized industry partners Fishermen's Finest, Bellair Charters / Airporter Shuttle, Southwest Airlines, and Delta Air Lines with 2022 Sustainable Century Awards. Winners demonstrated programs that provide measurable benefit to the environment, particularly by decreasing carbon emissions at Port-operated facilities and in the region. The Port also recognized SSA Marine/Carrix for its emphasis on equitable recovery during COVID and Whooshh Innovations for a project aimed at salmon recovery.
"Hundreds of private employers depend upon port facilities for their own operations," said Commissioner Hasegawa, "and we depend upon their partnership to invest in equipment that decarbonizes industries and improves habitat. These awards recognize those partners making measurable progress towards a carbon free Port."
Duwamish River People's Park
Duwamish River People's Park is located on the ancestral site of the Indigenous water-related place, ł(ə)gʷalb, referring to an abandoned or old river channel. The southern portion of the park is on an old riverbank with the name of xʷapičəd (wha-PEE-chud). At times of high tide, Coast Salish people threw wood chips in the river to see if the current would allow them to use the shallow area as a shortcut, which explains the Coast Salish name, "Toss It Over Something."
In 2007, the Duwamish Valley community advocated for the Port to pursue a higher standard of cleanup that would transform the site into a public use park and habitat reserve. Under the guidance of the EPA, the Port finished cleanup of the shoreline uplands and in-water sediment in 2015 and the City of Seattle cleaned up the toxic contamination in the surrounding neighborhood in 2016.
In 2020, the Port broke ground on the construction of Duwamish River People's Park, which will offer 14 acres of critical fish and wildlife habitat and public shoreline access. This large-scale restoration project supports recovery of the endangered Southern Resident orca population by significantly increasing habitat critical to Chinook salmon. New park features include gathering and seating areas, public art, 5.5 acres of restored marsh and native riparian shoreline, a habitat viewing platform, and a hand-carried boat launch.
Watch this time lapse video of the Duwamish River tide filling the restored marsh and native riparian shoreline.
Sustainable Century Awards
The Port recognizes outstanding environmental accomplishments of customers, tenants, non-profits and partners with the Sustainable Century Awards, formerly known as the Environmental Excellence Awards. Award recipients demonstrate environmental leadership and are crucial partners in helping the Port achieve its environmental stewardship, sustainability, and equity goals.
2022 Maritime Award goes to Fishermen's Finest. In 2021, Fishermen's Finest (FFI) became the first commercial fishing fleet to both join Green Marine and achieve certification in the Green Marine environmental certification program for the maritime industry. FFI's goal is to become a net-zero carbon fleet, building a new fishing vessel, the America's Finest (262-foot), that reduces fuel consumption by 66 percent. FFI also invested in the first sale of King County urban forest carbon credits and represents the lowest carbon footprint of the Bering Sea Trawl Fleet.
"Global warming is a reality for our ship captains and crews who have been fishing for more than 30 years, witness firsthand the recent warming ocean, receding Bering Sea ice and corresponding changes in fish behavior," says Helena Park, Fishermen's Finest CEO. "We are the stewards of the resource, so it is incumbent upon all of us in commercial fishing to reduce commercial fishing's carbon footprint as much as possible.  It helps us make progress to have local leaders like the Port of Seattle support Fishermen's Finest fleet's transformation to a producer of fish with the smallest carbon footprint possible."
2022 Aviation Award goes to Bellair Charters / Airporter Shuttle. Notable achievements include long-term, innovative partnership supporting SEA's Raptor Strike Avoidance Program that helps protect local wildlife, increase SEA operational safety by reducing bird-strike risk, avoided 70 metric tons of carbon dioxide emissions over 10 years, and generated labor and financial savings for the Port. Since 2011, Bellair voluntarily transported nearly 800 birds of prey (i.e., raptors) captured at SEA under the Raptor Strike Avoidance Program using their own vehicle fleet on return routes to Burlington, Wash. Sixteen species of raptors, including red-tailed hawks, were transported from SEA to farmland habitat near the community of Bow for tagging and release to the wild. More than 90 percent of relocated birds stay and never return to the airport.
"Safety is everything to our company," said Richard Johnson, Bellair Airporter Shuttle president. "It is a point of pride for our employees to partner with the airport on reducing the risk of bird strikes, helping birds move to a safer habitat, and avoiding carbon emissions. This program lets us play an even bigger role in our community. We appreciate the partnership and the recognition."
2022 Aviation Award goes to Southwest for greatest airline use of ground power systems to reduce emissions while docked at SEA airport gates. Southwest demonstrated a high use of emission-reducing ground power systems (80-90% of all operations connect to the systems), and longest connectivity to ground power systems while at gate (over 80% of the time between gate arrival and pushback).
"At Southwest, we've set a goal to reduce, replace, offset, and partner as our holistic strategy to improve our environmental sustainability," said Stacy Malphurs, Vice President Supply Chain Management & Environmental Sustainability at Southwest Airlines. "We're thrilled to be recognized by the Port of Seattle with the 2022 Aviation Award and are proud to partner with them to help achieve their sustainability objectives."
2022 Aviation Award goes to Delta Air Lines for operating at SEA the highest percentage use of modern, fuel-efficient aircraft that reduce emissions. Of the aircraft Delta operated at SEA in 2021, 16% were highly fuel-efficient, such as Airbus A220s, A330neos, and A350s, compared to other high-operation carriers who achieved closer to 7%.
"Delta Air Lines' increasingly fuel-efficient fleet is a critical component on our Flight to Net Zero™," said Mahendra Nair, Delta's S.V.P. – Fleet and TechOps Supply Chain. "We appreciate this recognition and will continue innovating toward a more sustainable future in aviation, in Seattle and our 275+ destinations around the world."
2022 Equitable Recovery Award goes to SSA Marine/Carrix. In addition to being proactive and collaborating with government and health care to keep trade and cruise operations functioning during the COVID-19 pandemic, they supported equitable recovery for the broader community by contributing space, equipment, and volunteers to Food Lifeline to increase capacity and meet increased community needs, as well as volunteer staff from Carrix, ran a two-week vaccine clinic in Seattle.
 
Honorable Mention for environmental innovation goes to Whooshh Innovations. This company invented a promising technology for salmon runs where fish passage is impeded, which contributes to supporting a critical food source for Southern Resident Killer Whale. Following a landslide on the Fraser River, in British Columbia, that threatened to block passage for all salmon runs in Canada's largest salmon watershed, Whooshh deployed its "Passage Portal"™ in record time before the returning adult salmon arrived so they could migrate over and around the blockage. The Passage Portal removed the need for human handling, trap, and helicopter transport of tens of thousands of salmon during the summer and fall of 2020, which would not otherwise have been feasible or affordable. A significant improvement for fish passage, the Portal incorporates electronic tracking. During the first season of use, more than 125,000 salmon were counted upstream of the Big Bar rockslide.
"This massive project on the Fraser River, one of the most productive salmon rivers in the world, was a thrill for the entire team. We were able to deploy our modular and flexible Whooshh Passage Portal™ in one of the most difficult environments imaginable," said Vincent Bryan III, Whooshh Innovations CEO. "We are honored to have our work recognized by the Port of Seattle, where our office and shop have been located in Terminal 91 for nearly a decade."
Contact
Peter McGraw | Port of Seattle Media Officer
(206) 787-3446 | mcgraw.p@portseattle.org