Map & Directions

Latitude, Longitude

473135° 0' 0" N, 1221840° 0' 0" E

General Information

Currently under construction, work on the site will restore 14 acres of habitat and shoreline access. In addition, priority habitat for Chinook salmon, and other imperiled species will be restored along 2,000 feet of the Duwamish River shoreline. Construction will be completed in the spring of 2022.
Duwamish River People's Park and Shoreline Habitat
(Formerly Terminal 117 Public Access and Shoreline Habitat)
Duwamish River People's Park is an ongoing story of the Duwamish Valley community and the Port of Seattle's long journey from cleanup of an old Superfund site to a 14-acre public park and shoreline habitat along the Duwamish River, to be completed in the spring 2022. 
Lat 47°31'34.55"N, Long 122°18'40.21"W
Coast Salish uses and history
Duwamish River People's Park is located on the ancestral site of the Indigenous water-related place, ł(ə)gʷalb, referring to an abandoned or old river channel. The southern portion of the park is on an old riverbank with the name of xʷapičəd (wha-PEE-chud). At times of high tide, Coast Salish people threw wood chips in the river to see if the current would allow them to use the shallow area as a shortcut, which explains the Coast Salish name, "Toss It Over Something." 
Settler uses and history
This area is home to three symmetrical knolls on an extensive flat on the west side of the river in South Park, named qiyawa'lapsEb, "Eels Throat." The area is across the river from the original site of St. George's Catholic School and orphanage in Georgetown. Many Coast Salish children were forcibly sent to live at government or church boarding schools like this to assimilate into settler society and were discouraged from learning their own tribal traditions and language.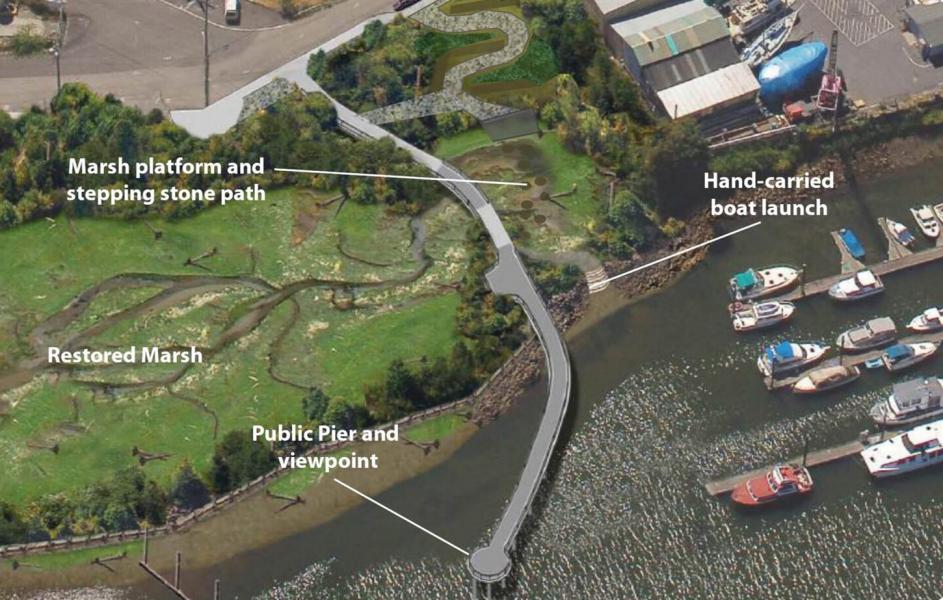 Industrial uses and history 
Starting in 1937, the Duwamish Manufacturing Company and Malarkey Asphalt Company operated here with minimal environmental regulations, as the US Environmental Protection Agency (EPA) was not formed until 1970. These companies heavily polluted the soil and shoreline of the site and went out of business in 1993. The Port acquired a portion of the property in 1999 with the plan to build a maritime cargo terminal. In 2003, the EPA designated the site as a highly toxic "Early Action" Superfund site. The EPA found contaminated soil, asphalt, oil, pipelines, a non-leaking underground diesel storage tank, drums and debris in the riverbank resulting in risks of exposures to PCBs, a highly toxic chemical hazardous to public health. Since the Port and City now owned these polluted areas, both government agencies became responsible for cleaning up the contamination.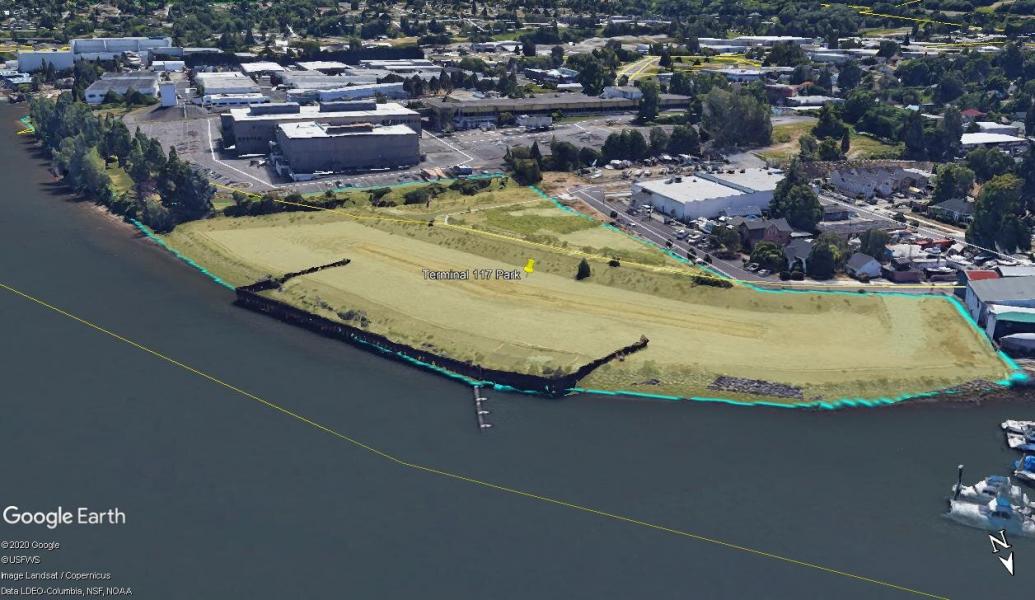 Conservation uses and history 
In 2007, the Duwamish Valley community advocated for the Port to pursue a higher standard of cleanup that would transform the site into a public use park and habitat reserve. Under the guidance of the EPA, the Port finished cleanup of the shoreline uplands and in-water sediment in 2015 and the City cleaned up the toxic contamination in the surrounding neighborhood in 2016.
In 2020, the Port broke ground on the construction of Duwamish River People's Park, which will offer 14 acres of critical fish and wildlife habitat and public shoreline access. This large-scale restoration project supports recovery of the endangered Southern Resident orca population by significantly increasing habitat critical to abundance and health of Chinook salmon.
The project establishes the Port's first "habitat credit bank" that enables third parties to invest in habitat projects as mitigation credits to comply with the Clean Water Act and the Endangered Species Act. Revenue generated by the Port will fund additional habitat restoration projects in the Green-Duwamish Watershed and Elliott Bay. In addition, the site will serve as a learning lab for young environmentalists seeking skills training and hands-on experience with careers in habitat restoration and marine wildlife conservation.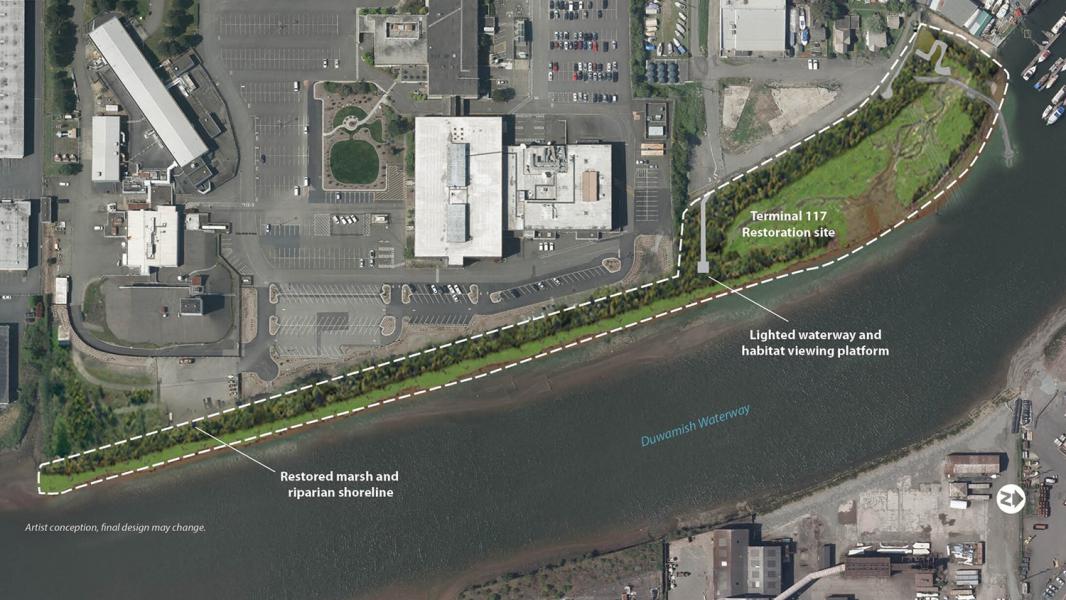 Community uses and history 
Every year during the salmon migration season, Muckleshoot and Suquamish Tribal fishers harvest returning Chinook, coho, pink, chum, and steelhead salmon as they practice their Treaty Fishing Rights in this area along the river. 
In 2007, the Duwamish River Cleanup Coalition and South Park residents took their concerns about the Superfund cleanup directly to the Port of Seattle Commissioners, filling the Commissioners' meeting room at their midday meeting at Sea-Tac Airport. After hearing from a parade of South Park residents, the Commissioners unanimously voted to exceed the EPA's original cleanup order and do a full site cleanup, which allowed for the new public access and habitat area. During the Superfund cleanup from 2013-2014, the Port opened a field office in South Park and collected the community's ideas for the site design.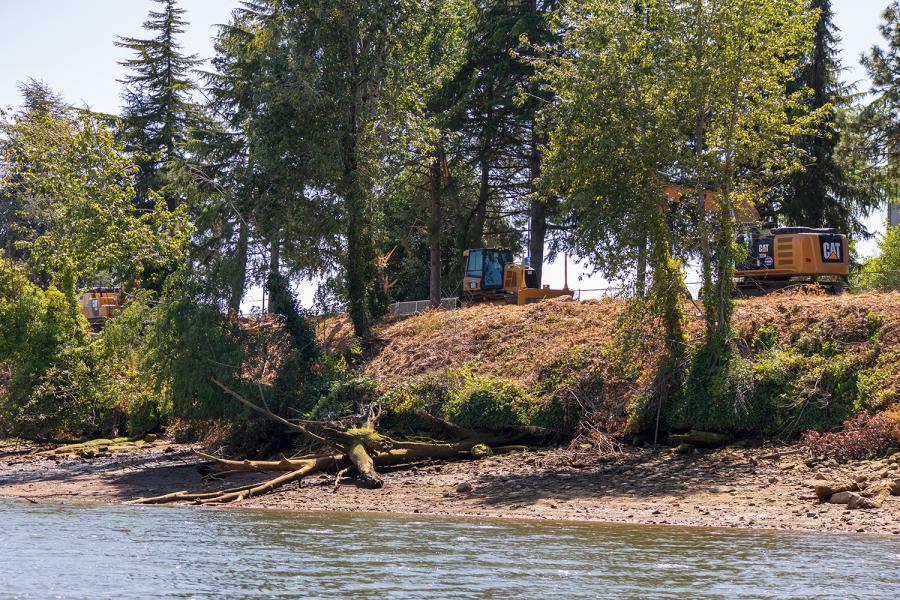 Once completed in spring 2022, the park will be open for all to enjoy views of the Duwamish River and its shoreline marsh habitat from an elevated river walkway, explore a walking path with a hand-carried boat launch, and view public art designed with the community.
Lushootseed is a Coast Salish Indigenous language spoken by many tribal communities in the Puget Sound region. The Duwamish River area has ancestrally been, and still is, a very active cultural area for Indigenous peoples from many backgrounds. This area is also one of the most ethnically and linguistically diverse in the city. Many immigrant and refugee communities are residents or have cultural connection to the area, especially Latinx, East Africans, Southeast Asians, and Pacific Islanders.
Public Shoreline Access Features (as of Fall 2021)
Public gathering area, seating, and entrance to shoreline pathways and viewpoints
Public art and interpretive features
Pathway and bridge to 275 feet long public pier and viewpoints
Interpretive trail to 0.5 acre restored marsh and riparian area
Marsh platform and stepping stone pathway
Hand-carried boat launch
5.5 acres of restored marsh and native riparian shoreline
750 feet of lighted pathway to viewpoints and interpretive information
Access stairway to 35 feet high waterway and habitat viewing platform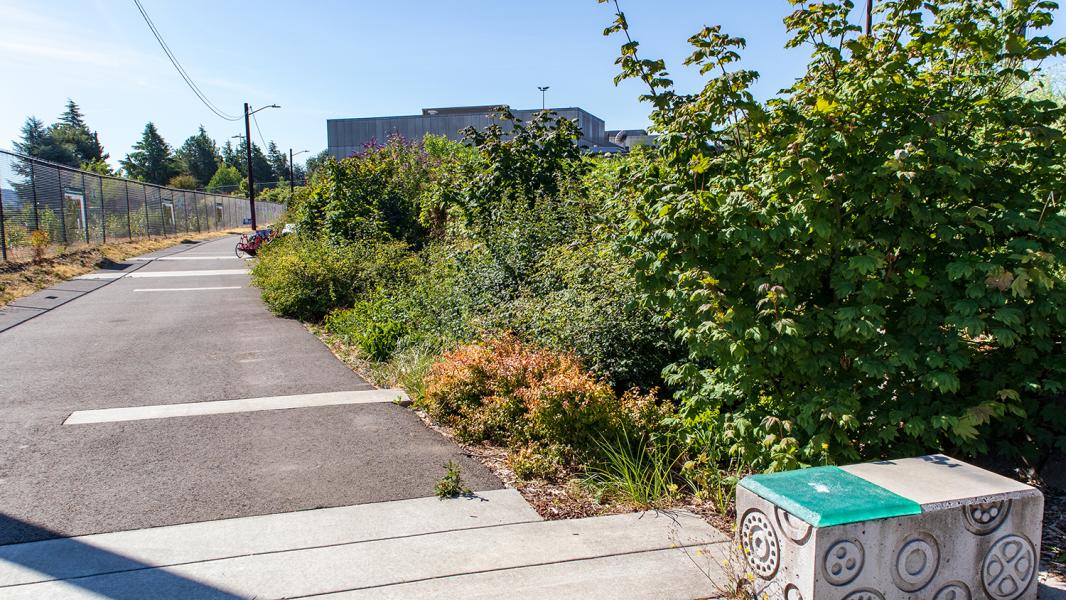 ---
Sources    
Blomberg, G. (2020). Sr. Environmental Program   Manager, Port of Seattle. (G. Lee, Interviewer) Seattle.   
Burke Museum of Natural History and Culture, et al.   (2014). The Waterlines Map. Retrieved from   https://www.burkemuseum.org/static/waterlines/project_map.html   
Cummings, B. (2020). Author, "The River That   Made Seattle: A Human and Natural History of the Duwamish". (D. Edamura,   Interviewer)   
Lewarch, D. (2020). Tribal Historic Preservation   Officer, Suquamish Tribe. (C. Billingsley, Interviewer)   
Medina, R. M. (2020). Friends of Georgetown History, Board President. (G. Lee, Interviewer)   
Port of Seattle. (2017). Terminal 117 Habitat   Restoration and Public Shoreline Access. Retrieved from   https://wwwpub.portseattle.org/sites/default/files/2020-05/T117_Factshe…   
Rasmussen, J. (2020). Superfund Cleanup Manager,   Duwamish River Cleanup Coalition. (D. Edamura, Interviewer)   
T-117 Cleanup. (2017). Retrieved from T-117 Cleanup History :   http://www.t117.com/story.aspx