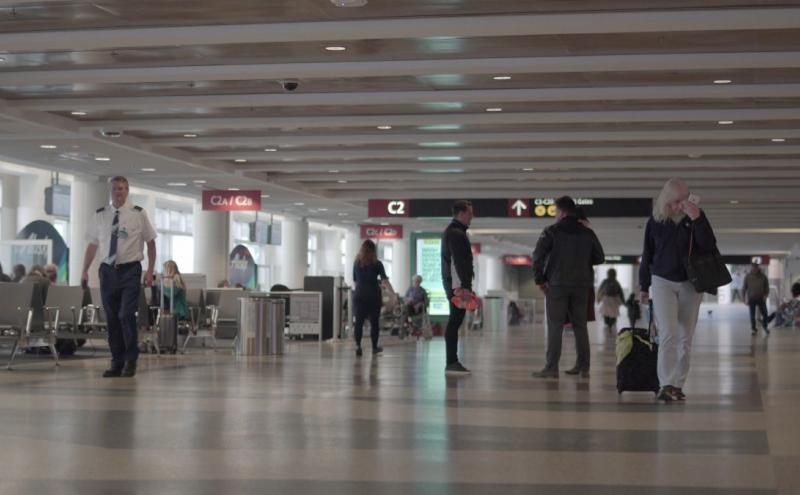 Commission directs Executive Director to develop additional relief and recovery strategies for other Port tenants
April 1, 2020
The Port of Seattle Commission today approved an immediate, short-term emergency financial relief package for airport-based businesses, barred evictions of tenants at Port of Seattle facilities (including live-aboard residents) due to an inability to pay rent through June 30, 2020, and authorized the Executive Director to provide additional immediate relief to Port tenants such as maritime and real estate tenants.    
The immediate, short-term emergency financial relief package for airport-based businesses includes a two-month deferral of rent and fees for airport tenants and concessionaires facing a severe collapse of economic activity due to COVID-19 related social distancing and travel restrictions. The Port will review information from tenants and concessionaires to assess the impacts of the COVID-19 pandemic before considering an extension for additional two months. Read the motion.
The Commission also expressed its strong belief that the best way for businesses to support their employees during the immediate crisis is by continuing payments and/or health benefits. Commissioners are grateful to the large majority of airport concessionaires who are already doing so, and urges these efforts to continue; the provision of economic relief is a key way for the Port to facilitate the provision of that support.
The Commission authorized the Executive Director to provide additional immediate relief to other Port tenants throughout the Port's various lines of business as long as they are aligned with the Port's principles of supporting regional economic vitality, environmental stewardship, equity and inclusion.
Those additional relief strategies are expected by mid-April.   
Finally, the Commission directed the Port to develop an outreach program for its tenants, their employees, and Port employees to facilitate their ability to access local, state, and federal relief resources. This program will be established as soon as possible, following additional clarity provided by the agencies as to the eligibility and application of relief programs.
The initial airport relief package marks the first step in the broader efforts of the Port to support its tenants and partners. In the next month, the Port will examine how federal, state, and local safety net programs and the CARES Act benefits Port businesses and workers as it considers additional financial relief.  
"Our business partners and their employees urgently need financial help now while they wait for federal relief.  We stand together through this unprecedented global health crisis." said Port of Seattle Commission President Peter Steinbrueck.  
The Port of Seattle's number one priority is keeping our community safe and healthy.  More than 19,000 individuals work at Seattle-Tacoma International Airport (SEA) for more than 300 different companies.  The airport is one of the largest job sites in King County, and one of the hardest hit by the sudden decline of travel.  The decline in economic activity at the airport hits businesses and communities across the region.  
The rent and fee deferral program can work as a financial bridge to ensure that the airport can maintain essential operations while supporting local businesses.  The Port depends on its tenants and concessionaires to provide services to Port customers and generate revenue for Port operations. Maintaining its base of tenants and concessionaires is critical to our strategy to navigate the impacts of the COVID-19 pandemic. Preserving and strengthening the Port's financial sustainability and operations will play a critical role in the economic recovery and return to growth in the Puget Sound region and the state of Washington.
The current rent and fee deferral plan covers six kinds of airport operators: dining and retail, rental cars, remote parking, ground transportation such as taxis, TNCs, and shuttles, non-aeronautical properties like commercial buildings such as flight kitchens, and non-aeronautical properties in the terminal such as CLEAR. 
In most cases, the immediate emergency relief will involve a deferral of both minimum annual guarantee (MAG) and percentage of gross income monthly payments.  The Port is considering additional measures to defer airline fees.  
 "We have two priorities right now: helping protect our community's health and charting an equitable path out of this economic crisis," said Port of Seattle Commissioner Sam Cho.  "This first set of actions, and the principles guiding future relief packages, will help our tenants and workforce weather this storm and be ready to work when demand begins to return."  
The public health response to COVID-19 led to a sudden drop in the number of people traveling, beginning in early March.  Fewer passengers in the concourses means business across the airport has  declined dramatically.  For example, as of March 31, 57 airport dining and retail (ADR) locations are closed and about 1,267 employees have been laid off or furloughed, about half of February's total ADR employment.  
The financial impact has been severe for all firms, including large businesses, but especially hard for locally owned small businesses with fewer years in operation and lower financial reserves.
One of the key reasons cited by many ADR business owners for seeking Port assistance is that they need cash to continue paying for health insurance for their workers along with other businesses expenses.  Once the economy recovers, they hope to bring back workers who are trained and familiar with working in the airport environment. 
"We are humbled by the actions some of our tenants are taking to continue paying staff and maintaining health care even for furloughed employees," said Port of Seattle Commissioner Sam Cho.  "We have sought to develop a business climate that also reflects our community's values, and that is exactly what these local businesses are doing."
Airport business stabilization strategy
The Port's financial relief for airport businesses strategy supplements federal, state, and local safety net programs, such as small business loan guarantees, new paid sick leave and Family Medical Leave Act programs, and unemployment insurance payments.
To provide essential and immediate relief for airport tenants, the Port announced a deferral of payments.  Any deferred rent would be paid back in 2021 and would be charged with interest, per FAA guidance.    
"The COVID-19 global pandemic is an unprecedented public health emergency that is impacting the lives of every local resident, and causing incalculable economic and human costs," said Commissioner Steinbrueck. "The Commission extends its thanks to the public health officials, first responders, and elected leaders who are helping our region navigate this crisis, and to the Port employees, tenants and associated businesses, and front-line workers who are focused on keeping the Port operational during this challenging time. The functional continuity and operations of the Port are vital to preventing greater disruption in the current emergency conditions." 
Contact
Perry Cooper | SEA Media Relations
(206) 787-4923 | cooper.p@portseattle.org