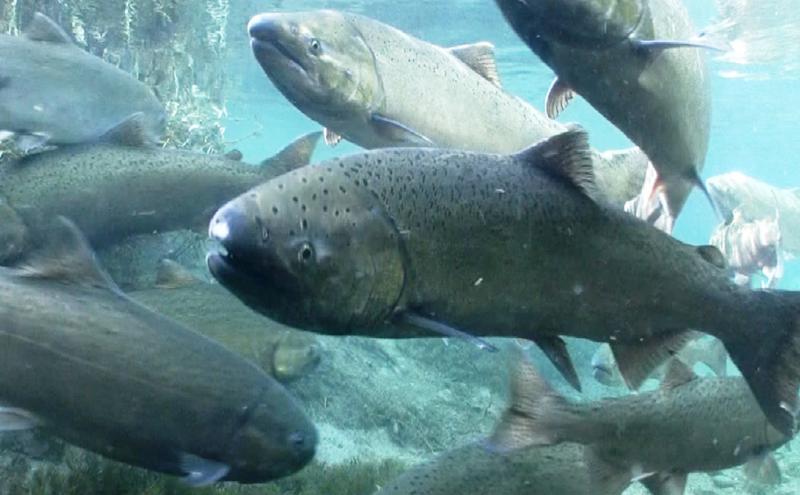 Terminal 117 project will provide park space, juvenile chinook recovery, and over 2,000 feet of shoreline habitat
April 28, 2020
The Port of Seattle Commission took action today to construct a new 13.5-acre Duwamish River park with 2,500 linear feet of shoreline. The Terminal 117 Habitat Restoration and Duwamish Shoreline Access Project will create upland habitat and restore priority habitat for Chinook salmon and other imperiled species in the Duwamish River. 
"Habitat restoration is a major element of the Port's clean-up efforts along the Duwamish River. Through innovative collaboration with our federal and local partners, we are able to make this project satisfy our triple bottom line approach, providing key economic, ecological, and community benefits to the Duwamish Valley community," said Commission President Peter Steinbrueck.
This unique project supports urgent salmon recovery needs while addressing long-standing community needs for increased greenspace, described in Resolution 3767, the Port's Duwamish Valley Community Benefits Commitment. The formerly contaminated industrial property will be transformed into a Port-owned public and habitat area that will include a viewpoint pier, public art, walkways, and elevated viewpoints of the river.
"I worked with the Port for over a decade on the T-117 project, and I'm pleased to see a great public space where people can learn about the river, reconnect to our region's history, and find out what they can do to help recover our salmon and orca populations," said James Rasmussen, Superfund Cleanup Manager for the Duwamish River Cleanup Coalition.
The project site will include restored estuarine habitat, shallow subtidal areas, mudflat, and marsh buffer. Estuarine habitat, once abundant in the Duwamish estuary, is now very rare. The project is strategically located in the estuarine transition zone in the Duwamish Waterway, where out-migrating juvenile salmon acclimate into saltwater environments further downstream.
"The Terminal 117 habitat restoration project will be a critical chinook habitat recovery asset in the Duwamish River," said Doug Osterman, Salmon Recovery Manager for the Green/Duwamish Watershed. "By developing more off-channel marsh habitat, juvenile chinook salmon will have more area to rear and grow strong and healthy for their journey out to sea."
Juvenile salmon survival will be significantly improved by the high-quality transition zone habitat provided by the project. This type of habitat has been identified as a limiting factor for salmon production in the Green-Duwamish Watershed by the Watershed Resource Inventory Area #9 (WRIA-9) planning group. The site has also been identified by other local, state, tribe, and federal officials as a high priority habitat restoration area and will provide benefit for the community for decades to come.
The Port will also partner with Seattle Parks Foundation, a well-recognized public parks and greenspace non-profit, to design and implement the re-naming campaign with transparency and community involvement.
Contact
Peter McGraw | Maritime Media Officer
(206) 787-3446 | mcgraw.p@portseattle.org