COVID precautions, guest and crew vaccinations, part of new safety protocols
July 19, 2021
The Port of Seattle began its 2021 Alaska cruise season today with the first revenue cruise departure at Smith Cove Cruise Terminal. Royal Caribbean International's Serenade of the Seas sets off on the opening cruise of its summer of 7-night itineraries and the Port's lineup of 83 scheduled voyages this year, which will each bring an estimated $4.2 million to the local economy. Guest, crew, and community safety is paramount, with touchless features to limit crowding throughout the terminal and cruise ships, and vaccinations required of eligible travelers.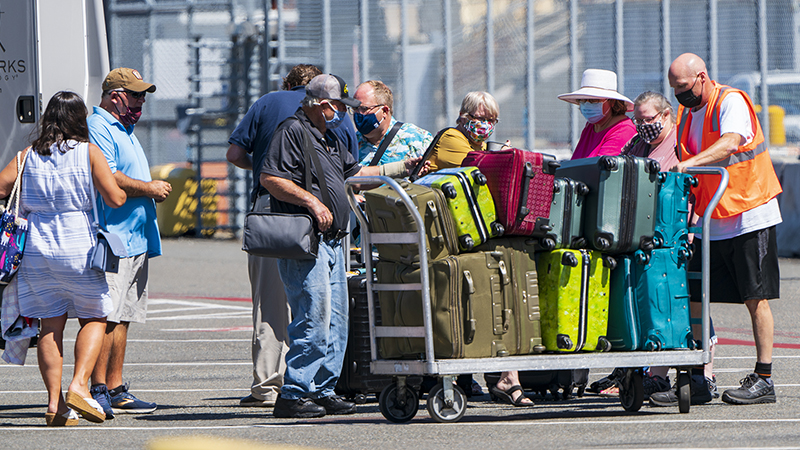 "The return of passenger cruise to Alaska marks a major milestone in our effort to reopen the regional economy," said Steve Metruck, executive director of the Port of Seattle. "A year of work by national, state, and local officials and health authorities, cruise lines, and the Port established safety protocols throughout the traveler experience — from Seattle-Tacoma International Airport (SEA) to each of our cruise terminals. These safety measures will begin restoring the economic benefit from cruise in Seattle, responsible for creating 5,500 jobs and nearly $900 million to our region."
"It's exciting to see hundreds of travelers with their families back in Seattle to cruise to Alaska again. As Serenade of the Seas embarks on the first Alaska sailing since September 2019, it also marks another key milestone for Royal Caribbean and the industry – the return of cruising on the west coast," said Mark Tamis, senior vice president, Hotel Operations, Royal Caribbean International. "Thanks to the collaboration with our partners in this great city and the region, including the Port of Seattle and Alaska, the benefits of cruise tourism will be felt across the local communities once again. We are back, and there's more to come when our second ship, Ovation of the Seas, returns to Seattle in August."
"Cruise season introduces new customers to local small businesses in downtown Seattle and across our city. So many of our local businesses — who have endured a grueling 16 months — rely on cruise season and the visitors is brings to ensure they can survive and thrive," said Seattle Mayor Jenny A. Durkan. "Seattle is excited to welcome visitors from across our country and world back to our great city, and we hope they enjoy everything our small businesses, arts and cultural organizations, and neighborhoods have to offer."
"We are thrilled to see the return of Alaska cruises from the Port of Seattle and welcome the opportunity to provide passengers with high-quality dairy products from our Northwest co-op's farmer-owners," said Duane Naluai, President Consumer Products at Darigold. "That industry partners like Royal Caribbean International are resuming operations after such a challenging pandemic year signals our region's resilience in the face of adversity and comprises an encouraging boost to our local economy."
The seven major cruise lines calling Seattle will contribute eight vessels for the Alaska cruise season. The Port provides additional information online at its Cruise Healthy and Business, Tourism & Community Partners webpages. Major terminal safety enhancements include:
Updated ventilation systems where needed to hospital-grade MERV 13 filtration or better
Installation of touchless fixtures in the restrooms and water-bottle filling stations
Barriers to limit face-to-face contact and technology implemented to provide touchless check-in and passenger processing in many cases
Signage to limit crowding and contact
Since 2004, the Port has partnered with the Washington State Department of Ecology and the cruise industry in a voluntary agreement, called the Memorandum of Understanding Cruise Operations in Washington State, which helps prevent wastewater discharges from large cruise ships into state waters. Cruise ships calling on the Port of Seattle implement rigorous solid waste handling and recycling programs and are committed to reducing and eliminating single-use plastics. Starting in 2020, the Port prohibited cruise ships at berth from discharging exhaust gas cleaning system wash water.
The Port was also an early supporter of international regulations to establish the North American Emission Control Area, which limits the sulfur content in fuels burned in ships when they are within 200 miles of the coast. This regulation significantly reduced sulfur and diesel particulate matter emissions in Seattle's Elliott Bay. The Port provides clean shore power at two cruise berths at Terminal 91. In 2019, shore power use at Terminal 91 reduced 2,900 metric tons of CO2 emissions.
The Port is on track to add shore power to its single cruise berth at Pier 66 by the 2023 cruise season, making all three cruise berths in the harbor shore power capable. This project is supported in part by nearly $3 million in grant funding from the U.S. Environmental Protection Agency Diesel Emissions Reduction Act, the state of Washington Department of Ecology, and the TransAlta Centralia Coal Transition Board. United States Senator Patty Murray is also seeking an additional $3 million in federal funds. The total project cost is estimated at $17 million.
View this link for more environmental information regarding vessels at berth and learn more about cruise accomplishments in sustainability here.
Coming to Seattle for an Alaska cruise? View the passenger journey video through Seattle-Tacoma International Airport (SEA) to our cruise terminals. Select the link here to read the schedule of Seattle cruises to Alaska.
For more photos and b-roll of Royal Caribbean's return of cruise to Alaska, access their press center here.
Top photo courtesy of Royal Caribbean International.
Contact
Peter McGraw | Media Officer
(206) 787-3446 | mcgraw.p@portseattle.org