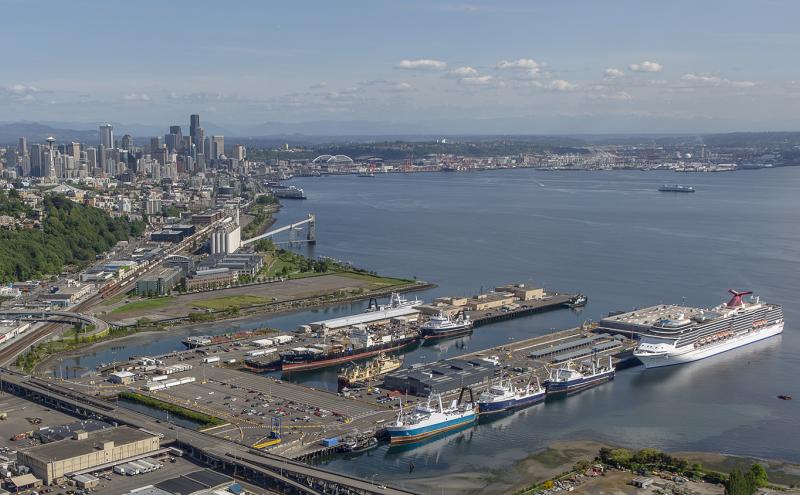 Annual inventory shows renewable fuels cutting greenhouse gas emissions; accelerates decarbonization with new targets, plans, partnerships, and renewable fuel pursuits
October 26, 2021
The Port of Seattle Commission voted today to accelerate its emission reduction efforts by ten years to be net zero or better for Port-owned emissions by 2040. The Port also committed to accelerating and expanding its goal for emissions from industries operating at its facilities to be carbon neutral or better by 2050.
The policy directives were timed to coincide with the Conference of Parties 26 (COP 26) meeting in Glasgow, Scotland. "The urgency for climate action is underscored by the UN Secretary General's recent statement that the impacts of climate change are a 'code red for humanity,'" said Port of Seattle Commission President Fred Felleman.
"The Port's actions today reflect our recognition of this urgency. Along with our partners at the Northwest Seaport Alliance (NWSA), we're making significant investments in green infrastructure, such as shore power, to enable our tenants to meet their climate goals as well," continued Commissioner Felleman. "As a public port, these investments are not just the right thing to do, but they also give us a competitive advantage because businesses are increasingly seeking ways to reduce their emissions."
Continuing its emphasis on decarbonization, the Port also announced participation in new exploratory studies of renewable hydrogen as a future vehicle and maritime fuel source, a new partnership with Seattle City Light (SCL) and the NWSA to focus on waterfront electrification, and its membership in a global maritime shipping decarbonization coalition called Getting to Zero.
Port of Seattle Commissioners Weigh in on Environmental Initiatives
"Our agreement with Seattle City Light signals how serious we are about leading change," said Port of Seattle Commissioner and Sustainability, Environment, and Climate Committee Co-Chair Peter Steinbrueck. "Powering our waterfront with clean electricity is a new way of doing business. This agreement puts us all on the same page working for that change."
"The Port is a leader in the campaign to decarbonize, and we know we need everyone involved in maritime to participate with us," said Port of Seattle Commissioner and Sustainability, Environment, and Climate Committee Co-Chair Stephanie Bowman. "The Getting to Zero Coalition is one important way we can spur new collaboration and bring our clients and corporate partners along with us to make a difference on climate change."
"These improvements happened because our community demanded them. Residents, workers, and business owners called on us to accelerate our efforts to address climate change, and Port staff and leadership took those concerns seriously. As a result, the Port of Seattle's Maritime Climate and Air Action Plan is better," said Port of Seattle Commissioner Ryan Calkins. "I look forward to continued engagement with our community to improve how the Port and its partners operate."
"New technologies and infrastructure are the foundation of a clean energy economy," said Port of Seattle Commissioner Sam Cho. "We're helping our region make clean energy investments that will address climate change and bring health and environmental benefits to our communities faster."
Port Accelerates Decarbonization Goals
Recognizing the urgency of action needed to address climate change, the Port of Seattle updated the greenhouse gas reduction objectives to the following:

Scope 1 & 2 Emission Reduction Pathway for Aviation and Maritime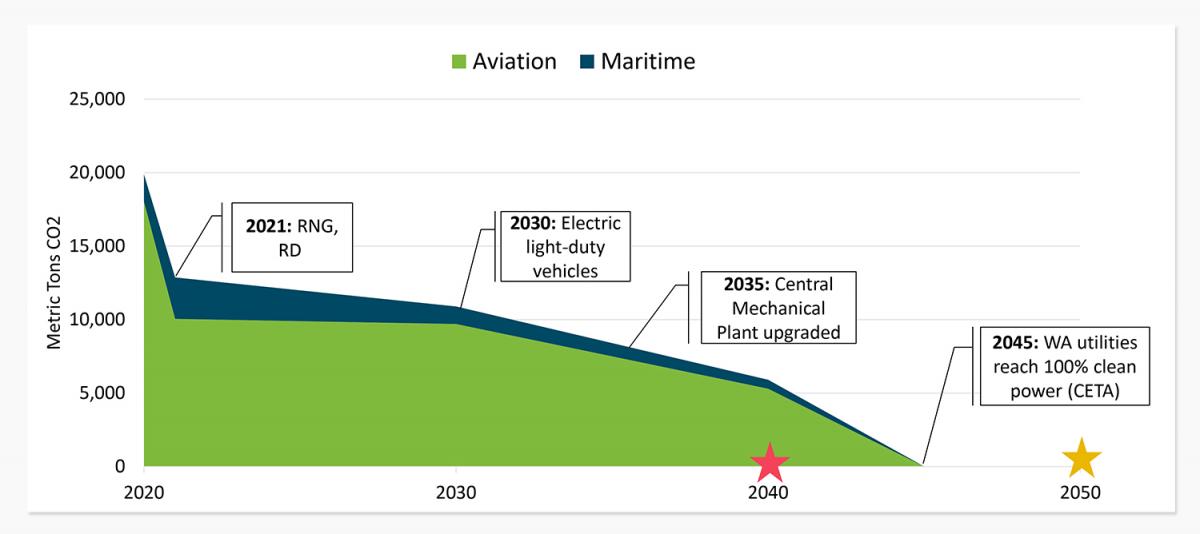 To support these goals, Port staff provided an update on Port-wide annual greenhouse gas emissions. Commissioners also received an overview of the Port's plan to cut maritime emissions by 50 percent by 2030 and phase out all maritime emissions by 2050, which will be presented to the Commission for adoption at the November 16, 2021 meeting.
A new 2020 inventory revealed that greenhouse gas emissions from Port-controlled sources dropped 20 percent last year. While COVID-19 led to decreases in Port-controlled emissions from some sources and increases in others, expanded use of low carbon fuels and clean electricity drove the majority (60 percent) of the decline in emissions. The Port began using renewable natural gas in Seattle-Tacoma Internation Airport (SEA) boilers and bus fleet, renewable diesel in port vehicles and equipment and joined Puget Sound Energy's Green Direct renewable electricity program.
Port-wide scope 1 & 2 Emissions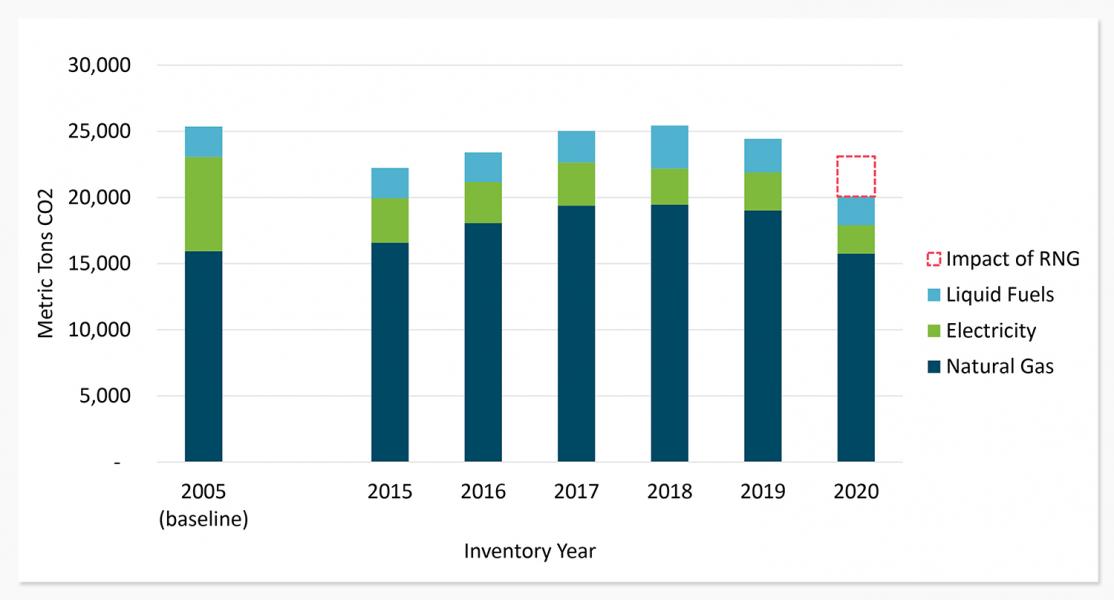 Aviation industry-related emissions at the airport — including air travel, ground transportation, and tenant operations — declined 35 percent. COVID-related changes in travel were the primary factors in 2020 declines in greenhouse gas emissions from Port-influenced sources, including those from airplanes and ground transportation at SEA Airport. Post-COVID, emissions related to airport activity are expected to continue the steady increases experienced before 2020 due to increasing demand for air travel and associated services.
Scope 3 Emissions SEA Airport
The Port will continue to advance initiatives and policies that reduce aviation emissions from ground transportation and promote renewable fuels for aviation. Some of these initiatives include over a decade of funding research into infrastructure needs to bring Sustainable Aviation Fuels (SAF) into SEA, availability of regionally-available feedstocks including King County municipal wastes, and advocating for state and federal legislation making SAF more cost effective for airlines.
The last available inventory of maritime industry emissions occurring at the Port of Seattle in 2016 showed a decline of 20 percent since 2005, due to new international and national clean fuel regulations, increased use of shore power, and adoption of new, more efficient vessels and equipment.
Scope 3 Emissions Maritime*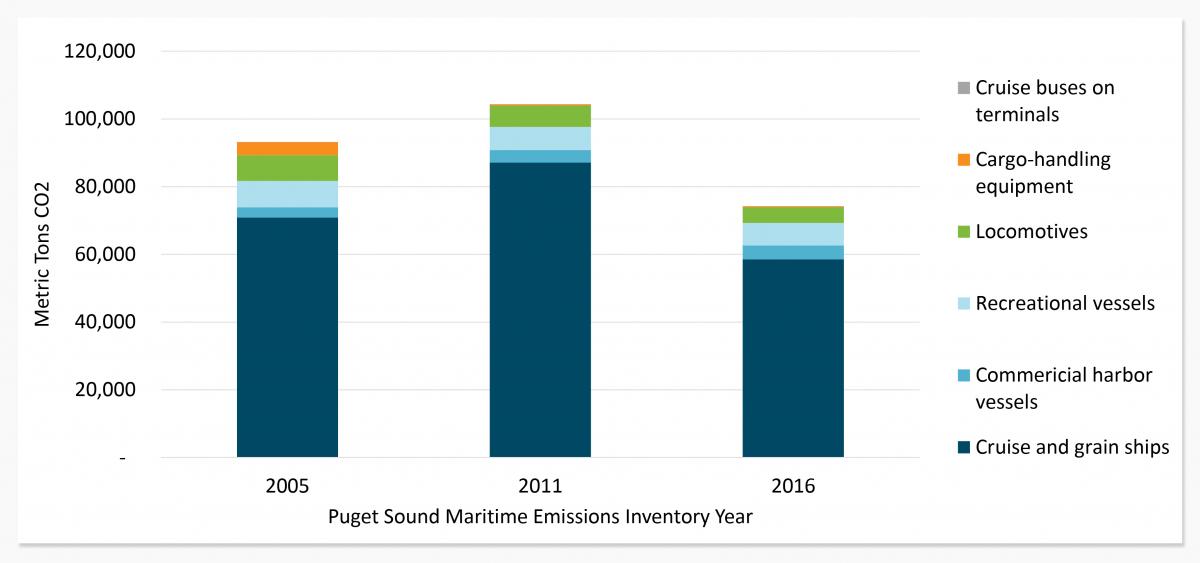 Port Introduces Maritime Plan to Cut Seaport-Related Emissions by 50 percent in 2030, Phase out by 2050
Earlier this year the Port of Seattle adopted the 2020 Northwest Ports Clean Air Strategy, a multi-port strategy to phase out seaport emissions by 2050. The Northwest Ports Clean Air Strategy depends heavily upon the partnership with the NWSA, Vancouver Frasier Port Authority (BC), and Port of Tacoma. At the October 26 meeting, Commissioners heard how the Port of Seattle can implement this strategy to cut emissions by 50 percent by 2030 and phase out seaport-related emissions entirely by 2050.
The Commission will consider adopting the plan, Charting the Course to Zero, Port of Seattle's Maritime Climate and Air Action Plan, at its November 16, 2021 meeting.
Port, NWSA, and Seattle City Light Partner on Seattle Waterfront Clean Energy Strategy
The Seattle Waterfront Clean Energy Strategy (SWCES) is one of the Port's primary actions to phase out emissions. It is a holistic energy planning effort led by the Port in partnership with Seattle City Light (SCL), the NWSA, and the maritime industry. Once complete at the end of 2022, the SWCES will provide a strategic roadmap that identifies the clean energy infrastructure and energy sources needed to decarbonize Seattle's maritime industry by 2050. Because ongoing engagement and collaboration between the Port, NWSA, and SCL are critical to the project's success, staff prepared a Partnering Agreement that articulates the partners' joint commitments to the SWCES.
Renewable hydrogen studies to inform renewable energy strategies
The Port is participating in regional efforts to evaluate the potential role of renewable hydrogen as an emerging zero-emission energy source for maritime industrial uses in Seattle. This work is part of our due diligence to explore multiple clean energy alternatives as we decarbonize the maritime industry. The Port is currently involved in two studies and supporting additional exploratory efforts related to renewable hydrogen.
This year the Port of Seattle joined the Getting to Zero Coalition, a global maritime coalition supporting efforts to have commercially viable zero-emission vessels operating along deep-sea trade routes by 2030, supported by the necessary infrastructure for scalable zero-carbon energy sources including production, distribution, storage, and bunkering.
Coalition members include the Global Maritime Forum, the Friends of Ocean Action, the World Economic Forum, and more than 150 organizations within the maritime, energy, infrastructure, and finance sectors.
Contact
Peter McGraw | Port of Seattle Media Officer
(206) 787-3446 | mcgraw.p@portseattle.org