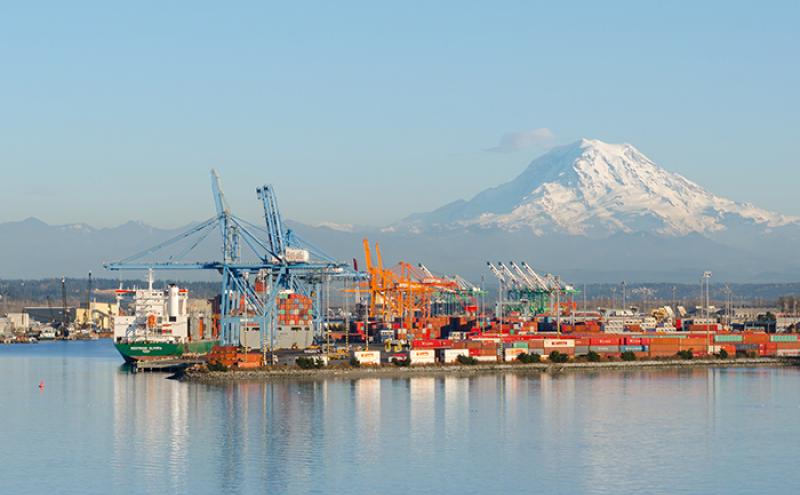 Northwest Ports Clean Air Strategy
The Northwest Ports Clean Air Strategy is a collaborative effort between the Port of Seattle, Port of Tacoma, and Port Metro Vancouver (Canada) to reduce air emissions from shipping and port operations in the Georgia Basin - Puget Sound airshed.
The strategy was first developed in 2007 and includes air emissions reduction goals and targets for 2020.
The Ports developed the Strategy in collaboration with:
The Puget Sound Clean Air Agency
The US EPA
Environment Canada
Washington State Department of Ecology
Industry and community stakeholders
The goals of the Strategy update are:
Reduce diesel particulate matter (DPM) emissions per ton of cargo by 80 percent of 2005 levels by 2020 (reducing DPM decreases human health impacts in nearby communities).
Reduce greenhouse gas emissions per ton of cargo by 15 percent of 2005 levels by 2020 to limit contributions to climate change and reduce associated environmental, health and economic impacts).

Ocean going vessels
Harbor vessels
Cargo handling equipment
Trucks
Rail
Administration
Port of Seattle programs developed to achieve the Strategy goals have included:
At-Berth Clean Fuels (ABC Fuels)

After a successful six-year run, the Port of Seattle ended this innovate at-berth clean fuels (ABC Fuels) program
Beginning in 2009, the port provided a financial incentive for ship operators to burn fuel with a sulfur content of less than 0.5% in main or auxiliary engines while berthed at port piers
In 2013 and 2014 the port increased the incentive for vessels that burned fuel with a sulfur content of 0.1% or less. The low sulfur fuel improved air quality by reducing emissions of sulfur dioxide
ABC Fuels eliminated more than 850 metric tons of sulfur dioxide
ABC Fuels was designed to meet the goal of the Northwest Ports Clean Air Strategy to achieve early compliance with ECA
The value of incentives paid out to participating ship operators was $3.23 million over the life of the program

Retrofits of cargo handling equipment with diesel particulate filters.
Clean truck program
Emission reductions are measured by the Puget Sound Maritime Air Emissions Inventory. First published in 2005, and updated in 2011, and 2016, it is updated every five years to evaluate the success of emission-reduction programs and to guide the development of updated Strategy goals and targets. View the emissions inventory.