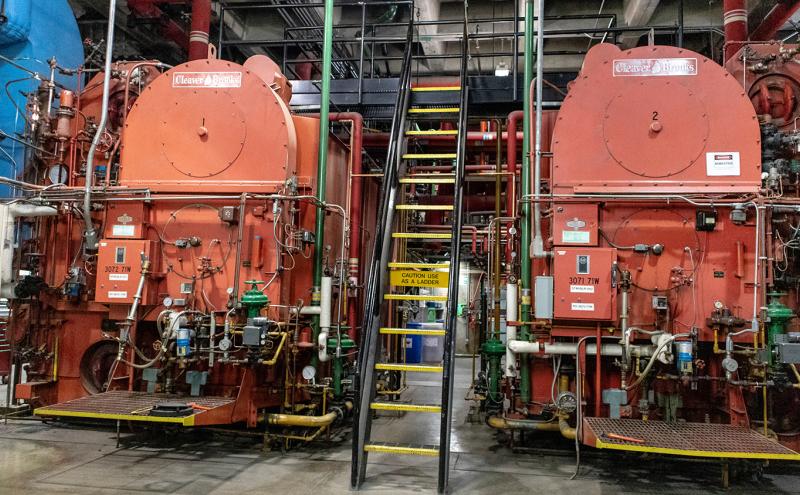 Commission also approves pilot study to measure carbon sequestration in Elliott Bay 
April 15, 2020
The Port of Seattle Commission approved a contract to enable the Port to reach its 2030 goal to reduce carbon emissions by 50 percent, almost a decade early. 
This long-sought major milestone, voted on at the Commission meeting on April 14, 2020 (Agenda item 8a), results from authorization for a 10-year supply contract with U.S. Gain for Renewable Natural Gas (RNG), a low-carbon natural gas alternative produced most often from landfill waste. RNG produces no new carbon emissions because it replaces fossil fuels and recycles existing carbon in the atmosphere. 
The $23 million contract allows the Port to purchase enough fuel to heat 55 percent of the Seattle-Tacoma International Airport (SEA) terminal and to power 100 percent of its bus fleet to reach its 50 percent port-wide carbon reduction goal. SEA will be the first airport in the country to utilize RNG for heating.
The fuel delivery begins October 1, 2020. The RNG-related cost increase to the airline rates is less than one percent. There are no costs to terminal tenants such as Airport Dining and Retail operators or to taxpayers. 
"The Commission vote is another example of the Port's environmental leadership, even in hard times," said Commission Vice President Fred Felleman and founding chair of the Energy and Sustainability Committee. "While it's critical that immediate attention is given to recovery from the COVID-19 crisis, we must continue to reduce our carbon footprint if we are to avoid the long-term economic and human costs associated with the climate crisis."
Natural gas accounts for 75 percent of the Port's annual climate-warming greenhouse gas emissions. This contract will result in the reduction of approximately 11,000 tons of emissions the Port directly produces from its own operations (scope 1) and those from the energy it purchases (scope 2). This reduction is equivalent to heating 4,000 Seattle homes or taking 2,400 passenger vehicles off the roads each year of the contract.
"We are honored to supply RNG to SEA and applaud them on achieving such an incredible milestone, well ahead of schedule," said Bryan Nudelbacher, director of RNG business development with U.S. Gain. "RNG is the immediate solution to reduce thermal and transportation-related carbon emissions and because of this, we're committed to developing new RNG projects that expand access to others seeking sustainability wins, like SEA."
Statewide Carbon Fuel Standard Needed
The Port's RNG supply comes from a landfill outside Washington state as most large in-state landfills already capture and sell their RNG either as electricity or transportation fuel to California markets. California state legislation provides price incentives for low carbon fuels making it more lucrative for renewable fuel providers.
For the past three years, the Port has strongly supported legislation creating a statewide Clean Fuel Standard for Washington, which would create incentives for new businesses to produce these fuels for use in Washington. The Port utilized RNG in 2014 and 2015, but the supply was transferred out of state due to financial incentives offered in California. Once Washington creates a clean fuel standard, the Port will no longer pay a premium for RNG or other renewable fuels used for transportation. 
Smith Cove Benefits Study Approved
Port Commissioners also approved an Inter-local agreement with the Washington State Departments of Ecology and Natural Resources for the Smith Cove "Blue Carbon" pilot project (Agenda Item 8b). Blue carbon refers to the ability of marine plants to sequester carbon from seawater and transfer it into sediments. The goal of the study is to evaluate how well transplanted kelp and eelgrass offshore of Smith Cove Park sequester carbon and reduce ocean acidification associated with carbon concentrations. In partnership with the Puget Sound Restoration Fund, the Port's Smith Cove pilot has also reintroduced the previously overharvested Olympia Oysters to improve water quality.
Begun in 2018, marine scientists and Port officials are using the Smith Cove Blue Carbon pilot project to test techniques to restore and improve critical aquatic habitat in urban bays. The 25-acre project is part of a regional interagency effort evaluating how six different sites benefit the health of the Salish Sea.
The Commission authorized funding for the $250,000 project to support long-term evaluation.
 "The Smith Cove Blue Carbon Project could make a real contribution to the restoration of the Salish Sea by reducing ocean acidification, restoring Olympia oysters, and creating habitat for salmon and other marine species," said Port of Seattle Commissioner Ryan Calkins. "These investments, and innovative projects like Smith Cove, demonstrate the Port's commitment to reducing our carbon emissions while being an economic leader in the region."
Contact
Perry Cooper | SEA Airport Media Officer
(206) 787-4923 | cooper.p@portseattle.org