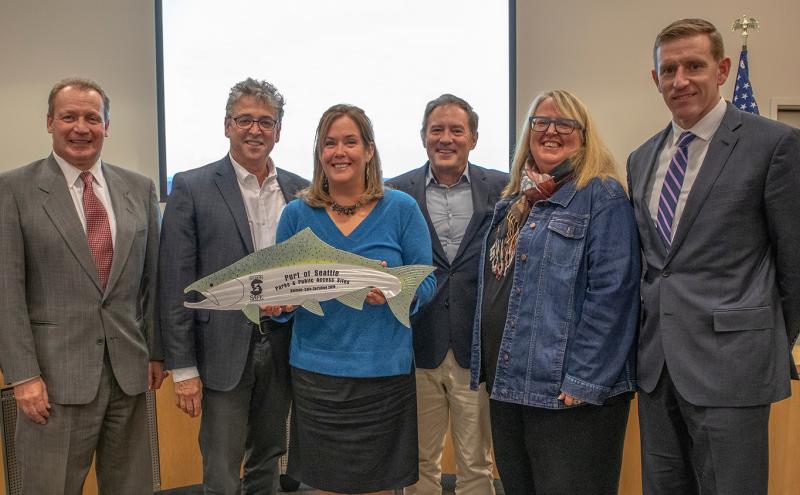 September 24, 2019
The Port of Seattle's maritime parks and public access areas have been awarded recertification by Portland-based environmental certification nonprofit Salmon-Safe. Since 2008, the Port has earned this certification by demonstrating its commitment to protect the Puget Sound water quality by enhancing the ecological environment and restoring salmon habitat.
"Salmon Safe offers an essential, independent evaluation of our properties and assets," said Commission President Bowman. "The Port of Seattle has long valued this relationship, and the expertise Salmon-Safe provides."
The Salmon-Safe certification is a comprehensive third-party evaluation program that involves continuous improvement and reassessment every five years. On March 20, 2019, the Salmon-Safe science team inspected site infrastructure and operations at Port parks and public access areas to evaluate landscape, stormwater treatment, and habitat restoration projects developed since the last recertification cycle in 2013.
"For as long as we've worked with Port of Seattle, the maritime port has been highly engaged in looking for the most environmentally innovative solutions for its parks and public access points," said Dan Kent, executive director of Salmon-Safe. "And given the ecological sensitivity of these sites on the Duwamish and Elliott Bay, the Port's actions can have a profound impact on Puget Sound."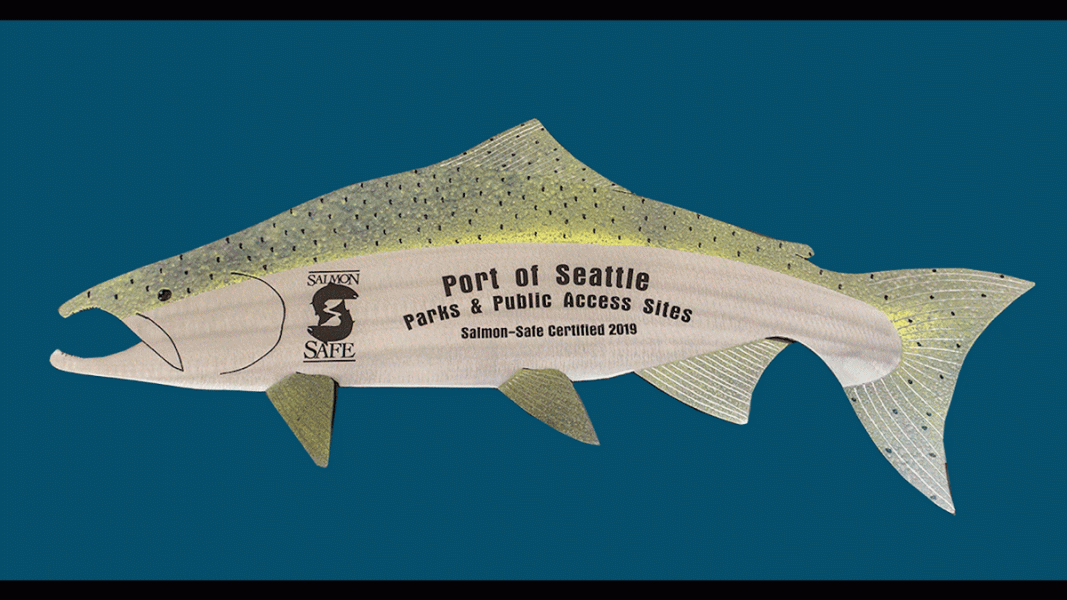 Key actions by the Port related to certification between 2013 and 2018 include updating the Port's Landscape Management Guidelines to further reduce use of fertilizers, implementing a water conservation plan, assessing additional system-wide opportunities for stormwater treatment and habitat restoration, and installing stormwater treatment and habitat restoration projects on a number of Port properties.
The properties evaluated as part of the recertification assessment include the Horton Street Marine Maintenance facility; Terminals 102, 105, and 108 public access areas and parks; Jack Block, 8th Avenue, and Centennial parks; Maritime Industrial Center; Fishermen's Terminal; and Smith Cove.
To maintain certification, Salmon-Safe has defined seven new conditions for the Port through 2023, with various milestones along the way. The Port's maintenance and environmental staff will carry out the work associated with maintaining the certification, from landscape management to habitat development to innovative stormwater treatment projects.
Seattle-Tacoma Airport was certified by Salmon-Safe in 2016 through the organization's infrastructure standard and is the first airport in the U.S. to receive this designation.
About Salmon Safe
Since 1998, Salmon-Safe has successfully defined and promoted ecologically sustainable development and land management practices that protect water quality and aquatic biodiversity throughout the Northwest. The Salmon-Safe Parks and Natural Areas initiative is the nation's first certification program linking park system development and operation with the protection of water quality and an imperiled species. To achieve Salmon-Safe certification, Businesses and other landowners must go through a rigorous assessment and independent verification of their operations by experts in stormwater, water quality science, landscape management, and fish biology. Learn more at salmonsafe.org.
Contact
Kathy Roeder | Director of Communications
(206) 787-4882 | roeder.k@portseattle.org