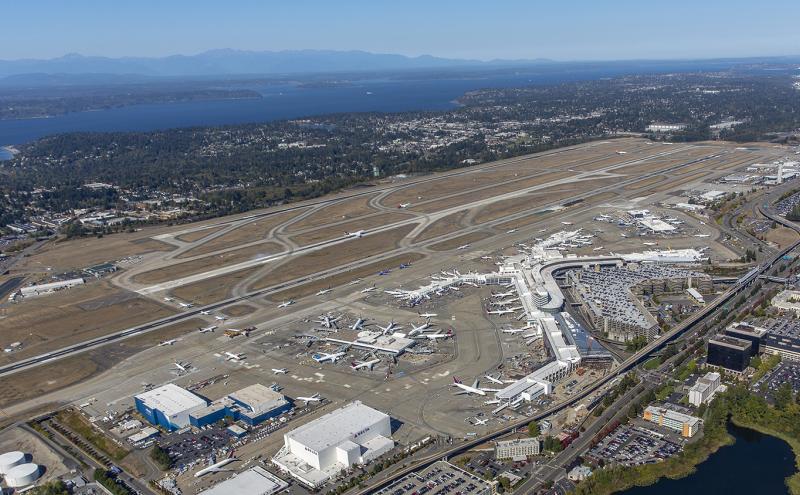 Airlines, Microsoft join Port of Seattle for Sustainable Aviation Fuels (SAF) Study Session — New State Legislation Will Bring Jobs and Clean Air to Washington
April 27, 2021
The Port of Seattle Commission hosted a study session today to review progress implementing the Port's Sustainable Aviation Fuel (SAF) strategic plan and significant investments of the private sector in SAF production and use in Washington. The study session occurs just days after the Washington state legislature approved policy creating a low carbon fuel standard. The policy to lower carbon emissions from fuel now goes to Washington state Governor Jay Inslee for his signature.
"Washington state is poised to become a leader in fighting against climate change and creating green collar jobs. Through legislative leadership, industry innovation, as well as port advocacy and infrastructure, clean fuels will soon be powering jets out of our airport. The combination of these sustained efforts will significantly reduce the impacts of air travel on the climate and improve the air quality in airport communities," said Port of Seattle Commission President Fred Felleman.
SAF is a drop-in fuel made from sustainable sources that can be blended with fossil jet fuel and reduces carbon dioxide emissions by 50-80 percent on a lifecycle basis compared to fossil fuel. Seattle-Tacoma International Airport (SEA) set a goal to power every flight fueled at SEA with at least a 10 percent blend of SAF by 2028.
There is a path for SEA to achieve its 10 percent SAF goal in the next seven years. With the Washington state legislature creating a clean fuel standard we will be able to offer incentives like those in California, Oregon and British Columbia for the use and production of low carbon fuels to power trucks and planes. Now there is a need for dedicated production facilities to come on-line quickly to meet the coming demand.
A report published by Washington State University found that there are enough regional sources of renewable waste (woody debris, municipal solid waste) and technology options to convert the sources into sustainable jet fuel to more than meet the Port's SAF goal.
Recent announcements from the Department of Energy ($64 million grant for biofuel research to support SAF), Alaska Airlines (partnership with SkyNRG to study development of SAF production facilities), and Delta Air Lines (study feasibility of SAF production in WA, purchase of SAF) and United Airlines (agreements with corporate customers to purchase 3.4 million galls of SAF), demonstrate industry and federal progress.
"This industry momentum is particularly exciting because municipal solid waste is being utilized as a feedstock in other regions and the Port of Seattle is developing a partnership with King County to evaluate the feasibility of using solid waste generated in King County to produce sustainable aviation fuels in Washington," said Felleman.
"As we look to a carbon neutral future for the industry, SAF investment and expansion, which can lower emissions up to 80 percent compared to conventional jet fuel, is an immediate and impactful solution," said Delta's Managing Director of Sustainability Amelia Deluca. "This venture with Northwest Advanced Biofuels (NWABF) can help drive that reality forward, and Delta is proud of its commitment to take 100% of the SAF proposed for production by NWABF."
Producers in Washington state, such as REG based at the Port of Grays Harbor already produce biofuel with skilled Washington workers, but export to California and British Columbia to benefit from market incentives. As our region looks towards economic recovery from the pandemic, this exploration, along with clean fuel policies that create market incentives here, hold the potential to create clean energy jobs throughout Washington state.
The Port is a longtime advocate of implementing a clean fuel standard in Washington state to incentivize SAF use and in-state production. Passing a low carbon fuel standard has been the Port's top state legislative priority for the last three years, and earlier this month the Port Commission commended the Washington State legislature for approving HB 1091, a bill "to reduce greenhouse gas emissions by reducing the carbon intensity of transportation fuel."
The Washington Ecology Department found that transportation produces almost 45 percent of the state's greenhouse gas emissions and the use of clean fuels provides the fastest way to reduce those contributions.
The Port is investing in infrastructure, building partnerships, financing research, and advocating for policies that reduce barriers and help create incentives for SAF at the local, state, and federal level.
Study Session Highlights Private Sector Partnership
The Port is playing a key role in efforts to facilitate the adoption and local production of SAF with private sector partners at Alaska Airlines, Delta Air Lines, United Airlines, Microsoft, and Breakthrough Energy which were highlighted at the SAF study session where they shared their strategies and action for this climate priority. 
Speakers at the Study Session included:
Kirk Myers, Sustainability Director, Alaska Airlines
Keith Taylor, General Manager – Fuel Sustainability and Jet Fuel Quality, Delta Air Lines
Tom Michels, Director, Government Affairs, United Airlines
Julia Fidler, Senior Sustainability Program Manager, Microsoft
Jay Dessy, Strategy & Operations Manager, Breakthrough Energy 
Learn more about Sustainable Aviation Fuels.
Founded in 1911 by a vote of the people as a special-purpose government, the Port of Seattle's mission is to promote economic opportunities and quality of life in the region by advancing trade, travel, commerce, and job creation in an equitable, accountable, and environmentally responsible manner.
Contact
Kate Hudson | SEA Airport
(206) 787-4362 | hudson.k@portseattle.org