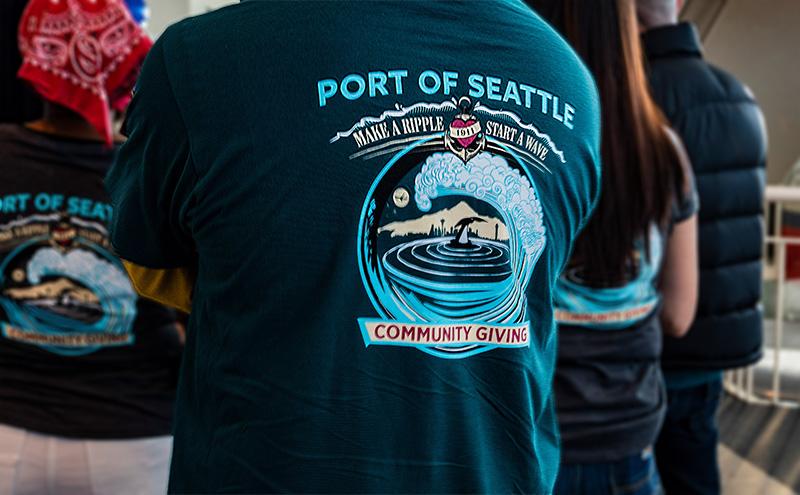 Make a ripple, start a wave
The end result is always greater
Than the effort that you gave
These lines from poet Roger Turner encompass the theme of the Port's 2020 Community Giving Campaign, emphasizing the power of many small contributions. Through the community giving campaign, Port employees can use an online portal to quickly set up recurring donations to one or more of over 240 charities and non-profits through direct payroll deduction.
A Call to Action
Current Port employees are strongly encouraged to visit the Community Giving Campaign section of the Compass intranet site to read guidelines, browse charities, and get answers to frequently asked questions. Employees can set up deductions by logging into PeopleSoft HCM (Self Service > Payroll and Compensation > Deduction and Direct Deposit > Community Giving Deduction).
Stirring Remarks
Over 250 Port employees attended Thursday's kickoff luncheon at the Museum of Flight. Chief Financial Officer and the campaign's executive sponsor Dan Thomas opened the event by reminding attendees of the reasons we give, including showing gratitude, growing as people, reinforcing a culture of giving, and strengthening communities. He highlighted the Port's leadership role in the region, saying "We can all be models and inspire others to give."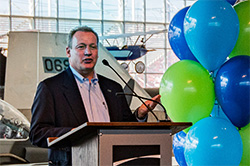 Dan was followed by Port Executive Director Steve Metruck, who recognized the Port's organizational efforts in economic development and workforce development, as well as the collective impact of employees who volunteer time and contribute resources. "We have a lot to be proud of," Steve said. Internally, he emphasized that the Community Giving Campaign is one of the ways through which we foster the values of mutual respect and accountability, key themes to our workplace culture.
Next, Environmental Engagement Program Manager Andy Gregory presented on the impact of the Airport Community Ecology (ACE) Fund. Authorized by the Port Commission in 2016, this $1 million fund supports environmental projects and programs in the cities of SeaTac, Burien, and Des Moines. Since 2017, $240,000 has been distributed to 20 organizations for 28 unique projects through the fund's small matching grants program. Recent projects include a partnership with Forterra to renew urban forests. Port employees are encouraged to watch the Compass newsfeed for upcoming volunteer opportunities.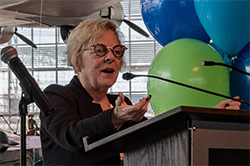 The event's keynote speaker was State Senator Claire Wilson, whose district includes Federal Way, Des Moines, and Auburn. Her remarks centered on the importance of giving to provide much needed help to people in our near-port communities. She shared her experiences of meeting personally with members of her district and the impact of small acts of service. She emphasized that each of us has our own gifts and resources, whether they are fiscal or social, that we can share to benefit local children and families.
George Blomberg Recognized as Community Champion
In a surprise announcement, Senior Environmental Program Manager George Blomberg was honored with the 2020 Lindsay Pulsifer Community Champion Award. The award is named for Lindsay Pulsifer, who, over the course of more than thirty years with the Port, rose from a crane mechanic to a member of the executive leadership team as the managing director of the Maritime division. She was deeply committed to the Port's role in serving the community and was a long-time champion of the Community Giving Campaign.
George has been with the Port for 35 years and is a dedicated force behind the Port's habitat restoration work along its shoreline properties. A master storyteller and Port historian, he has been a part of nearly every Port-sponsored community festival and a narrator on almost every public boat tour—nights and weekends, year after year—showing up with a #2 pencil behind his ear, a brown expandable file, and boards of historical maps and photos.
Always a willing volunteer, George was of service at the luncheon itself, greeting guests dressed as "Olive the Orca," completely unaware that he was about to be honored. As he received his award at the front of the room, he was greeted with a standing ovation from his fellow colleagues.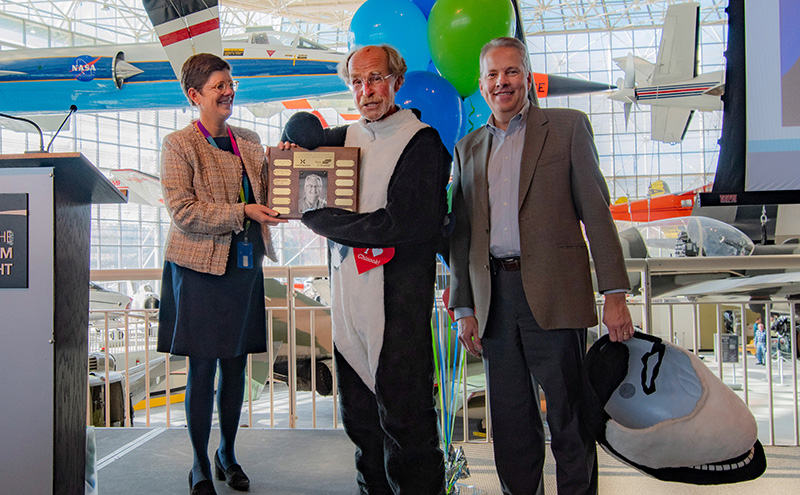 Thank You
Many thanks go out to those who made the 2020 Community Giving Campaign kickoff a success, including...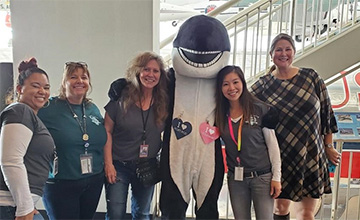 Community Giving Campaign Committee Members:
Tanaya Lanning
Mark Coates
Delia Angeledes
Sally del Fierro
Devlin Donnelly
Persia Duckworth
Kate Hudson
Frank Irlanda
Kaitlyn Jensen
Charlene Jones
Kathleen Moriarty
Luis Navarro
Melanie O'Cain
Faye Sripranaratanakul
Kelly Schimelfenig
Tiffany Sevilla
Lynda Wright
Executive Sponsor:
Speakers:
Executive Director Steve Metruck
State Senator Claire Wilson
Bookda Gheisar
Stephanie Jones Stebbins
Andy Gregory
Published Date
Oct 28, 2019