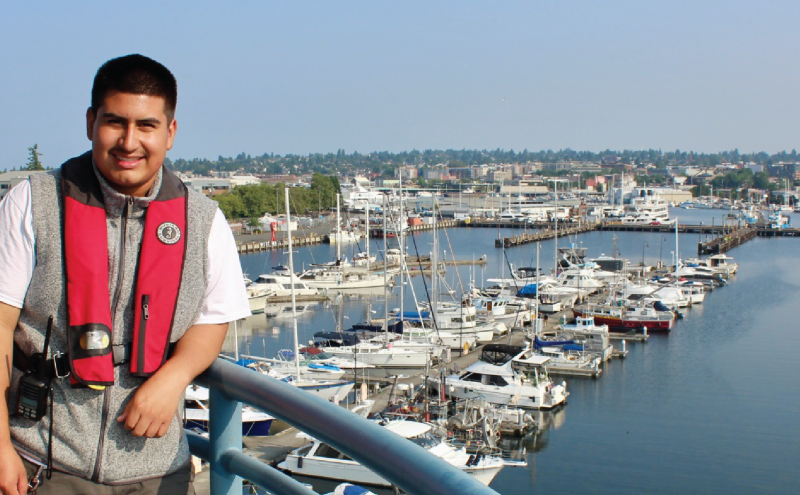 As an intern in Harbor Operations, Pedro worked on marine maintenance projects, assisted tenants at the docks of Fishermen's Terminal, and discovered a new career path
Pedro Reynaga first heard about the summer internship program through the Port of Seattle's Workforce Development Program. Since 2016, the program has helped local businesses connect with students and create internship opportunities.
After a successful internship with the Center for Wooden Boats, Pedro returned to school inspired more than ever to pursue another internship. The following summer, he got an internship at the Port of Seattle.
"Working at the Port of Seattle looks great on your resume and helps build connections," he said. "I was open to doing any position as long as I got to work at the Port over the summer and gain new work experience."
In June, Pedro was relieved to hear that he got the Harbor Specialist intern position at Fishermen's Terminal, one of several Port of Seattle marinas. "I was expecting an indoor office job, but I was pleasantly surprised to have assignments that involved being outdoors on the docks. Seeing the boats, working on maintenance projects, and meeting tenants has been great!"
At first, Pedro wanted to become an engineer, but after his summer internship experience at the Port, he found a new passion for maritime. This new interest was also amplified when he participated in the Seattle Maritime Academy, a four-day summer event of Maritime experiential learning. The event was sponsored by the Youth Maritime Collaborative and the Seattle Maritime Academy.
"Working at the Port has been an awesome summer job. I've made new friends and work connections. I learned about harbor operations, but also got exposure to working in a professional setting. I feel more prepared to meet future employers."
Pedro graduated from Cleveland High School and will be attending South Seattle College in the fall.
Published Date
Dec 12, 2017