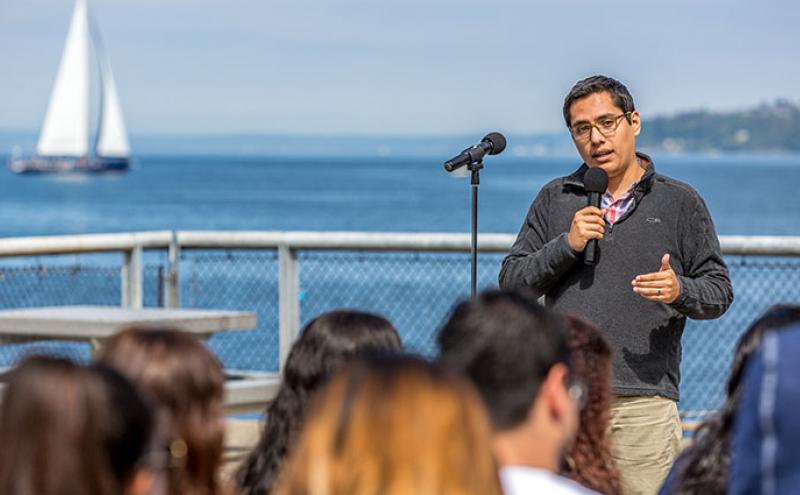 Notice: 
The Port of Seattle continues to work closely with public health organizations and community partners to support prevention efforts and provide guidance to the public, business partners and our workforce as we navigate the COVID-19 situation. For college internship opportunities, please browse current internship openings. Thank you for your patience and understanding.
Why intern with the Port?
Few organizations, public or private, can offer college interns the experience the Port of Seattle provides:
Behind-the-scenes looks at airport and maritime operations that move millions of passengers and billions of dollars in goods
Selfie-worthy work locations at SEA Airport or along the Seattle waterfront
Real work on real projects that impact local communities and the regional economy—no coffee runs
The opportunity to work for an established public agency with a heritage of service
Numerous opportunities to network with fellow interns and full-time professionals
100 percent of our internships are paid
The Port offers internships for graduate and undergraduate students in various departments across the Port, including but not limited to:
Accounting
Airport Operations
Business Development
Commission or Government Relations
Construction Management and Services
Engineering
Environment & Sustainability
External Relations
Finance & Budget
Human Resources
Information Technology
Maritime Operations
Project Management
Qualifications
Qualified college or graduate interns are:
a.) Currently enrolled in an undergraduate or graduate degree, or recently graduated (< 1 year ago). In some cases, students may be enrolled in technical certificate programs in particular fields relevant to the Port's business objectives. We will accept applications from students who have recently completed undergraduate degree work and are enrolling in a graduate degree program for the following academic year.
b.) Considering a profession related to some aspect of the Port's business objectives. Generally, interns should be advanced enough in their educational programs to have begun taking courses in a field related to their work at the Port. However, in some cases previous work experience or education may substitute for current academic placement.
c.) Willing to participate in intern activities organized by Human Resources, and interested in seeking information about the Port and its business objectives that may not be directly related to the internship project.
How to Apply
Application Requirements:
Online Application (browse open internships)
Resume
Cover Letter
Official or unofficial transcripts
When to Apply:
New college internships are posted throughout the year. Full-time summer internship opportunities generally post between late February and early May, while part-time fall internship opportunities generally post between late August and mid-September. We recommend setting up email alerts through the Port's Taleo application system to notify you when new positions become available.