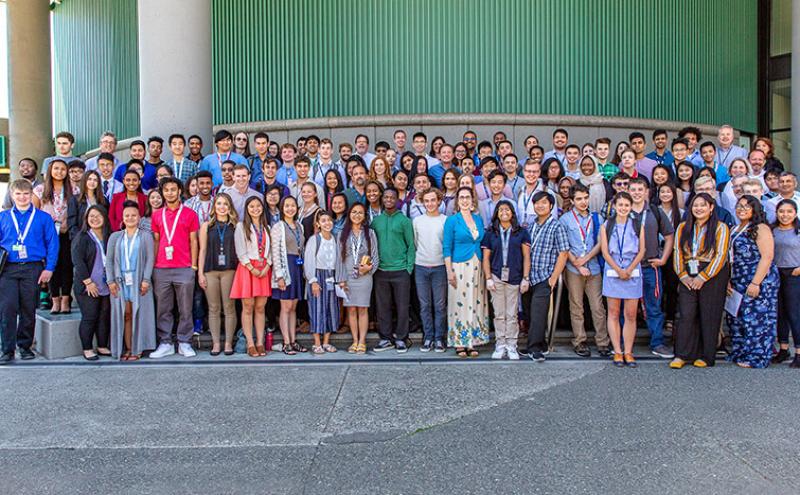 Notice: The Port of Seattle continues to work closely with public health organizations and community partners to support prevention efforts and provide guidance to the public, business partners and our workforce as we navigate the COVID-19 situation. While we are not recruiting high school interns this year, the program has been virtually adapted and will resume with a smaller cohort that has been selected by our community partners. Thank you for your patience and understanding.
Why intern with the Port?
It's not just another summer job. Few organizations, public or private, can offer high schools interns the experience the Port of Seattle provides:
Jumpstart your future professional career
Work experience on your resume at a well-known public organization with a long history
Selfie-worthy work locations at SEA Airport or along the Seattle waterfront
Real work on real projects that impact local communities and the regional economy—no coffee runs
100 percent of our internships are paid
The Port of Seattle offers over 80 available high school internships across all departments that fall into the following career focus areas:
Business Management, Planning, and Administration
Business Technology and Solution Design
Communications and Outreach
Customer Service
Engineering and Construction Management
Facility Management and Operations
Finance and Accounting
Skilled Trades
Gain career skills:
The Port of Seattle's High School Internship Program is designed to provide you with the skills you need to be successful in a corporate environment.
A three-day orientation includes training in the Port's Code of Conduct and communications technology, as well as business skills such as: diversity and inclusion, process improvement, project management, communications, and leadership.
A variety of career awareness activities will be available during the summer to promote learning and increase exposure to various aspects of the Port. This includes a Career and Education day where you'll get the opportunity to meet local schools, apprenticeship programs, and hiring employers, as well as attend workshops on resume writing and interview skills.
Qualifications
Qualified high school interns are:
a) At least 16 years of age before the beginning of the internship
b) Currently enrolled in high school, recently graduated from high school (no more than 12 months removed), or currently in a GED completion program
c) Ideal candidates have demonstrated the ability to complete projects, have volunteered with community organizations, and/or participated in extracurricular activities
Apply
Application Requirements
Fill out the online application. Make sure to add your contact and educational information.
Resume: upload your prepared resume
Cover Letter: upload your prepared cover letter
How to Apply
The Port of Seattle is accepting applications online for our internship program from February through April. To check out available opportunities, please browse our Current Opportunities.