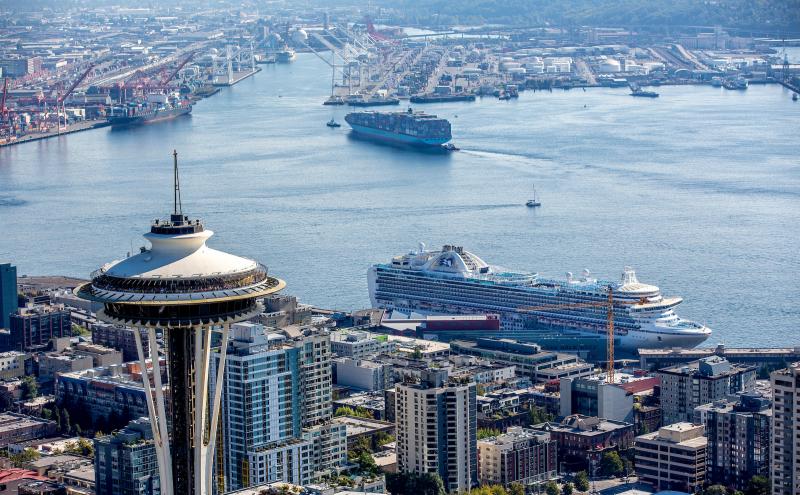 The Port of Seattle, Northwest Seaport Alliance (NWSA) and Seattle City Light (SCL) are embarking on a joint strategy to eliminate emissions from Seattle's working waterfront. The goal is to put in place the clean, reliable energy needed to enable the maritime industry's transition away from fossil fuels.
The Port initiated the Seattle Waterfront Clean Energy Strategy (SWCES) to establish a framework for collaboration, innovation, and investment to address these challenges. The Strategy will jointly coordinate the infrastructure improvements, technologies, and implementation strategies to ensure clean, cost-effective, resilient, and reliable energy for the Port and NWSA facilities, tenants, and maritime industries in the Seattle Harbor.
Program Overview
A ZERO-EMISSION MARITIME VISION FOR SEATTLE
Through commitments in the Northwest Ports Clean Air Strategy, the Ports have a shared vision to phase-out maritime industry emissions by 2050. The City of Seattle has similarly established targets to reach net zero emissions city-wide in the same timeframe. The Port of Seattle recently accelerated goals for its own operations, aiming to reach net zero even sooner – by 2040.
To understand the scale of change, imagine everything it takes to run a zero-emission terminal. Operators will need new investments in cargo handling equipment, fleet vehicles, and new or adapted buildings and facilities. Energy storage technologies and modernization of the electric grid may be needed to accommodate increased demands and operational requirements. Massive amounts and new forms of renewable energy will be required to power everything including vessels, which may be using electricity, clean hydrogen, or other sustainable maritime fuels and technologies that have yet to be developed at the scale needed for shipping and cruise.
To drive change of this magnitude in Seattle requires a full-scale transformation in clean energy infrastructure. It requires partnership across Seattle's waterfront, from owners and operators to utilities and tenants, and with industry to establish commitments that support investments. And it requires alignment with policy and economic leaders. Research, technology advancement and joint innovation projects will be important to ensure infrastructure, new equipment and clean fuels can meet the requirements of maritime industry. It requires firm commitment and early planning to develop the enabling clean energy infrastructure which can be years in the making.
EXPANDING CLEAN ENERGY ON THE WATERFRONT – SHORE POWER
Shore power is one of the most effective techniques to reduce port-related maritime air emissions here in the Northwest. Providing shore power connections to cruise ships and container vessels allows them to "plug-in" and turn off engines while at berth, significantly reducing air pollution. Because Seattle City Light is a leader in low carbon electricity (the first carbon neutral utility in the nation), there is a significant reduction in greenhouse gas (GHG) emissions. 
Plans underway in the Seattle harbor include shore power at two cargo terminals (Terminal 5 and Terminal 18) and a cruise terminal at Pier 66. The newly renovated Terminal 5 is slated to open in early 2022 and will be shore-power equipped. For Terminal 18 – the busiest cargo terminal in Seattle and Tacoma – future plans will have significant benefits. In 2020, approximately 49 percent of container ship calls at Terminal 18 were capable of using shore power. Providing the ability to connect to shore power would mean 6,300 fewer hours of engines operating at berth and a reduction of 5,200 tons of GHG emissions. Increasing ship connections will decrease maritime emissions to benefit the community, improve air quality, and improve the region's environmental health.
For cruise ships, about 25 percent of their total emissions in the Puget Sound airshed occur while at berth. The Port of Seattle currently has shore power installed at two of the three cruise berths. Electrification of the third berth is on track with an innovative plan to run a submarine cable from Terminal 46 underwater to Pier 66. The Pier 66 Shore Power Project is scheduled to be operational for the 2024 cruise season.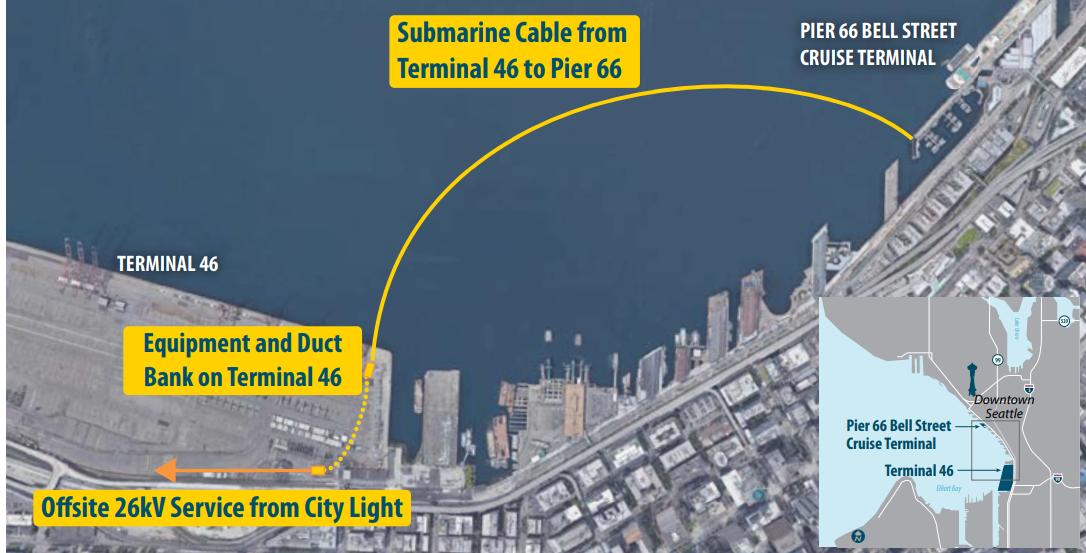 For more information on shore power:
Future electrification projects will happen at:
Pier 66
Terminal 5 
Terminal 18 
Colman Dock
Clean Energy Partnering Agreement

To support the Seattle Waterfront Clean Energy Strategy, the Port of Seattle, NWSA, and SCL have formed a unique and innovative partnership that will help decarbonize Seattle's maritime industry by 2050.
Underlying the partnership is a Clean Energy Partnering Agreement which establishes joint commitments and a long-term partnership for development of clean energy infrastructure across the Seattle harbor. The work is guided by key principles including equity, environmental stewardship, economic development, and innovation.
Together, partners are committed to a common vision, joint planning and studies, a coordinated funding strategy, strategic innovation, and developing a framework for integrated port-utility capital planning – five elements critical for success of the energy transition. The agreement provides the foundation for a 10-year effort to plan and build the energy infrastructure needed for next generation zero-emission maritime industries.
Community Benefits
A clean energy infrastructure roadmap to deploy zero-emissions energy and technologies at Port properties, and increase energy resilience
Financial strategies, business models and policies that enable implementation across partners
Strategic partnerships and a plan for ongoing innovation and investment over multiple years
This work is part of the Port's broader strategic goals and is expected to identify a range of investments.