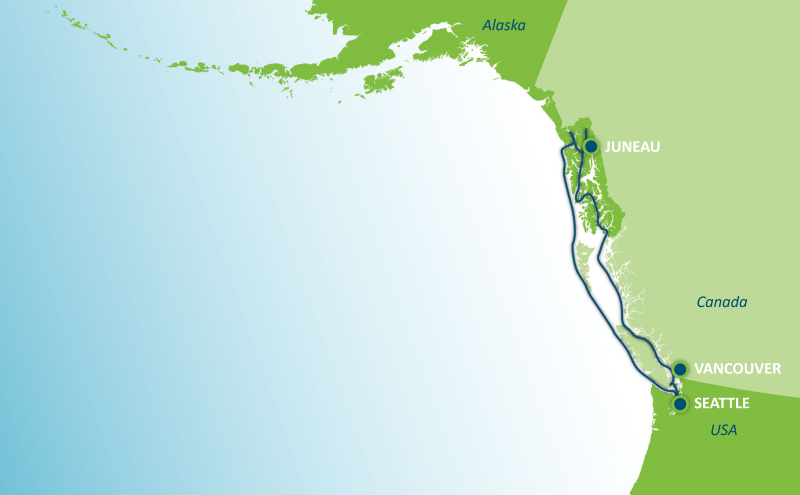 On May 17, 2022, the Port of Seattle, City and Borough of Juneau, Vancouver Fraser Port Authority, Carnival Corporation, Norwegian Cruise Line Holdings, Royal Caribbean Group, Cruise Lines International Association, the Global Maritime Forum, Blue Sky Maritime Coalition, and Washington Maritime Blue launched a collaborative effort to explore the feasibility of a maritime green corridor aimed at accelerating the deployment of zero greenhouse gas (GHG) emission ships and operations between Alaska, British Columbia, and Washington. The communities of Sitka, Skagway, and Haines in Alaska and the Greater Victoria Harbour Authority have also joined the partnership. 
What is a Green Corridor?
A green corridor is a shipping route where zero greenhouse gas solutions are considered, demonstrated and supported.  Green corridors—through collaboration across sectors—establish the technological, economic, and regulatory feasibility needed to accelerate implementation of low and ultimately zero GHG emission vessels.
In 2021, twenty-four countries, including the United States and Canada, signed the Clydebank Declaration and in doing so, committed to support the establishment of at least six green corridors by 2025 while aiming to scale up activity in future years.
Green corridors are a new concept and leaders are needed to step forward and make this vision a reality. Globally, there is not yet a shared understanding of what it means for a maritime corridor to be "green" nor are there well-documented, or one-size-fits-all, solutions to achieve a green corridor.
It is up to first movers to collaborate, define, and implement the optimum pathway to get to zero in the Pacific Northwest of North America.
Why create a Green Corridor to Alaska? 
Five powerful reasons make the Pacific Northwest the natural home for one of the first U.S.-based green corridors and the first global green corridor to include cruise ships.
Strategic Advantage
The Pacific Northwest is a highly diversified hub for maritime research and development, innovation, engineering, and for private sector companies pioneering clean technologies and maritime fuels.

The corridor between Seattle and Alaska, including, British Columbia, is a well-established partnership with 200+ round-trip Alaska cruises annually, homeport to a vibrant North Pacific fishing fleet that supplies 13 percent of the total U.S. commercial fishing harvest by tonnage, a robust ferry system, and homeport to our nation's U.S. Coast Guard Arctic Operations.

The Northwest Seaport Alliance provides the exclusive cargo gateway serving Alaska communities and is the 4th largest U.S. maritime cargo gateway with connections along the U.S. West Coast and Asia.
Climate Urgency
Plans are already underway for Pacific Northwest ports and industry to chart a course to zero-emissions. Ambitious climate action is needed now to ensure our collective success in the future.

Washington State laws and programs are already in place that support reducing carbon emissions from transportation.
Environmental Justice
A green corridor and the transition away from fossil fuels can accelerate environmental justice for near-port communities that experience more exposure to air pollution.
Economic Opportunity
Maritime industries drive approximately $16 billion in business activity in Seattle and support tens of thousands of jobs, including NWSA shipping.

In addition to cruise and cargo connections, the Alaska Marine Highway provides economic opportunities to over 30 communities from Bellingham, WA to Dutch Harbor, AK.

Washington and the Port of Seattle are training the next generation of maritime workers and leaders at Maritime High School, by supporting the innovation needed for a zero-emissions maritime future with a Maritime Innovation Center and a maritime organization cluster committed to a sustainable future.
We are Ready
A distinct maritime corridor exists between Puget Sound and Alaska with regularly scheduled vessel calls by cruise, commercial fishing, cargo, ferries, and tug industries.

A zero-emissions maritime future is coming. A green corridor builds on our regional strengths and partnerships to develop a sustainable business model for the future.

The global Getting to Zero coalition found that four critical building blocks are needed to establish a green corridor: (1) cross-value-chain collaboration, (2) a viable fuel pathway, (3) stakeholder interest and customer demand, and (4) policy and regulation. These building blocks exist in the Pacific Northwest or could be achieved soon.
Read more in the Green Corridor one-pager
About the Maritime Green Corridor Project
This project will launch a collaborative effort led by ports, industry, governments, and de-carbonization subject matter experts to explore a maritime green corridor aimed at accelerating the deployment of zero GHG emission ships and operations between Alaska, British Columbia, and Washington.
Project partners commit to:
Working together to explore the feasibility of a green corridor in the Pacific Northwest of North America, including, but not limited to, further defining the scope and application of the green corridor concept;

Enhancing and supporting the emission-reduction efforts already underway and using the green corridor as a testbed for low and zero greenhouse gas technologies and ships, as feasible; and

Working collaboratively to define the governance structures, terms, and frameworks needed to guide this regional effort.
While initially formed by the cruise ports in the Pacific Northwest, with input from the cruise industry, this initiative welcomes participation from all sectors of the maritime industry and other regional ports.
Project Partners