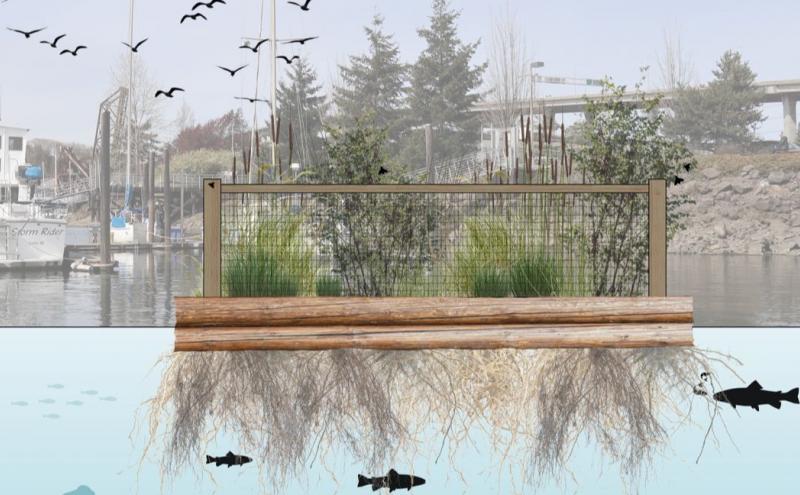 Demonstration Project Statement
In 2018, the University of Washington, King County, and the Port began working together to test the feasibility and potential environmental benefits of floating wetland platforms located in critical habitat areas of the Duwamish Waterway, the Lake Washington Ship Canal, and Elliott Bay. The objective of this ongoing effort is to design, fabricate, and position small demonstration floating platforms, intended to mimic the function of native wetlands. The floating platforms provide a place for marsh and shoreline vegetation to grow in areas where existing urban, industrial, and commercial infrastructure for habitat restoration are limited. The vegetation and adjacent aquatic area will be analyzed and evaluated to assess the capability of wetland floats to produce essential aquatic and shoreline natural resources. Modular, compact, and moveable wetland surrogates could be a cost-effective tool that would improve habitats and minimize conflicts with commercial and marine industrial activities in the same area.
Floating wetlands may provide important environmental benefits in confined locations where contemporary wetland resources are limited. And where existing urban, industrial, and commercial infrastructure prevents the use of physical shoreline and wetland restoration and rehabilitation techniques. Modular, compact, and moveable wetland surrogates could be a cost-effective tool that would improve habitats and minimize conflicts with commercial and marine industrial activities in the same area. 
Floating Wetlands Study
In collaboration with the University of Washington's Green Futures Research & Design Lab (GFL) and King County, the Port provided funds and logistical support to study potential floating wetland designs to demonstrate techniques to increase wetland habitats in urbanized shoreline and aquatic areas.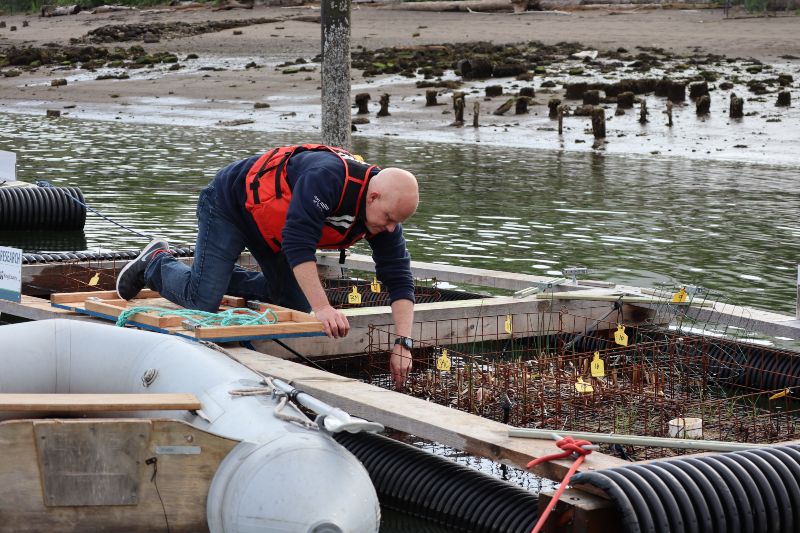 The floating wetland design objectives included preparing prototype platforms that will:
Absorb nutrients from surrounding aquatic areas, improving water-quality through absorption of excessive nitrogen and phosphorous
Provide a stable platform to grow marsh vegetation
Create aquatic habitats with native plants, organic material, insect food sources, and shelter for wildlife
Develop expertise in combining landscape and urban design with environmental science
Demonstrate techniques and structures for adoption and use by public agencies, industry, and commercial/recreational interests
GFL designed and fabricated four floating wetlands constructed from rigid rectangular wood frames supported by tubular buoyancy cells, overall dimension approximately nine feet wide and 16 feet long, for moorage and monitoring in two estuarine locations in the Duwamish Waterway. The Duwamish Waterway was selected as a test location to assess floating wetland performance in an estuarine environment where more than 99 percent of marsh vegetation has been lost (approximately 1,400 acres, pre-development native marsh) due to comprehensive landscape change and more than 110 years of historic development.
2019
Referred to as "bio barges," the first version of demonstration floating wetlands were moored at Terminal 105 and Terminal 108 in the Duwamish Waterway (approximately river mile 0.6 to 0.9), during the spring-summer 2019 growing season. Each of the four bio barge floats was fitted with four wire mesh wetland plant module "baskets" that were approximately 40 cubic inches. After they grew, the module baskets were removed from the float frames for detailed analysis at the University of Washington.
2020
In the spring and summer of 2020, the wetland plant modules were redesigned based upon learnings from 2019 field tests and were reinstalled in the float frames. The bio barges were re-deployed and  moored at two locations further upstream in the Duwamish River (approximately river mile 3.3 and 6.7) to avoid disruptive vessel wakes and to evaluate wetland plant response to more variable estuarine conditions. The 2020 modules were removed for analysis, while the reusable float frames are moored at Terminal 102 and available for future testing. 
Alternative Floating Wetland Platforms  
Using design ideas derived from collaboration with GFL, the Port fabricated two alternative floating wetland platforms for moorage at Fishermen's Terminal and the Lake Washington Ship Canal in January 2020. The alternative design consists entirely of salvaged materials, relying on large wood marine debris provided by the U.S. Army Corps of Engineers "Navigation Hazard Removal" program.  The wooden platforms consist of milled former drift logs constructed as rectangular floats, approximately 85 square feet, and are more dense and heavier than the previous GFL designs, and can withstand turbulent conditions. The log-float platforms were planted with native wetland and riparian vegetation, and moored at the south margin of the Fishermen's Terminal.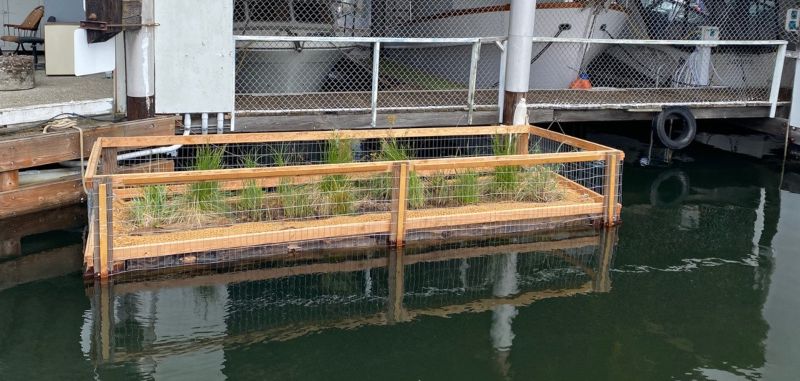 Fishermen's Terminal, located at southeast Salmon Bay in the Lake Washington Ship Canal, was selected as a wetland test site because:
The environment, committed to commercial and industrial uses and activities, provides little or no potential for converting existing development and operational areas to create beneficial aquatic habitat
The Salmon Bay portion of the ship canal supports little or no marsh or functional shoreline vegetation, with 100 percent of former tidal marsh and riparian habitat lost due to ship canal construction more than 100 years ago
Fishermen's Terminal receives substantial public use and commercial activities providing a visible demonstration site for the  floating wetlands tests
The Fishermen's Terminal log floats remained in place throughout 2020 and exhibited substantial plant growth. The vegetated floats stayed in place over the winter 2020-2021 to test the ability of the float vegetation to resume spring growth without intervention. 
Monitoring in 2021 indicates continued successful marsh growth. In early 2021, two additional log raft design prototypes were fabricated and planted in confined locations on Port properties. One float was moored in freshwater conditions at the Port's Salmon Bay Marina facility, near Fishermen's Terminal, with the second log platform moored at Terminal 91 in north Elliott Bay.