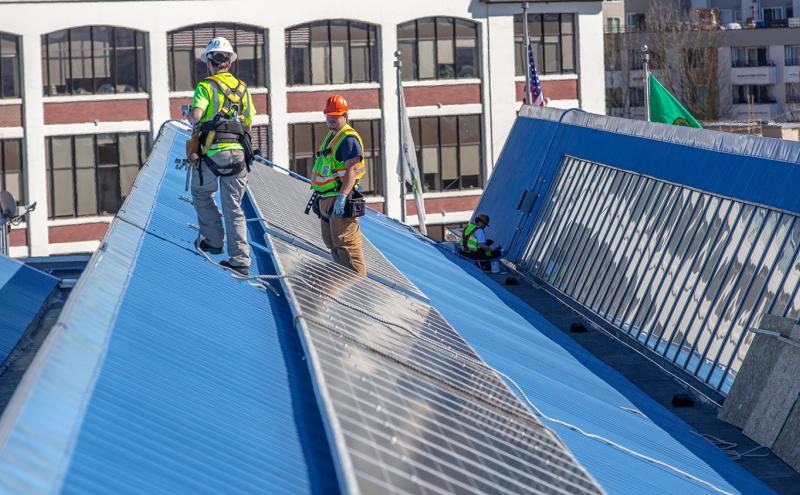 Solar at the Port
The Port has completed the installation of four solar arrays on Port properties — a pilot project on a net shed at Fishermen's Terminal, the rooftop of Pier 69, the Port headquarters — and most recently two arrays at Shilshole Bay Marina. These projects demonstrate the Port's commitment to developing renewable energy sources and another step towards achieving the Port's Century Agenda Goal to meet all increased energy needs through conservation and renewable sources. These projects are moving the Port closer to its goal to reduce greenhouse gas emissions 50 percent by 2030, and be carbon neutral or negative by 2050 compared with 2005.
Why solar?
The Port believes that energy efficiency and renewable energy are critical components for reducing our air emissions footprint and decreasing operational costs. Solar energy is an emerging technology, which serves as a greenhouse gas reduction strategy.  
Supporting the green tech economy
The solar projects utilize monocrystalline PV panels built in Washington state. The Port contracted with local firms to design and install the solar arrays, an investment in the local community and the economy.
Environmental sustainability
Using solar power instead of fossil fuels helps to reduce the carbon dioxide emissions and other pollutants in our atmosphere, which contribute to childhood asthma and other health and environmental problems
Solar power is a renewable resource, can be utilized anywhere in the world, and is available every day. It comes from a natural source that is constantly replenished.
Using solar power increases energy independence from peak demand times and during emergencies
Cost savings 
Solar energy reduces electricity bills and results in cost savings over time
Solar energy systems don't require a lot of maintenance
Pier 69 Solar Project
Completed: April 2019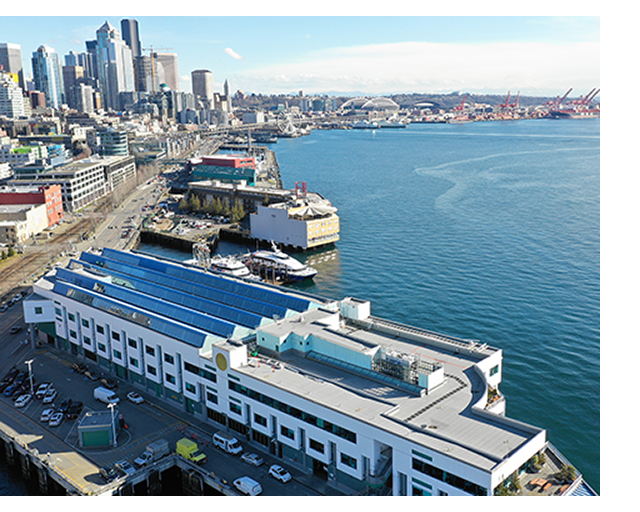 The solar array was installed on the roof of Port headquarters, a three-story 191,000 square-foot structure that was built in 1931 by American Can Company, which produced containers for canned salmon. The Port purchased the facility in 1988 and later remodeled and renovated. The sloped metal clad roof exposes directly to the south, making Pier 69 the ideal location to install the solar array.
Project facts
Jointly funded by the Port and the State Department of Commerce
Designed to generate approximately 120,000 kWh annually, which will offset greenhouse gas emissions by about 2.0 to 2.5 metric tons CO2
Projected to save $10,000 in energy costs per year
The system includes 390 Washington-sourced Monocrystalline PV panels
The system designed and installed by Puget Sound Solar
Pier 69 solar array (as of 11/1/2022)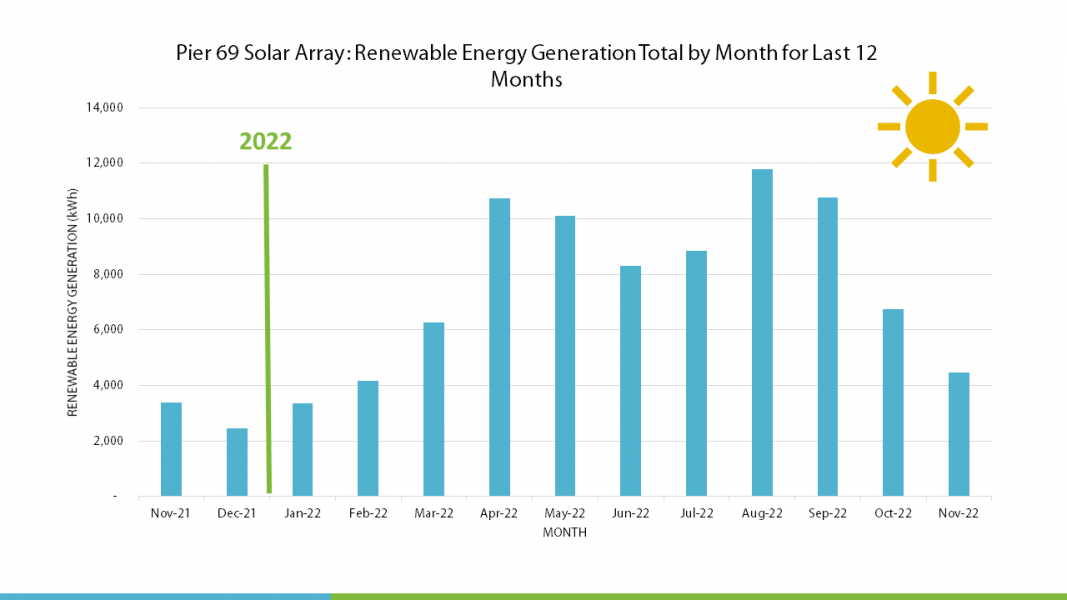 Pier 69 project costs
| Element | Actuals |
| --- | --- |
| System design capacity (annually) | 120,000 kWh |
| Total number of panels | 390 |
| Total cost | $ 484,000 |
| Grant | ($ 317,000) |
| Internal rate of return (IRR) | 6.7% |
| Payback (years) | 17 |
Fishermen's Terminal Solar Demonstration Project (Net Shed 5)
Completed: December 2017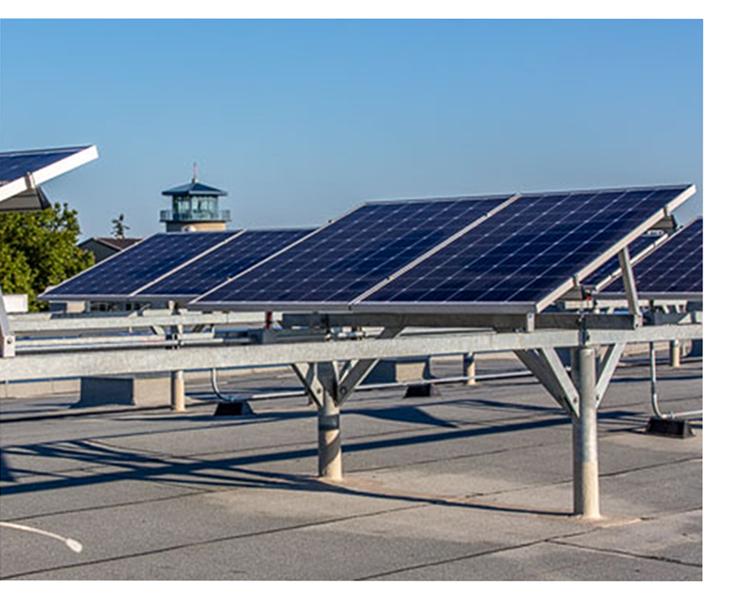 The net sheds at Fishermen's Terminal are used to store fishing nets and gear for North Pacific Fishing Fleet, an amenity that helps retain the fishermen as tenants. Fishermen's Terminal Net Sheds 3, 4, 5, and 6 all needed new roofs, so the Port used solar in the installation of one of the roofs as a smaller-scale pilot project to test solar and gather data to inform future solar panel installations.
Project facts
Includes 44 Washington-sourced Solar Panels on Net Shed 5
Designed by Cornerstone Architectural Group and installed by A&R Solar 
Project impact
During the first year of operation, the array produced over 16,580 kWh, a 10 percent increase over the initial projections of 15,000 kWh for the entire year
The net shed takes 10,000 kWh per year to power, so the electricity produced renders Net Shed 5 "net zero," with any remaining kilowatt hours produced distributed for other needs at Fishermen's Terminal
The array is also expected to reduce greenhouse gas emissions by almost half a metric ton of CO2 annually
Fishermen's Terminal project costs
| Element | Actuals |
| --- | --- |
| System design capacity (annually) | 16,000 kWh |
| Total number of panels | 44 |
| Total cost (No grant was received) | $ 113,000 |
Shilshole Bay Marina Solar Project
Completed: October 2020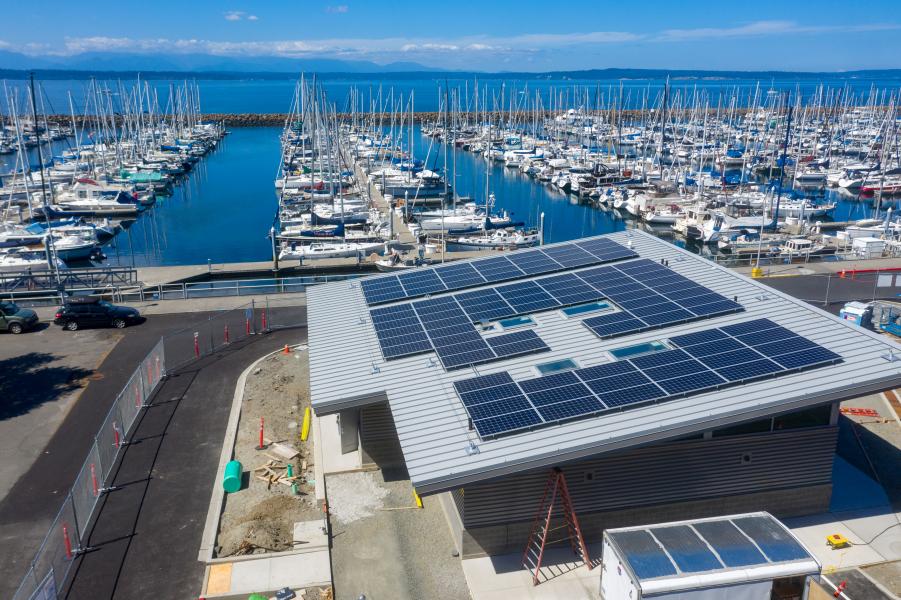 Two identical solar arrays were installed at Shilshole Bay Marina's new Central and South Customer Service Facilities. These new customer service buildings were approved for construction by the Port Commission in 2017. The plans incorporated sustainable design elements including the installation of these solar panel arrays. The solar arrays officially came online and started producing power in October 2020. 
Project facts
Approximately 2,000 square feet of solar array area for each building
Installed by A&R Solar under the main construction contract with Western Ventures Inc.
Project impact
Estimated annual solar production capacity: 23,500 kWh
System expected to produce up to 70% of the restrooms' annual electricity demand
Electricity generated at P69, Fishermen's Terminal, and Shilshole Bay Marina combined (as of 11/1/2022)