SEA will continue to explore temperature screening program for passengers
July 29, 2020
SEATTLE – On July 28, 2020, Seattle-Tacoma International Airport (SEA) Managing Director Lance Lyttle and Director of Customer Experience Julie Collins briefed the Port of Seattle Commission on the next phase of FlyHealthy@SEA. 
FlyHealthy @ SEA launched in May 2020 as multi-layered to ensure the safety and well-being of the traveling public and airport workers. Initial actions included enhanced cleaning, physical distancing, communication and partner collaboration. The program continues to evolve as travelers return to the airport.
An enhanced focus area in the current phase is Mask Up SEA, an educational campaign to encourage travelers with wear facial coverings or masks. All summer, you will see Mask Up SEA Street Team in the terminal distributing care kits to travelers without masks or face coverings and spreading our love for our travelers. Compliance in the facial covering requirement as SEA is at 95 percent.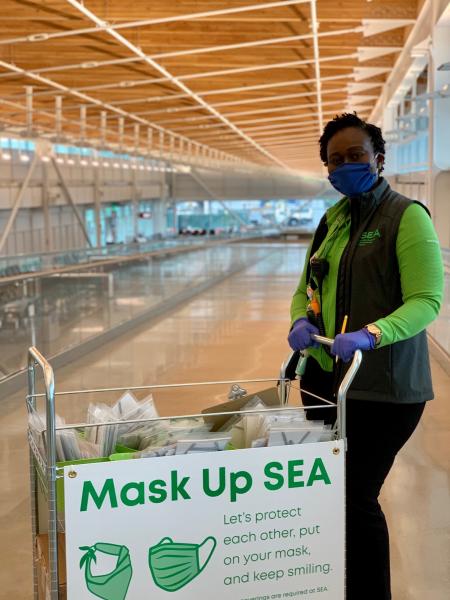 "We're excited to report on the progress by our team that protect the health and well-being of travelers and staff," said SEA Managing Director Lance Lyttle. "We are happy to see you as we stretch towards 20,000 daily departing passengers. Our team is ready for the incremental increases in air travel now and to come." 
Port Commission Directed Temperature Screening Work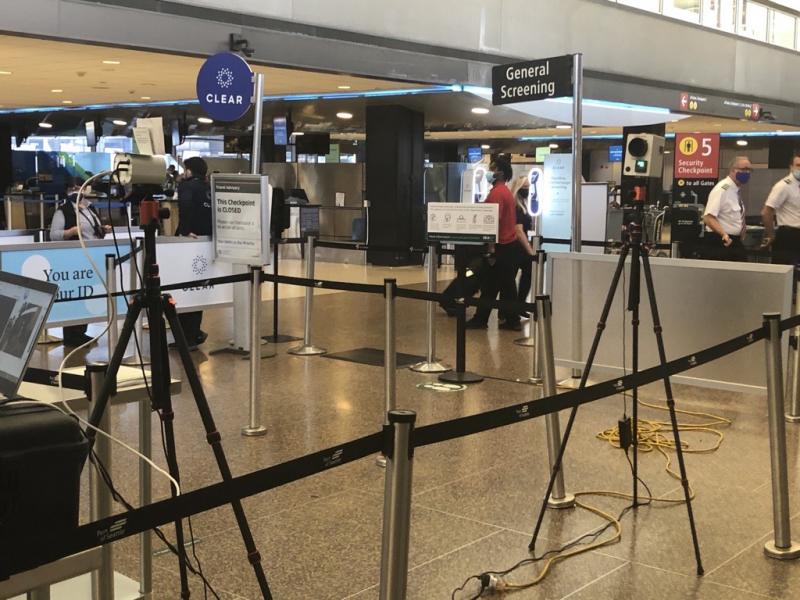 The briefing included an update on temperature screening equipment and proof of concept tests at SEA for international and domestic departing passengers, which the Port Commission first directed its staff to explore on May 12, 2020. This made our airport the first large airport in the United States to begin work on a formal plan for temperature checks and health screening. (See Leading Health and Safety at SEA blog by Commissioners Stephanie Bowman and Ryan Calkins). 
No single measure is enough to slow the spread of COVID-19, which is why we have a multi-phased and layered strategy with FlyHealthy @ SEA. We require face coverings or masks, escalated cleaning, implemented physical distancing, and added touchless technologies. We are exploring temperature screenings as part of that effort. 
This month, in partnership with Alaska Airlines, the airport conducted a voluntary proof of concept to screen domestic departing passengers for elevated temperatures above 100.4 degrees. This two-week proof of concept concludes on July 31, 2020. Approximately 7,700 passengers have been screened with no high temperatures detected. No personal information about identity or demographics is collected or stored. Travelers may opt out and continue to TSA screening. 
This work builds on voluntary temperature equipment testing we conducted in June. In that three-day study, no high temperatures were detected among approximately 1,400 international arriving passengers. 
The proof of concept this July yielded critical preliminary findings when considering next steps such as passenger flows, high staff demands, and hats and glasses interfere with the ability to read temperatures. It also spotlighted other considerations such as partnerships with airlines and public health officials, costs, feedback from the public and legal uncertainties. 
A recording of the public meeting on July 28 is available here and meeting materials are available online (see attachments 7b memo and presentation). 
FlyHealthy @ SEA By the Numbers
70 percent of airport dining and retail tenants are re-open! During the worst days of the pandemic two-thirds were temporarily closed. See what's open and how you dine, imbibe, and shop will be different the next time you travel.
Approximately 7,700 passengers screened for elevated temperatures above 100.4 degrees and zero high temperatures have been detected. Learn about the temperature screening experience at SEA.
All summer, you will see the Mask Up SEA Street Team in the terminal distributing SEA Care Kits to travelers without masks or face coverings. So far, over 3,000 SEA Care Kits were handed out! Check out Mask Up SEA.
Spritzed, sprayed, and dispensed over 1,268 gallons of hand sanitizer, more than 5,012 ounces of disinfecting spray and 1,394 containers of sanitizer wipes in response to COVID-19.
Added over 250 hand sanitizer stations throughout the terminal. Download the SEA App with our interactive map of hand sanitizer locations.
Last week, TSA screened a daily average of 15,800 passengers. That's down 77% from the same week last year. Explore our airport activities dashboard.
About Seattle-Tacoma International Airport
Operated by the Port of Seattle, Seattle-Tacoma International Airport (SEA) is a top-10 U.S. airport, serving 51.8 million passengers and 453,549 metric tons of air cargo in 2019. As the region's gateway to the globe, 30 airlines connect to 91 non-stop domestic and 27 international destinations. At SEA, we promise to create, through a passionate service culture, an elevated travel experience that's inspired by the original nature of the Pacific Northwest. 2020 is a monumental year at SEA, ushering in a new era of customer-centered travel with better services, facilities, and amenities. For more information, visit www.flysea.org and follow us on Twitter, Facebook, and Instagram. Every day. Elevate. 
Contact
Kate Hudson | Aviation Communications Manager
(206) 787-6801 | hudson.k@portseattle.org