November 20, 2019
The Port of Seattle Commission approved a policy directive to double the funding of its public art program from $10 million to $20 million over the next five years by returning to a pre-2008 recession funding model of allocating one percent of major capital project budget to public art.
The funding expands the Port's capacity to purchase new art and creates an operational budget for art conservation, maintenance, cultural programming, and public engagement.
The policy directive also renames the Art Oversight Committee to the Port-Wide Arts and Culture Board and restructures the makeup of the Board to emphasize the port-wide role. The new Arts and Culture Board will include two Port Commissioners, three leaders from Port maritime, aviation, and economic development divisions, and four members from the regional art community nominated by the board and appointed by the Commission.
The Port of Seattle Commissioners Peter Steinbrueck and Stephanie Bowman chaired the Port's Art Oversight Committee, which proposed these changes.
"Art transforms our experience from routine to remarkable, which is the standard we are setting as a forward-looking port and ambassadors for this region," said Port of Seattle Commissioner and Arts Committee Chair Peter Steinbrueck. "From the moment visitors arrive, they should recognize Seattle as a notable international leader in arts as much as technology and innovation."
"Our art program needs to deliver for residents as well, especially as a platform for connecting with communities and supporting local artists," said Port of Seattle Commissioner and Arts Committee Chair Stephanie Bowman. "Our new commitment to incorporate cultural programming makes our program more accessible and showcase the diverse cultures of the Pacific Northwest."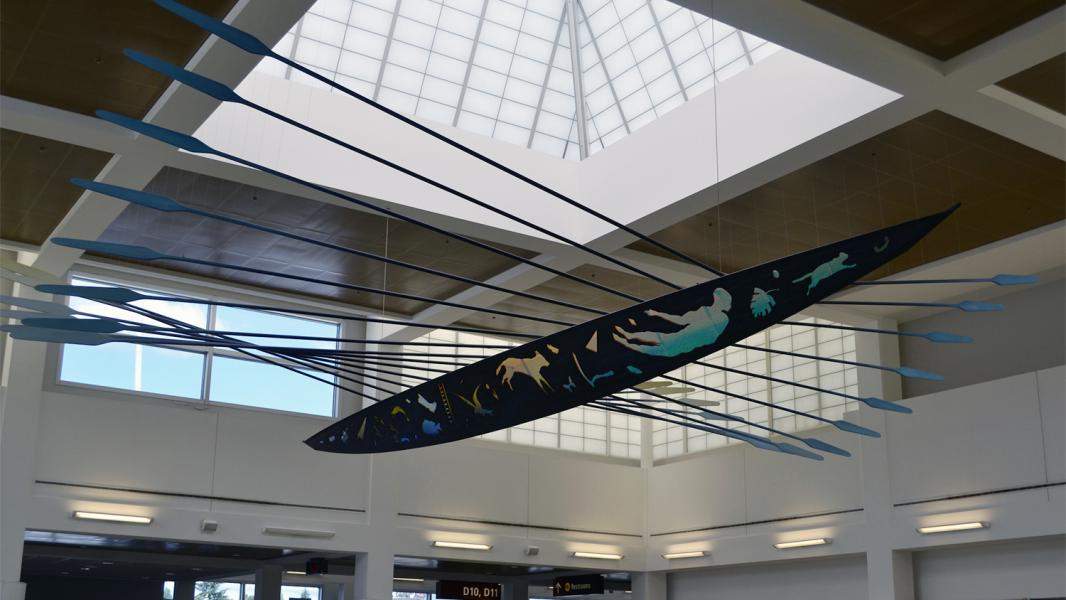 "Public art represents the values of a city, it is part of our public history," said Whitney Lynn, assistant professor of interdisciplinary visual arts at the University of Washington and member of the Port's Art Oversight Committee. "For artists, it provides the opportunity to directly connect with communities by creating a sense of place, fostering social interaction, and stimulating dialogue. The return to one percent from Capital Projects for the arts enables artists to create ambitious projects that will reflect how people see and connect with Seattle."
Seattle-Tacoma International Airport (SEA) became the first airport in the United States to commit to a public art program in 1968. The airport's first pieces were purchased in 1972 and the collection contains some of the most unique and finest contemporary works in glass, sculpture, photography, painting, and sound.
While art inherently encompasses and embraces culture, it is important for the Port to expand its current program to celebrate regional diversity through performing arts and public engagement. Incorporating cultural programming as an element of the overall program also gives the public more opportunity to engage with the Port.
A return to a one-percent allocation for art puts the Port on the same funding level as its neighboring jurisdictions. Sound Transit, Pierce County, Snohomish County, King County, and the City of Seattle all have "One Percent for Art" programs in place to fund art integration into their facilities.
The Port plans more than $3 billion in capital development programs over the next five years. Highlights at SEA include opening a renovated Central Terminal in 2020, completing new construction of the International Arrivals Facility in 2020, and completing the North Satellite modernization in 2021.
On the maritime side, the Port of Seattle is proposing to develop a new cruise terminal at Terminal 46 as part of a flexible marine transportation facility, which will continue to support cargo and other marine operations.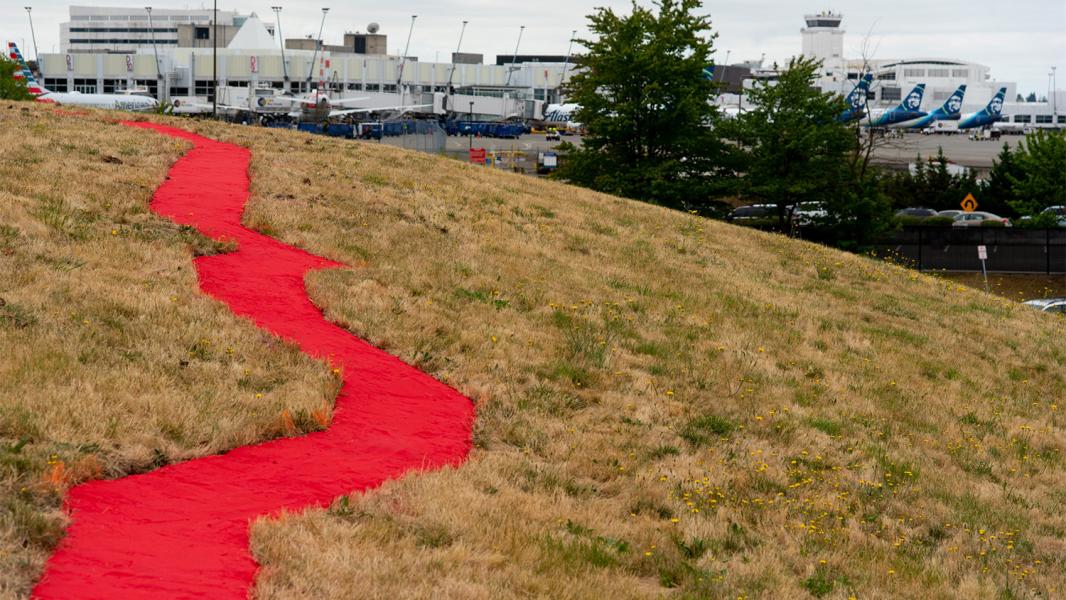 Arts Highlights Coming 2019-2021
Cathedral by visual arts duo Jacqueline Metz and Nancy Chew opened in 2019 in the North Satellite expansion. The artwork consists of 20 custom glass panels and one large bronze tree log.
Cascadia by Seattle-based Cable Griffith is coming soon to Concourse C train station. It is an impressive 22 hand-painted panel glass installation that will illuminate a newly-constructed escalator core between gates C15 and C16.  
Boundary by Seattle-based artist John Grade will open in the newly modernized North Satellite in 2021.
Public Art at the Port of Seattle
| | |
| --- | --- |
| 1968 | Seattle Seattle-Tacoma International Airport becomes the first public airport in the United States to begin a public art program. |
| 1972  | Port acquires its first piece for the airport art collection. |
| 2000 | Port commits one percent of major capital project budgets to public art. |
| 2004 | The airport establishes a permanent installation for Trimpin, On: Matter, Monkeys and the King by Seattle-based multimedia artist Trimpin on Concourse A. |
| 2008      | Recession causes Port to cut funding to 0.5 percent of capital project budget to public art. |
| 2019 | Port installs Red Sand Project: Border US-MX by artist Molly Gochman, its first earth works installation to draw attention to immigration and human trafficking. |
| 2019 | Port Commission restores one percent for arts allocation and creates new Port-Wide Arts and Culture Board. |
Contact
Contact: Perry Cooper | Sea-Tac Airport
(206) 787-4923 | cooper.p@portseattle.org
Photo at top of page: Visual artists Jacqueline Metz and Nancy Chew recently completed "Cathedral", an ambitious two-part permanent art installation in the new North Satellite at SEA, July 2019