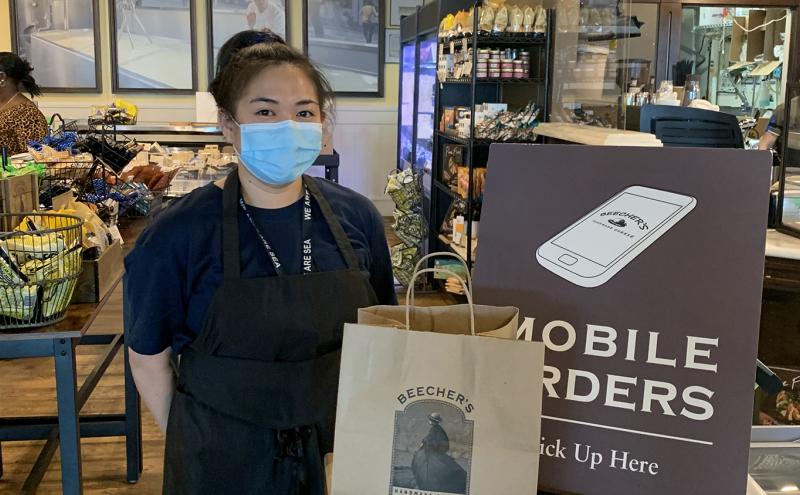 Airport dining and retail tenants implement new procedures and pilot new technology to ensure health of passengers and employees
May 29, 2020
Seattle-Tacoma International Airport (SEA) is preparing for the gradual reopening of the economy as outlined in Gov. Jay Inslee's four-phase plan, Safe Start Washington. Dining and retail tenants at SEA are taking action now as part of FlyHealthy@SEA, a multi-phased strategy to ensure the health and well-being of passengers, visitors, and workers.
"With hundreds of businesses operating onsite, the airport economy provides a unique and powerful lift for the region's recovery," said Port of Seattle Commissioner Sam Cho. "To get on the road to recovery we needed to re-imagine the airport experience with new health and safety measures, but we also needed healthy business partners to implement plans. We are on that road to recovery now."
The next time travelers visit SEA the experience will look and feel different throughout the terminal, including in how you dine, imbibe, and shop.
Each dining and retail tenant at SEA was required to develop plans detailing procedures for safe operations such as physical distancing requirements, sanitation, and personal hygiene protocols, personal protective equipment, and how to provide services while limiting close interactions.
"The airport's dining and retail tenants like Beecher's are integral to the customer experience at SEA," said Kurt Dammeier, founder of Beecher's Handmade Cheese. "We are deeply committed to the health and well-being of our airport community and we're all evolving our business practices to ensure the health of our customers and employees."
Best practices from those operational plans align with guidance from Safe Start Washington. Immediate actions include:
Face coverings are required for front and back of house staff
Plastic protective barriers at transaction points to buffer interactions between travelers and employees
Maintain six-foot physical distancing requirements for employees and patrons as much as possible
Frequent cleaning and disinfection, particularly of high touch surfaces
Temperature checks to screen employees for illness
Transition from common use items such as condiments, menus, cutlery, and serveware to single-use products
Dine-in restaurants will reconfigure spaces to reduce capacity by 50 percent and table sizes are limited to parties no larger than five
Staff will regulate occupancy to honor physical distancing inside of dine-in and retail spaces
SEA is working on the appropriate permissions so travelers may take alcoholic beverages to-go in support of physical distancing. The Port requested an exemption for the Washington State Liquor and Cannabis Board that would allow the sale of to-go alcohol from airport restaurant locations.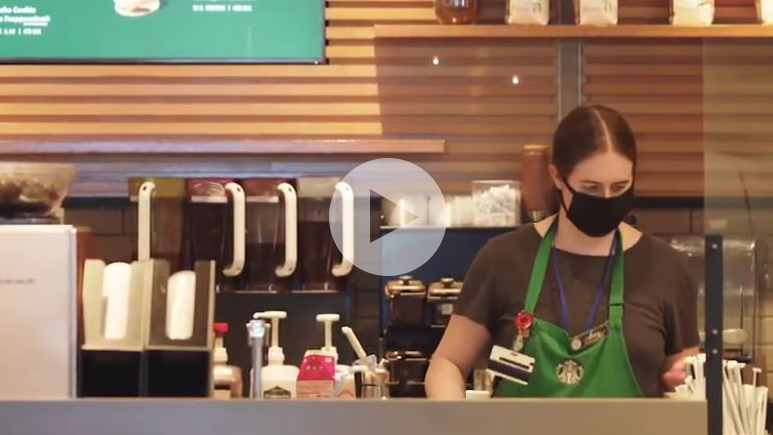 Watch this video from SEA's dining and retail tenants sharing a message to our travelers and customers.
Testing New Technology
SEA is also pursuing long-term solutions such as new technologies for sanitization and contactless ordering. Airport Dining and Retail is partnering with PathSpot to test a hand scanner that utilizes detection technology to give real-time feedback on the quality of each handwash by employees. This software shares data on the frequency and effectiveness of handwashing to monitor and improve handwashing compliance.
SEA will offer contactless ordering with Grab, an airport-wide, mobile ordering service. Grab's Order at Table and Virtual Kiosk products require no app to install and enable travelers to order and transact from the convenience and safety of their own device. From virtual menus to order and payment, travelers can how manage the entire dining experience with contactless options.
Launch of Contact-Free, Pre-Booked Parking
SEA Airport continues to innovate with options for seamless, contact-free travel with the debut of Pre-Booked Parking. This enables travelers to book their parking prior to airport arrival as a convenient, cashless way to pay via credit/debit card or ApplePay. With physical distancing practices in place, travelers can drive their own vehicle and scan the booking QR code on their phone to enter and exit the garage. There's no need to pull a ticket, no trip on a shuttle bus, or ride in a third-party vehicle. Pre-Booked Parking also provides flexibility to modify or cancel the booking up to the scheduled time of entry if travel plans change. SEA Airport's lowest parking rates are available online with Pre-Booked Parking for up to 25 percent on current drive-up parking rates.
Open for Business
During the height of the global pandemic, 66 percent of airport dining and retail tenants at SEA temporarily closed due to the decline in air travel. Signaling that the airport economy is on the road to recovery, Beecher's Handmade Cheese, Hachi-Ko, La Pisa Café and Made in Washington recently reopened as passenger volumes incrementally increase.
Those currently open for grab-and-go purchases and food orders to-go, include:
6th Ave. Noodle House, S Gates
Beecher's Handmade Cheese, C Gates
Camden Food Co., D Gates
Capitol Hill Food Hall, A Gates
Dilettante Chocolates & Espresso, Central Terminal
Evergreens, Central Terminal
Greedy Cow Burger, S Gates
Hachi-Ko, C Gates
Hudson, select locations
La Pisa Café, A Gates
Made in Washington, Central Terminal
McDonald's, B Gates
The New Stand, N Gates
PALLINO, Central Terminal
Peet's Coffee, S Gates
Pei Wei, Central Terminal
Qdoba, B Gates
Starbucks, select locations
Use the SEA App to locate these locations inside the terminal, and keep tabs on upcoming reopenings.
Economic Relief for Dining and Retail Tenants
Port of Seattle facilities and industries have been hard hit by the global pandemic. The Port's emergency relief packages helped stabilize businesses and families during the crisis and prepare our region to thrive in an equitable recovery.
On April 1, the Port of Seattle Commission approved an immediate, short-term emergency financial relief package for airport-based businesses, including a two-month deferral of rent and fees for airport tenants and concessionaires as they were facing a severe collapse of economic activity due to COVID-19 related social distancing and travel restrictions. On April 24, the Port approved additional relief for airport concessionaires and tenants given the significant decline in airport activity encompassing an additional two months' deferral of rent for a total of four months.  
On May 12, the Port granted four months of deferred utility, grease interceptor and unified pest management charges as well as storage and office space rentals and the elimination of the collection of the Airport Dining and Retail Tenant Marketing Fund through the end of 2020 for all airport dining and retail tenants.
The Port Executive Director has recommended to the Commissioners an expanded financial relief package, which will extend leases by three years to allow businesses to recover losses, eliminate the Minimum Annual Guarantee payments for this year, and extend the payback time of previous rent deferrals. The proposed lease term extensions require Commission approval, which is scheduled for review and a vote at the June 9 Commission meeting.
"Some of our work at SEA has changed, but our vision for this region as a globally competitive leader and our commitment to this vision is stronger than ever," said Commissioner Cho. "Our airport dining and retail partners are part of our long-term response to ensure that all communities are prepared to thrive in a recovery."
More Information
Contact
Perry Cooper | Media Officer, SEA Airport
(206) 787-4923 | cooper.p@portseattle.org