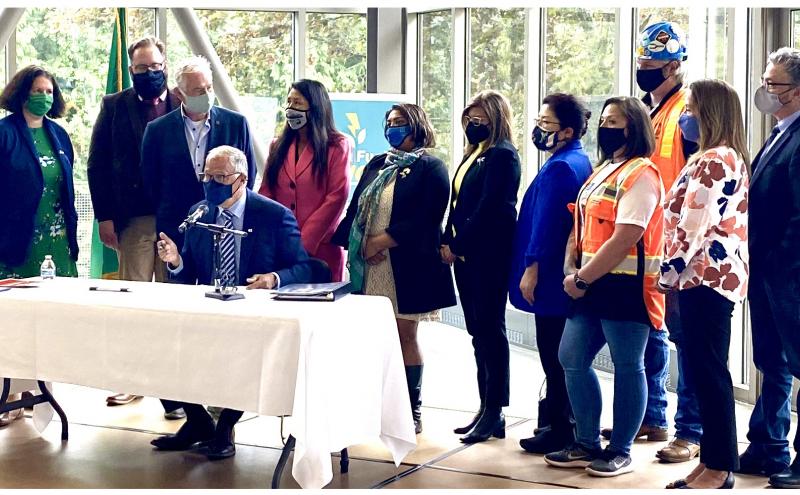 Washington state takes bold step forward with Clean Fuel Standard
May 17, 2021
Today Commissioners Stephanie Bowman, Fred Felleman, and Ryan Calkins joined Governor Jay Inslee, State Senator Reuven Carlyle, and other Washington state leaders to herald the passage of landmark legislation to combat climate change. The bills included the Clean Fuel Standard, the Port of Seattle's longtime top legislative priority, along with bills to enact an economy-wide price on carbon through a cap-and-trade system and to ban harmful hydrofluorocarbons.
Port of Seattle leadership was honored to join the Governor and other legislative leaders who worked hard in the 2021 Legislative Session to move forward these long been debated proposals to the Governor's desk for his signature.
"Leading on progressive environmental policy and reducing emissions in Port related industries is central to our mission," said Port Commissioner and co-chair of the Port's Energy and Sustainability Committee Stephanie Bowman. "From electrifying maritime cargo activity to bringing sustainable aviation fuel to SEA Airport, the Port has leaned into innovation in order to dramatically improve our shared environment. The Clean Fuel Standard moves our economy forward while ensuring cleaner air in our communities and incentivizing the next generation of clean energy technology."
The 2021 Legislative Session was the fifth year the Clean Fuel Standard was introduced in the Legislature, and Governor Inslee long touted it as a central environmental priority. This year, a coalition encompassing the Port, industry leaders like Neste Biofuels and Amazon, environmental champions such as Climate Solutions, and many more came together to get the bill passed. The bill reduces the carbon intensity of transportation fuels over time and will create a market for clean fuels in Washington. Renewable fuel products and their environmental benefits will no longer be exported out of state.
Representative Joe Fitzgibbon, the author of the Clean Fuel Standard, was not able to attend the bill signing but is owed much of the credit for finally securing passage of all three bills.
The Washington Ecology Department found that transportation produces almost 45 percent of the state's greenhouse gas emissions and the use of clean fuels provides the fastest way to reduce those contributions. The adoption of this Clean Fuel Standard is vital to fostering the development of new technologies that are good for the climate and good for air quality in our communities.
The Port is committed to being the greenest Port in North America and has a strong history of environmental performance and initiatives. The Port will meet its 50% carbon reduction goal in 2021, almost a decade ahead of its 2030 target, and charted a path to net zero by 2050 through a combination of renewable energy (renewable natural gas, wind and solar electricity, renewable diesel) and efficiency strategies. The Port continues to invest in infrastructure, building partnerships, financing research, and advocating for policies that reduce barriers and help create incentives for clean fuels at the local, state, and federal level.
Contact
Peter McGraw | Port of Seattle Media Officer 
(206) 787-3446 | mcgraw.p@portseattle.org