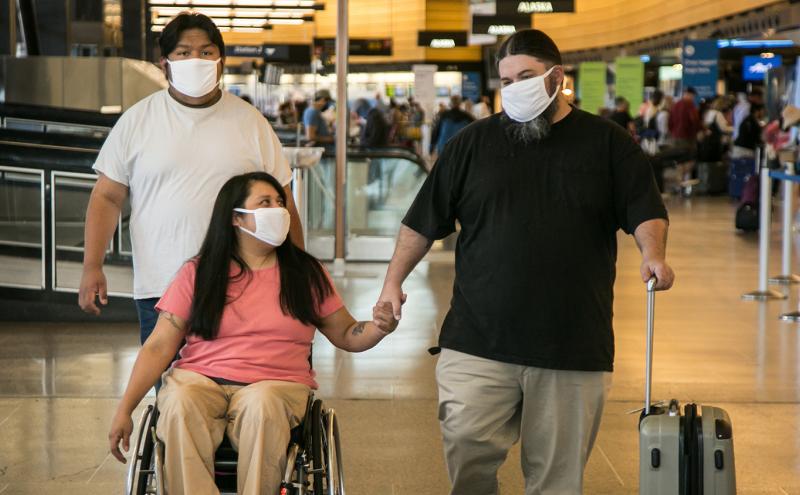 Travel recovery is picking up the pace and airport is taking action for your peace of mind
June 23, 2021
After the longest year ever, summer travel is back. The ongoing FlyHealthy@SEA program and public information campaign by Seattle-Tacoma International Airport (SEA) is here to help you travel ready with peace of mind.
"The travel recovery is picking up pace," said SEA Managing Director Lance Lyttle. "This is good news for travelers getting back to going to the places they love and seeing the people they love. It also means you won't be alone looking for a parking spot in the garage, standing in line for security, or waiting at your gate to depart. New time-saving tools and our ongoing outreach campaign puts travelers at ease for a seamless journey."
Last week the average daily departing passengers from SEA was 44,900, which is only down 35 percent from the same week in 2019. Current projections predict over 50,000 daily departing passengers by August. SEA was bustling before the pandemic, and this summer's airport experience is reminiscent of that with travelers departing, arriving and connecting. In a survey in May 2021, we asked how soon SEA travelers will feel comfortable traveling by air. Over 40 percent of respondents are already traveling and over 30 percent would feel comfortable within a month. Less than 10 percent said not in 2021.
SEA average daily screened checkpoint volume

SEA, airport businesses, and airlines are rapidly adjusting with the accelerating number of travelers. Businesses and service providers throughout the travel journey are working hard to achieve appropriate levels of staffing, but flexibility and patience may be needed. Stay tuned to flySEA.org and communication from your airline for any important information.
Clean air, new ways to avoid the largest crowds
The airport leads with science-based strategies from requiring masks for travelers and a filtration system that capture 90% of COVID-19 sized particles. The airport offers on-site COVID-19 testing for travelers and earlier this spring provided nearly 8,000 vaccinations to airport workers. 
SEA continues to adapt its response to the pandemic with investments that put passengers at ease. 
This spring and summer the airport began offering new time-saving travel tools to help travelers avoid the biggest crowds in their journey. As of June 29, the airport will open 12 new gates and passenger waiting areas at the bigger, bolder, and brighter North Satellite. 
Time-saving travel technology
Try SEA Spot Saver! This is a free pilot program for passengers to reserve time at the TSA general screening security checkpoints. RSVP to save your spot in line up to a day in advance of travel or once at the airport. Just last week, close to 14,000 passengers used SEA Spot Saver for an abbreviated queuing experience at Checkpoints #2 and #5. Moreover, nearly 90% of those participants reported saving time with a reservation for security. And over 44% reported they signed up for the program for peace of mind about getting through security.
In August we will debut   Order SEA, a mobile food ordering service that includes gate delivery. This will optimize the customer experience and transactions in the terminal, so that you can save time and effort to enjoy eats from all over the airport without leaving your concourse.
Next week we launch SEA Voice App for Google Assistant and Amazon Alexa. You can ask your device airport-related questions for quick answers. For example, "Alexa, how early should I get to the airport?" Your Alexa or Google Assistant will respond with the answer: "Arrive two hours before your boarding time for domestic flights and three hours before for international flights. Get here early so you'll have plenty of time to check-in, go through security, find your gate, and explore our shops and restaurants!"
Use Pre-Booked Parking as an option for contact-free travel. Pre-Booked Parking allows you to book and pay for airport parking in advance of arrival. Drive your own vehicle and scan your booking QR code on your phone at the garage entry and exit.
The popular SEA Visitor Pass is soon returning following a temporary suspension due to COVID-19! This program allows guests to enter the post-security side of the airport when not traveling as an opportunity to meet and greet loved ones, enjoy planespotting, or dine and shop.
SEA is expanding its translated communications for some of the most-read travel blogs into additional languages. Most recently, All You Ever Wanted to Know about Link Light Rail to SEA Airport and Why Can the Checkpoints at SEA Be Such a Challenge? are now available in Amharic, Arabic, Chinese, Spanish and Vietnamese.
The more and better technologies that SEA is introducing this summer save time, combat crowds, and help passengers be travel ready for the best trip possible.
Bigger, bolder, brighter North Satellite
While travelers were staying home, we continued to invest in our airport experience with new and upgraded facilities to welcome passengers back. The completed North Satellite, home of the N Gates, opens next week!
This means more elbow room and new dining and retail choices in a beautiful, sustainable building filled with natural light and Pacific Northwest art. Next week passengers will have access to 12 more gates, and a new airport destination – the Marketplace at N – with a stage for live performances and open seating with views of the airfield. Dining and retail options include Tundra Taqueria, SEA Roast Coffee House, Pike & Pine, and Filson open this summer.
As passengers are travel ready, we are excited to welcome folks back to SEA.
Contact
Perry Cooper | SEA Airport Media Officer
(206) 787-4923 | cooper.p@portseattle.org