WELCOME TO THE CHARTER BUS OPERATOR PAGE
To operate your Charter Bus at SeaTac Airport you must have all of the following in place with Ground Transportation:
Charter Bus Packet (Download)
Charter Agreement (Download)
Cover letter (Download)
Vehicle Dimensions Information (Download)
Completed Charter Bus Information Sheet (Download)
2023 GT Fee-Charters (Download)
Insurance paperwork must be sent by the insurance company naming the Port of Seattle as Certificate Holder
Evidence of the Vehicle Registration for each vehicle showing the Vehicle Identification Number (VIN) and vehicle license plate number
Authorized with the U.S. Department of Transportation Federal Motor Coach Carrier Safety Administration.
Please send completed Agreement and necessary paperwork to Crosby.k@portseattle.org.
New to SeaTac Airport?
Please check out our latest version of the Charter Bus Driver Manual to familiarize yourself with Charter Pick-ups at SeaTac!
Charter Bus Driver Manual   
Browser Friendly View  - Click Here
Print Version - Click Here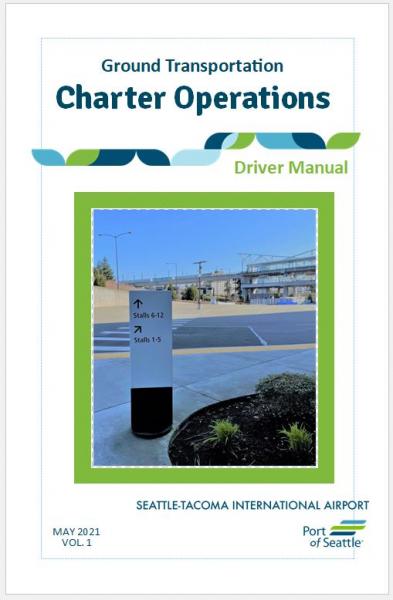 Driver Check in procedures:
Drivers must check in at the 28th street lot; 2315 S 190th St SeaTac WA 98188.
Proceed inside the building to check in.
Fill out paperwork, white copy goes inside of red box, yellow is for your records.
Call 5906 to check in.
Once your group has contact Ground Transportation, GT personnel will page over the intercom for you to call for a lane assignment.
If the charter group contacts you directly, please call Ground Transportation.
Proceed to the NE GT Lot Charter Bus Operators
Please note, each time your company operates at SeaTac Airport up, your company will be charged a per trip  fee. An invoice will be sent to the company for payment the month after the trip(s) are made. We do not charge a fee to submit required paperwork or a drop off fee.  All required agreements and documentation must be on file prior to pick up failure to do so will result in denied access to SeaTac Airport. Trip Receipts that do not specify the Coach type will default to Coach 2.