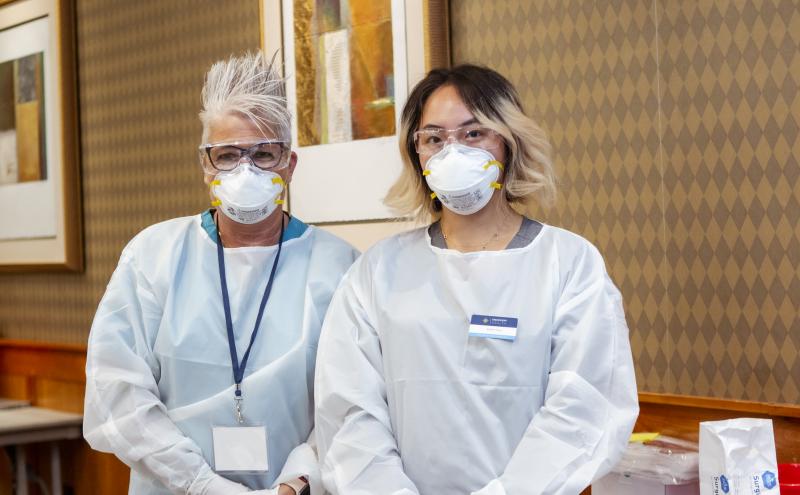 Seattle-Tacoma International Airport (SEA) is committed to your health and well-being. You can expect things to be different the next time you travel. We require passengers and employees to use face coverings and physical distancing. To help keep you safe the airport boosted cleaning and disinfecting activities and added touchless technologies.
Current COVID-19 Testing Requirements
Check if your destination requires quarantine or testing. Testing options are available for those who need it for other destinations or other requirements; information is subject to change due to the ever-changing nature of policies and restrictions. Make sure you check the guidance from your destination, whether international or domestic, to understand the type of test needed and time frames associated with avoiding quarantines or contact your airline with questions. Please do not travel if you have symptoms or feel ill.
Washington State: At this time, Washington state does not require COVID-19 testing for any inbound or outbound travel.
Domestic Travel: Please refer to the city, county, and state's information and guidelines for more specific quarantine and testing requirements.
International Travel:
Testing Options at and Near SEA
Discovery Health MD at SEA
Ticketed travelers seeking a COVID-19 test prior to air travel through Discovery Health MD at SEA. Results are delivered with same- and next-day options for COVID-19 PCR lab tests, which is available by appointment only for $250. Discovery Health MD is a trusted testing partner for flights to Hawaii as part of its pre-travel testing program for inbound travelers.
How to get tested by Discovery Health MD
Testing through Discovery Health MD is by appointment only and for any inbound or outbound ticketed passengers up to 72 hours prior to travel. Testing is available seven days a week from 7 a.m. to 2 p.m. in the central auditorium at SEA, which is located pre-security on the mezzanine level above ticketing and the security checkpoints. You can get step-by-step directions to the testing location by searching "Discovery Health MD" on our interactive map on our website or the SEA App.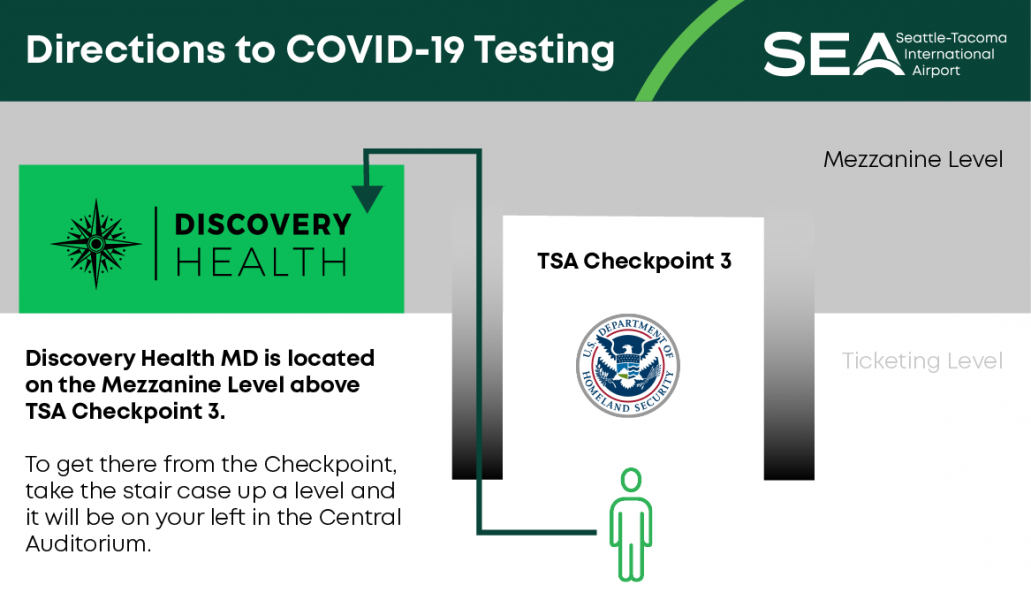 More Information
For questions specific to testing through Discovery Health MD, please contact them directly on their website, by email at testing@discoveryhealthmd.com, or by phone at (206) 333-0595. Read the press release or FAQs to understand the test options at SEA with Discovery Health MD.
COVID-19 Testing Kits at SEA
COVID-19 PCR test kits are available for $179 at Hudson stores and vending machines. Purchase the kit, review the enclosed instructions, provide your salvia sample, return your sample in the pre-paid mailer via FedEx overnight shipping, and check your results online in 24-48 hours. 
Through Your Healthcare Provider
If you can access a COVID-19 test through your regular healthcare provider, start there.
Through Public Health
Seattle & King County offers community testing sites, including options in South King County. People are encouraged, but not required to pre-register for an appointment to save time and speed up the testing process. Bring your insurance card and driver's license if you have them. No one will be turned away if they do not have insurance or a driver's license. Language interpretation available at testing sites.
Find the nearest COVID-19 testing locations to you through the Washington State Department of Health.
Through Your Airline
Please contact your airline and refer to their exact policies for further information on offerings and requirements for testing:
U.S. Department of Defense 
The Department of Defense is conducting rapid, on-site COVID-19 testing for passengers departing SEA aboard Patriot Express flights for official duty at overseas locations. Read the press release. 
---
If Your Destination Requires Testing
Some states such as Hawaii and Alaska announced quarantine requirements for travelers with some exemptions for negative COVID-19 tests prior to arrival. Hawaii announced trusted testing and travel partners for a COVID-19 pre-travel testing program that starts October 15.
Check the guidance from your destination (state or country) to understand the type of test needed and time frames associated with avoiding quarantines or contact your airline with questions.
Other Resources