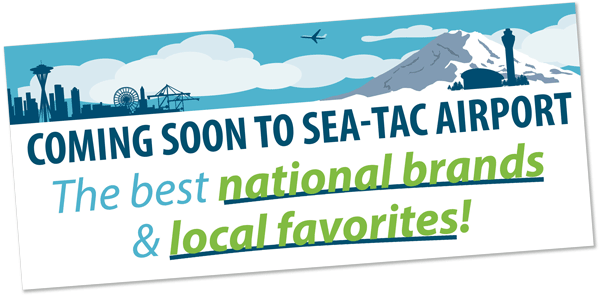 The Port of Seattle is in the middle of a long-term dining and retail redevelopment program to increase options for travelers and expand access for small and local businesses:
90 percent of the units are expiring over several years, and

some have already been re-leased.
Expect to see some new and different names inside Seattle-Tacoma International Airport. The Port strives to find the right mix of national and local brands for our travelers while also balancing community and Port priorities. The Port is significantly increasing customer choices, business opportunities and local jobs by expanding from 85 6o 135 airport dining and retail establishments.
Check back here for news and announcements to be the first to know about what's coming soon.
Sea-Tac Airport is an economic driver for the Pacific Northwest and a gateway to the globe. The Port of Seattle aims to deliver a Northwest 'sense of place' to travelers by promoting job growth and creating new opportunities for small and minority-owned businesses. Sea-Tac Airport is the 9th busiest airport in the country and served 46.9 million travelers in 2017.
Future changes
The Port is committed to exemplary customer service at Sea-Tac Airport, beginning with a high-quality experience for travelers at the airport's restaurants and stores. In the coming years, travelers will see changes with new, exciting concepts. Dining and retail square footage may grow by at least 35 percent by 2025. Be aware construction will be part of the changes, so some units may be closed until new construction is complete. We appreciate your patience.
Opportunities for local business owners
Currently, 60 of the prime locations are scheduled to expire through 2019. New opportunities will be available for large, small and minority-owned businesses to bid for available spaces. If you're a business owner looking to do business at Sea-Tac, click here for more information.
Recently Opened
Alki Bakery – Grab a treat and coffee near the pre-security checkpoint 3 location. This new outlet is designed to serve airport guests who may be waiting for ticketed passengers, or just hungry folks who can't wait to get through the checkpoint.
Café Floret – Sea-Tac's first vegetarian restaurant is here! Located near the A and B Concourse intersection, the unique chef-driven spot features 27-foot windows overlooking the tarmac. Check out Seattle Met's profile on the new restaurant!
Qdoba – A premier national brand, Qdoba delivers new creations and old classics where guests are encouraged to explore flavor combinations. From daily hand-smashed guac to meats and veggies grilled on the spot, Qdoba is fresh and bold. Located in the Central Terminal open 24 hours.
Rel'lish – Kathy Casey's newest concept is based on the motto that great food doesn't have to be complicated to be delicious. The chic full-service restaurant features a variety of unique burgers. Located in the B Gates.
Starbucks Evenings – Welcome to the birth place of Starbucks. This new concept will expand the existing location in the middle of Central Terminal.
Terminal GetAwaySpa – Situated in both Concourses A and C, the name says it all, a relaxing getaway within the airport.
Stone House Café – Offering home-style cooking to bring back nostalgia of the past, one patron notes, "Bites, drinks, friends, and a dash of Hhstory, are the ingredients you'll find at the Stone House Café!"
Coming Soon
Five restaurants will open on the south side of the Central Terminal by spring 2019, including Pei Wei Asian Diner, a fast-casual restaurant that honors Asian culinary tradition by wok-searing; Lucky Louie, a Northwest-inspired quick-serve seafood concept by Seattle celebrity chef Kathy Casey; Pallino's, a local fast-casual Italian-American eatery; Evergreens, serving up gourmet build-your-own salads, wraps, and grain bowls to-go; and Koi Shi Sushi Bento with made to order Japanese delicacies.
In addition to the five above mentioned Central Terminal restaurants, 13 other restaurants are opening and expanding at Sea-Tac Airport next year, including:
Poke to the Max: Sam Choy's beloved Hawaiian poke menu in a bistro setting featuring fresh ingredients and homestyle ono grinds arrives on Concourse C in early 2019.
Le Grand Comptoir: Featuring an array of wines from Washington vineyards and a regionally-inspired menu, this sophisticated wine bar opens on Concourse C in Q1 2019.
Camden food co.: A healthful bistro dedicated to sandwiches and salads, opening on Concourse D in the first part of next year.
Starbucks Urban Market: Complementing the offering of Starbucks with news, sundries, travel necessities and more, Starbucks Urban Market will have two locations on Concourse D and Baggage Claim that are opening in January.
The News Stand and Broadcast Coffee: Bringing a modern era travel and newsstand concept with a coffee bar to the airport before the security checkpoints, this storefront includes Broadcast Coffee Roasters, an independent coffee roaster native to Seattle.
Bambuza Vietnam Kitchen: Founded by Pacific Northwest native Daniel Nguyen and his family, Bambuza will serve Vietnamese menu selections featuring fresh, locally sourced ingredients starting in January in the newly renovated North Satellite.
Caffe D'arte: Also opening in North Satellite in January, Caffe D'arte is a locally owned coffee roasting company originally started by Mauro Cipolla after moving from Italy to the Northwest in the 1970s. This location is operated by local ADCBE, Concourse Concessions, LLC.
Skillet: Evolving from a scrappy Airstream food truck, Skillet is all about American comfort food prepared with classic technique and seasonal ingredients. Skillet is opening locations in both Concourse C and the North Satellite.
Mi Casa Cantina: Headed for Concourse B in Q2 of next year, Mi Casa will offer fast, freshly made Mexican street food jam-packed full of an explosion of fresh flavors.
Village Pub: Debuting in Q2 2019, this establishment is a modern twist on a traditional English pub. Operated by Airport Concessions, LLC. and located pre-security between checkpoints 2 and 3, Village Pub is a welcoming gathering place for food and beverages before heading to your flight.
Ballard Brew Hall: Opening in Q2 2019 and designed to reflect Seattle's beer scene, Ballard Brew Hall is ideal for artisanal-minded travelers looking for local craft beer, Washington state wines, handcrafted cocktails, and a full dining menu. 
Capitol Hill Food Hall: This bustling urban foodie market arrives in Q2 2019 featuring gourmet sandwiches and baked goods from Macrina Bakery; artisan juices, smoothies and salad bowls from Jujubeet; Salt & Straw artisan ice cream; and, locally roasted Slate Coffee as well as beers on tap from local craft breweries. In the general store area, travelers can find locally made candy, chocolates, handmade cheese, coffee, tea, jams, and honey. 
Vyne Washington Tasting Room: Debuting in the Central Terminal in Q3 2019, Vyne brings the traveler on an interactive wine voyage and culinary escape through Washington wines. 
Lummi Marché & Bar: Curated by Chef Thierry Rautureau, this petit bistro and artisan market will be filled with unique French spins on Pacific Northwest regional bounty, celebrating the joie de vivre of local abundance. Opening in Q3 2019, this bistro will be located pre-security in the Central Terminal.