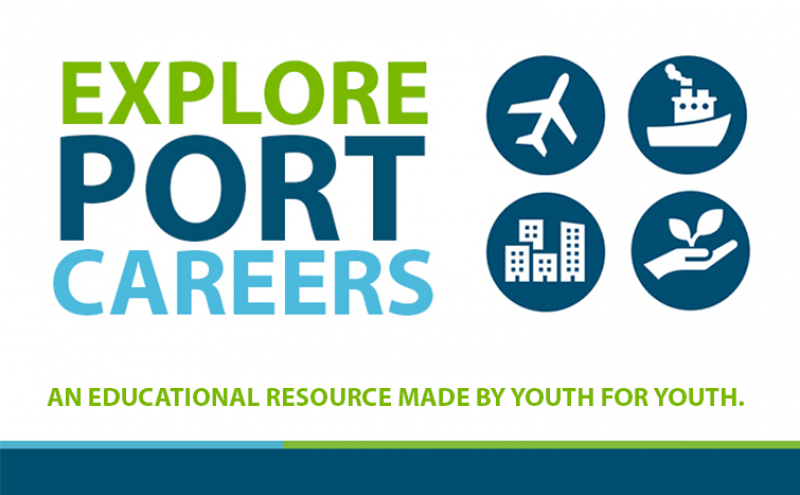 Disclaimer: This educational resource was created by high school interns over the span of eight weeks. We are continuing to review accuracy and revise the content. We encourage you to do individual research.
About the Port of Seattle
Every role at the Port of Seattle is vital to our thriving community. We are a leader in moving people and cargo across the country and around the world. With facilities and property ranging in scope from a half-acre park to one of the largest airports and container terminals on the West Coast, we maximize the public assets in our portfolio with an eye toward best uses and environmental sustainability. Learn about our mission.
Learn more about careers!
How to use this resource
This resource is currently available in English and Spanish.
Decide if you would like to use this resource in English or Spanish. Scroll down to start your adventure.
Decide the Port industry (Aviation, Construction, Maritime, or Sustainability) you are interested in exploring. Click on the image and the resource will open as a PDF.
Start exploring! Scroll down one page to choose a sector within the industry and explore some of the different jobs that are available. Information provided includes: skills needed, career paths, salary ranges, and advice from current Port employees.
Use the buttons or linked text/images to navigate forward or backwards.
Career Exploration in English
Career Exploration in Spanish
2020 High School Interns Summer Cohort
Doa Abdin, Reyna Angel-Cano,​ Francisco Cano, Citlalli ​ Cornejo,​ Daisy Cortes, Giovanni Cortes, Daniela ​ Cortez,​ Riley ​DeLora, Staci Dockins,​ Chrisshel Edwards,​ Cassady Hill, ​ Elian​ Joseph, Paulina ​Juarez Castro, Bousae Miller, Shane Moses, Richard ​ Otieno, Vivian Paredes, Astraiya Penn,​ Emmanuel Sanchez, Carlos Silva, Alexis Sorm, Bry'Onta Thomas, Barbara Valdes, Eve​ Wania Gichuru