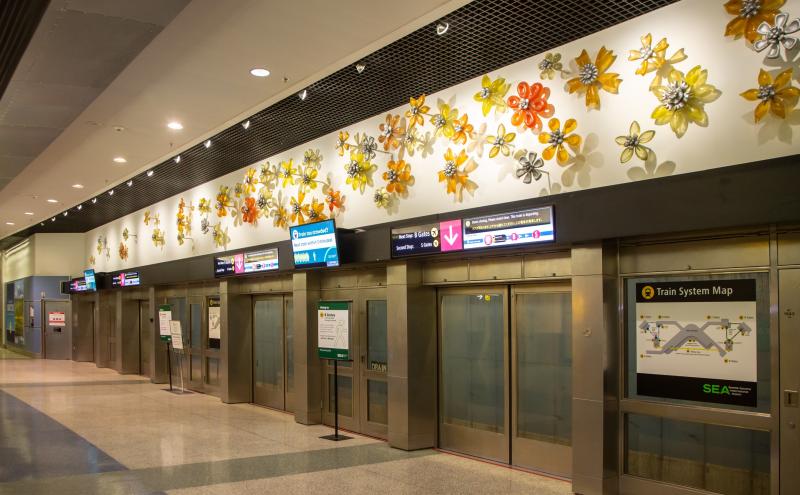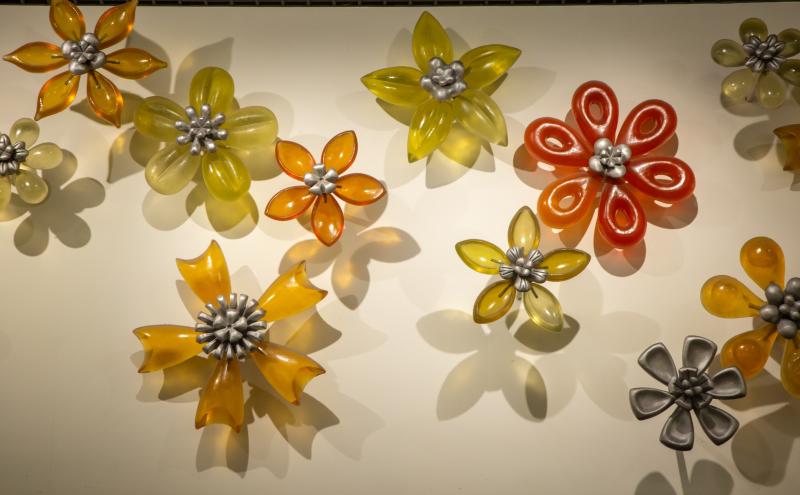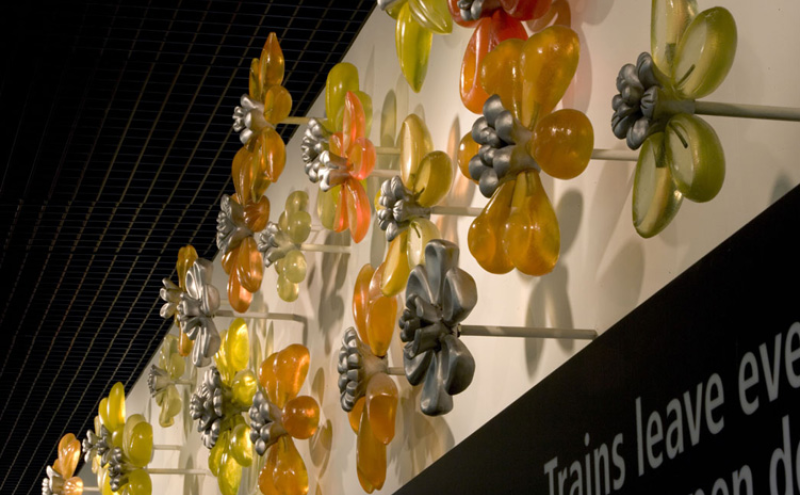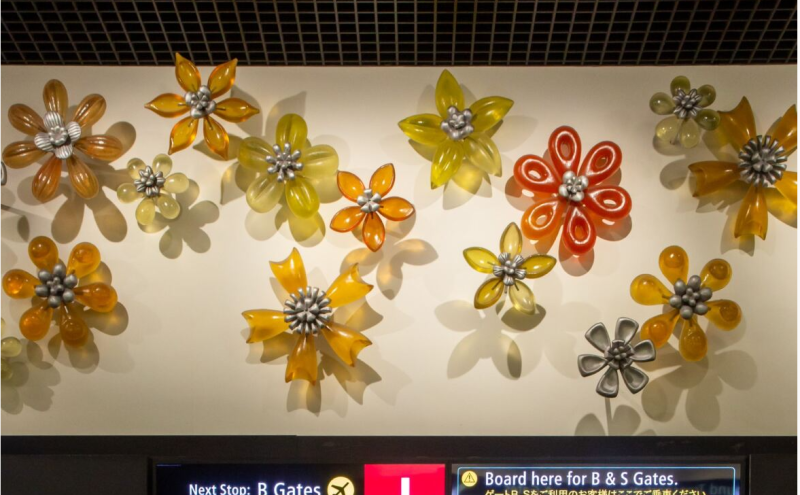 Title: Flower Wall
Artist: Nancy Blum
Year: 2004
Medium: Resin & aluminum
Dimension: The piece covers a wall 77' wide; each flower is anywhere from 12" - 24" in diameter
Description of the artwork:
Sixty-five flowers form a wall that covers 77 feet of space above A Concourse's SEA underground station. "Real flowers give us exposure to feelings of growth, abundance, and natural beauty. My flowers do so as well, yet they are sculptural elements that inhabit space boldly and describe the flower in functional terms- they exist somewhere between representation and a technical model. Their large scale abstracts them and allows the viewer to explore them as abstractions- the overall image is the flower, but the components comprise a game of association. The flowers are simple and soothing- they are uplifting and elegant- they have depth and humor". – Nancy Blum
Nancy Blum's Flower Wall showcases the artist's devotion to the symbol of a flower. To Blum, the flower is seen as active and forceful agent, instead of an ephemeral and dainty symbol. Inspiration for these flowers comes from vintage scientific illustrations and photography. These influences frame Blum's flowers in an almost alien way, magnifying certain aspects of the flower in a way that looks dramatic and unexpected.
Blum beautifully captures the essence of the Pacific Northwest, offering travelers a tantalizing glimpse of the unparallel natural beauty awaiting them beyond SEA's walls.
Metal Casting: Bob Mortonson Foundry, Seattle Resin Casting: Bill Wood, Seattle, WA
About the artist:
When making art for public spaces, I strive to invest these commissions with similar content, while bringing beauty and a high level of craft to a particular environment. As I conceive and develop each piece, I respond to the specifics of the surrounding architecture, ecosystem, and community in an effort to compellingly meet the needs of the site. My studio practice, in turn, is invigorated by opportunities to design work in relationship to an existing framework, and the special demands and responsibilities this process entails". -From the artist's website